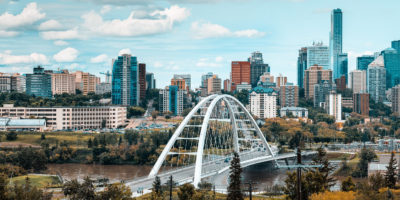 Your Edmonton Itinerary
Welcome to Canada's Festival City!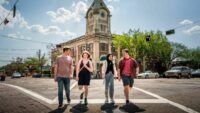 Explore Whyte Avenue
Anchored by the funky, bohemian spirit of Whyte Avenue, historic buildings blend with youthful exuberance to make Old Strathcona one of Edmonton's trendiest neighbourhoods – perfect for strolling and shopping! Find the perfect outfit at a chic boutique, sip and socialize on a summer patio and enjoy world-class festivals, entertainment, and live music.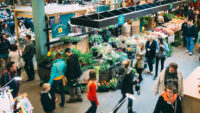 Farmers' Markets Galore
The Old Strathcona Farmers Market, The Edmonton Downtown Farmers Market, and the 124 Grand Market are great places to spend a morning or afternoon. Fresh produce, handmade jewelry, clothing, art and unique home goods are all worth perusing, and you can also see free entertainment like street performers and live musicians. Plus, the Old Strathcona Farmers' Market moves indoors for the chillier months, so you can enjoy it year-round! This is just the tip of the market iceberg, so make sure to check out our list of farmers' markets in the area.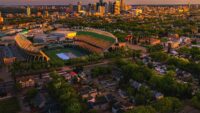 Edmonton Elks at Commonwealth Stadium
Edmonton loves CFL Football! Grab some pals and cheer on the Elks as they battle it out all summer. The Elks are one of the most successful franchises of the Canadian Football League modern era. Founded in 1949, the team, known for their Green and Gold colours, are 14-time Grey Cup champions, including the historic five-in-a-row from 1978 to 1982. This team lives for rivalries, so be sure to get tickets for the Battle of Alberta where they take-on the Calgary Stampeders. Look for painted faces in stands, and a historic battle on the field.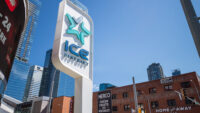 ICE District
ICE District is Edmonton's newest neighbourhood for sports and entertainment in the downtown core. It features Rogers Place, an architectural and technological marvel that hosts the biggest names in music and is home to the Edmonton Oilers and Oil Kings hockey teams. Here, you'll see hockey hair and sweet guitar riffs in all their glory on the largest high-definition screen and scoreboard in any NHL arena. What's more, ICE District is gearing up to be one of Canada's largest mixed-use sports and entertainment districts. The Grandvilla Casino and luxury hotels like the JW Marriott Edmonton Ice District are just the beginning.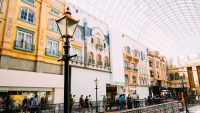 Shop Til You Drop at WEM
Welcome to the Mt. Everest of shopping and indoor entertainment in North America. Spanning the equivalent of 48 city blocks, West Edmonton Mall is part entertainment complex, part shopping and dining destination. From mini golf to an underground aquarium, movie theatre, bowling alley, amusement park, and much more, there are so many attractions to behold!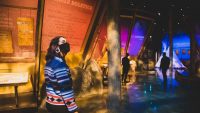 Fort Edmonton Park & Indigenous Peoples Experience
The Indigenous Peoples Experience at Fort Edmonton Park is an awe-inspiring exhibit that explores the rich and beautiful cultures of First Nations and Métis Peoples. The stories, music, artwork, and text in the experience come from local Indigenous perspectives and voices, gathered through engagement with local Indigenous people. In addition, learn about early settlers and the fur trade by touring the 1846 Fort, test your shooting skills in the Shooting Gallery, soar to the heavens on a 1920s-style Ferris wheel, and fill up on classic midway fare.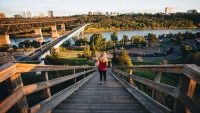 Expansive Urban Parkland
The North Saskatchewan River Valley is perhaps the most picturesque spot in Edmonton, no matter the season. This is the largest stretch of urban parkland in North America, and has over 150 km of trails just waiting to be explored. These trails are perfect for jogging, cycling, hopping on a Segway or taking a casual stroll. Let our guide to the city's best hikes and walks inspire you to conquer the trails!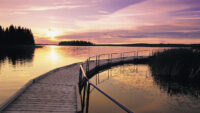 Elk Island National Park
Forty-five minutes east of Edmonton lies a wild oasis. The perfect place to day-hike, canoe, camp or spot some bison. Elk Island National Park is the cornerstone of Canada's bison conservation story; without this place and the dedication of its people, herds of plains and woods bison would not thrive in Canada today. The park is also part of the Beaver Hills Dark Sky Preserve, meaning it's a stellar location for stargazing. Come out for a day trip filled with hiking, canoeing, and much more!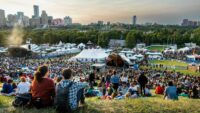 Take In a Festival
Here, every season is festival season. Shakespeare under an open sky? You got it. A winter festival with sculptures made of ice and...fire? Done and done. If you're in Edmonton, there's a festival going on. Over 50 festivals annually means there's no shortage of excitement to fill your stay - whether it's 30 degrees above or below. There's a never-ending list of reasons why Edmonton is Canada's Festival City!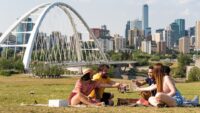 Picnic in the Park(s)
A picnic in a beautiful local park is a great way to connect with nature while enjoying some tasty treats Al Fresco. Scour the fridge and make yourself a basket, grab a blanket, pack a Frisbee then head off to Sir Wilfred Laurier Park, Emily Murphy Park, or Hawrelak Park. If you're up for spending a few dollars, stop in and pick up some grub at local watering holes like Culina on the Lake, Woodshed Burgers, Tres Carnales, or Farrow. Discover our guide to the city's best picnic spots for more picture-perfect locations.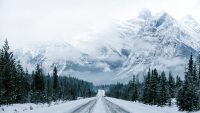 Discover the journey less travelled when you embark on an adventure in Canada's North. It all begins in Edmonton – the gateway to the Rockies. Take a short journey to Jasper National Park where you'll find towering mountains, crystal clear lakes and thundering waterfalls. It's the kind of experience that you'll remember for a lifetime.