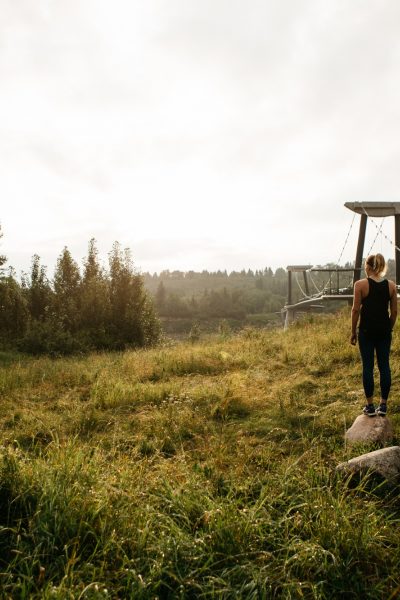 5 Trails in Edmonton to Try This Summer
Taking time to connect with nature is a wonderful way to clear the mind and soothe the soul. Luckily, Edmonton's river valley boasts over 160km of trails just waiting to be explored. Not sure where to start? Let this guide be your gateway to Edmonton's vast boreal landscapes where a hiking, walking or running adventure is never far on the horizon.

LENGTH: 5.5 KM (Approx. 1-1.5 hrs.)

More than half of this loop has so much tree cover that you'll forget you're even in the city. The rest of the route has great views of the river and the downtown skyline. Some breathtaking photo ops can be had at the trailhead in Ezio Faraone Park or on the Dudley B. Menzies footbridge. There are some brief inclines during this hike, but nothing your killer calves can't handle.

Food and drink nearby: District Cafe, The Common.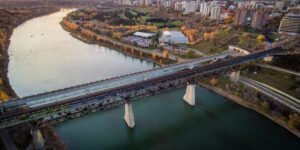 FUNICULAR TO WALTERDALE LOOP
LENGTH: 6 KM (Approx. 1-1.5 hrs.)

This hike is a great mix of city and nature. We recommend starting off at the Instagram-worthy 100 Street Funicular, which gives easy access by way of two elevators into the river valley trail system. Next, you'll cross the historic steel low-level bridge and dip back under the bridge to start off on the trail next to the river. Most of the south side path winds its way through beautiful tree covered trails, encountering two tiny neighbourhoods nestled off of Scona Road. The trail ends with a jaunt over the futuristic Walterdale Bridge and a walk through Rossdale, meandering past historic sites like the old brick power plant.


Food and drink nearby: Credo, Rosewood Foods.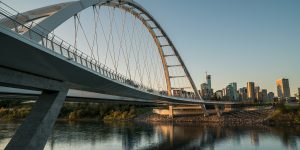 WALTERDALE BRIDGE TO TAWATINA BRIDGE
LENGTH: 7.1 KM (Aprx 1.5 hrs.)
Walterdale Bridge to Tawatinâ Bridge is a 7.1 kilometre out-and-back trail that features beautiful views of the river and is good for all skill levels. Tawatinâ, the new pedestrian bridge that runs under the LRT line, is 260 metres long and features more than 400 stunning Indigenous artworks. This is a must-visit for lovers of nature, art and expansive vistas.


Food and drink nearby: Dogpatch, High Level Diner.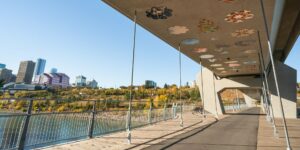 RIVERDALE TO CLOVERDALE LOOP
LENGTH: 8 KM (Approx. 2 hrs.)

Which way to head first on this hike depends on how hungry you are! The lovely Little Brick Cafe is situated in Riverdale and is a perfect excuse to head out for a summer walk. You'll either hit this cafe about 30 minutes in, heading east through Louise McKinney Park or 1.5 hours in after passing through two riverside parks and the ultra-blue Dawson Bridge. Be sure to take a moment at the overlook near McNally School, which offers an amazing view of the city skyline.

Food and drink nearby: Little Brick Cafe.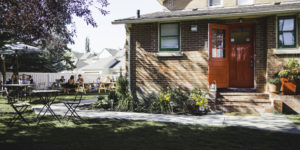 LENGTH: 5.8 KM (Approx. 1-1.5 hrs.)
This is generally considered an easy route, with moderately flat trails. However, please note that most pathways into Mill Creek require access to stairs. The creek is a very popular area for hiking, running, and walking, so you'll likely encounter other people strolling by. The trail is open year-round and is beautiful to visit anytime! Dogs are welcome and may be off-leash in some areas.


Food and drink nearby: Mill Creek Cafe, Farrow.