Selling Edmonton as the gateway to the North, the Rocky Mountains and beyond
Travel Trade are your ambassadors for Canada's northernmost major city. Our team works to sell Edmonton and its experiences to global receptive tour operators in Canada, China, Germany, the Netherlands, the United Kingdom, the United States and other emerging markets. We also support local experience providers, attractions and hotels in Edmonton. Our team coordinates and leads familiarization (FAM) tours, and attend international sales missions and marketplaces.

As the gateway to the northern Rockies and Canada's north, our team works with Edmonton International Airport to support direct air access.
We Activate Global Interest

We sell export-ready Edmonton experiences by putting them in the spotlight at sales missions and international marketplaces where we meet with tour operators from around the world.

We host tour operators in Edmonton on familiarization (FAM) tours so that they can try out the experiences for themselves.
River Valley: Hit the ground running. Or biking. Or segway-ing... With a river valley that's 22 times the size of NYC's Central Park, there's no shortage of adventures.

Click here to start exploring.
Culture: We throw axes for fun, barbecue in blizzards and camp with bison. Edmontonians have never been afraid to do things a little differently.

Click here to join in on the fun.


Entertainment: Edmonton means long days, thirst-quenching patios, and seemingly endless festivals. Bust out your shades, or snow pants - you're in the right place for an unforgettable experience.

Click here to find yours.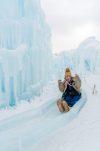 Edmonton area adventures: Less than an hour's drive from the capital city is a place where pristine starry skies shine next to city lights.

Click here to find your adventure.