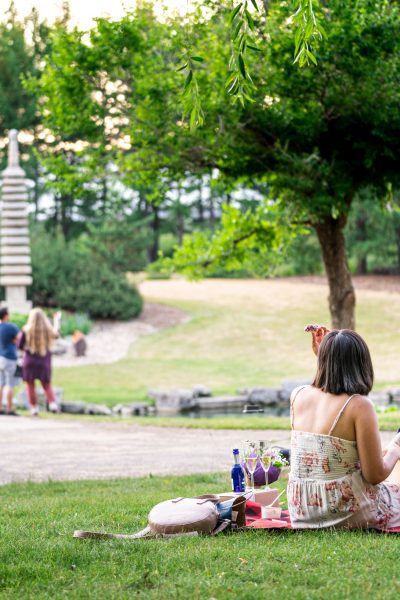 Edmonton's Best Picnic Spots
There is nothing better than packing your basket and heading out to a grassy oasis for an al fresco feast. With over 20 major parks and 7,400 hectares of land in the river valley (that's 22 times the size of New York City's Central Park) you can roast hot dogs with a picturesque view, toss a ball in the park, or have a romantic dinner and watch the sunset over the river. Not one to pack your own basket? Edmonton's incredible local restaurants have you covered with takeaway options to create the perfect spread.

Let food blogger and Edmonton explorer, Linda Hoang, be your guide to some of the city's best picnic spots! Then read on for many more open-air options.
Nope, it's not Woodstock! But it's close. With an unbeatable view of the Walterdale Bridge and the downtown skyline, Walterdale Hill is a great place to lay out your spread and catch some rays with friends. Nearby restaurants like Eleanor & Laurent and Farrow on the southside of the river are great places to stock up on local eats. Plus, you're within walking distance to river valley trails for the perfect post-meal stroll.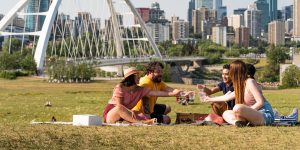 We like to think of Sir Wilfrid Laurier Park as a mini Hawrelak Park, tucked around the corner on the river bank by the Valley Zoo. There are nine picnic sites available for reservation, plenty of tables, horseshoe pits, trails and more! Don't forget to bring a frisbee to toss around after your meal. Depending on what direction you're travelling from, Rebel Food & Drink or the Italian Centre Shop are great places to grab some local grub on your way over.
With picnic benches and barbeques to use at Government House Park, you could leave the blanket out of the equation. Before or after your chow-down, take a stroll on the paved paths east along River Valley Road or west into McKinnon Ravine. It's an absolutely beautiful place to spend an afternoon. With Jasper Avenue and 124 Street close by, the grab-and-go food options are endless!
University of Alberta Botanic Garden
The University of Alberta Botanic Garden, just 30 minutes west of the city, is worth the drive for a memorable picnic. Explore 190 acres of gardens and natural areas including the Kurimoto Japanese Garden and butterfly house, as well as the stunning Aga Khan Garden. Their Twilight Picnic Experience does all the work for you - book a gourmet picnic box to create the dreamiest evening ever. This outdoor space is so beautiful, you'll want to hang out for hours!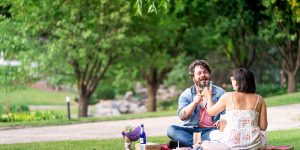 Bring the kiddos down to Fort Edmonton Park for a good old-fashioned picnic. Lay down your gingham blanket on a spot of grass or claim a picnic table and indulge! The Gyro Park picnic site features an old-fashioned playground and covered picnic shelter. You'll feel as though you've been taken back in time.
Constable Ezio Faraone Park
Seeking a front row seat to both the river valley and the High Level Bridge? Then Constable Ezio Faraone Park (110 Street & 97 Avenue) is the place for you. This has to be one of the best evening picnic spots in the city! Bask in the river valley view as the sun sets, then stay to see the bridge light up for the evening. Nearby eats at District Café & Bakery or The Common are sure to take your visit to the next level.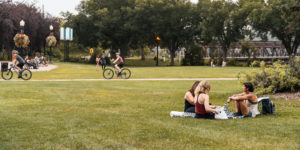 Nestled on the south bank of the river, Emily Murphy Park is ideal for families. There are plenty of spots to sit with an excellent view of the play area so you can make sure the kiddos are safe and having a great time. Bring your own canoe for a very Canadian picnic, or simply walk the trails and enjoy watching others paddle. Swing by Sugarbowl on your way down and pick-up one (or two) of their famous cinnamon buns to add to your basket (but make sure you pack some napkins!).
Experience 18 hours of sunlight.
Just east of downtown, Borden Park is the perfect hangout spot on a warm summer afternoon. Relax in the sun on the grass or take cover in the many shaded areas. The space is full of trails and pathways that will lead you to stunning sculptures and unique art installations. We challenge you to find the mirrored pavilion! Not too far away is Fox Burger, one of the best burger joints in the city!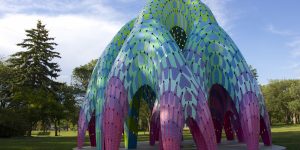 Louise McKinney Riverfront Park
Located in the heart of the river valley, Louise McKinney Park is the perfect place for relaxing. Explore the pagoda and statuary in the Chinese Garden or take a post-meal riverfront walk! Pick-up a coffee and pastry at Little Brick, nestled in the nearby neighbourhood of Riverdale. Don't forget to take a stroll down the new Tawatinâ Bridge while you're there. You can thank us later!
Alberta Legislature Grounds
Views don't get much better than this! If people-watching is your thing, set up your picnic on the steps by the wading pool. For a quieter setting, walk behind the Legislature and find a spot under the trees in the park. If you're picnicking on a summer Saturday or Sunday, head over to the Edmonton Downtown Farmers Market first and grab some local goods for your meal!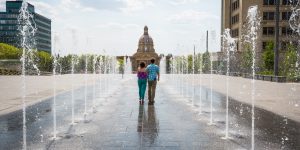 High Level Bridge Streetcar
In the mood for a meal with a view? Why not spread your wings and picnic basket atop the city on the High Level Bridge Streetcar where you can take in the panorama. This ride into history takes you along former Canadian Pacific Railway trackage, from Edmonton's historic Old Strathcona area across the High Level Bridge into Edmonton's Downtown.

Need a little help planning the perfect picnic? Leave it to the experts at True North Picnic! This boutique catering company specializes in creating one-of-a-kind luxury experiences in the city's parks that are perfect for special occasions. True North will coordinate, style, and do all the work - you just need to show up, relax, and enjoy!