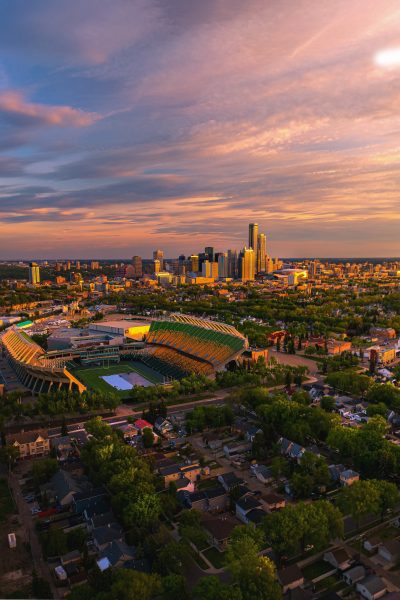 The Edmonton Elks and Canadian Football
No team in Edmonton draws more devoted fans to a home game than the Edmonton Elks! The beloved and recently renamed Elks are one of the most storied franchises in the country and have a long history of remarkable on-field victories. Plan your visit to The Brick Field at Commonwealth Stadium to see an afternoon or evening of action-packed Canadian football! Antler up!

The Edmonton Elks football team is a professional team and member of the Canadian Football League (CFL). The current team was founded in 1949 and borrowed their now-famous Green and Gold uniforms from the University of Alberta. Humble beginnings gave way to continued success however as the team is the most dominant franchise in modern Canadian football history, winning 14 Grey Cups and have more playoff appearances than any other team.
The game day experience starts before the players even take the field! Arrive early for the Coors Light Happy Hour, with rotating drink specials one hour prior to game time. Feeling snacky on a budget? The new menu features eats like hotdogs, popcorn, candy, chips, corndogs and more - all for less than $4.00. Plus, all kids aged 12 and under can receive one free popcorn and pop.

Don't forget to get your swag! Elks t-shirts, hoodies, jerseys and more are available for purchase so you can rep the green and gold with pride.
Tickets and Seating Areas
Purchase your tickets online - with a capacity over 56,000, Commonwealth Stadium has plenty of options for great sightlines for football games.


Lower Bowl
Lower Bowl seats get you close to the hard-hitting action, but not too close! Even lower bowl seats maintain a sufficient viewpoint so you can still see complicated plays develop.

Seats for Everyone
As the largest open-air stadium in all of Canada, Commonwealth has plenty of seats in the upper bowl that provide a great vantage point. The upper bowl is often home to the most vocal of fans, so be prepared for a high energy section.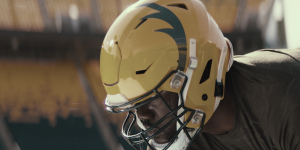 Football is football (unless it's soccer, of course) right? Though North American football evolved from the same rugby roots, there are actually significant differences between how it's played in Canada and the United States. Both games are exciting but here are a few key pieces that make our Canadian version unique.


Bigger Field
Canada is known for its open spaces and our football fields are no different. They're 110 yards long, 65 yards wide and have end zones 20 yards deep. This compares to the 100ft x 53ft and 10-yard end zones south of the border. Lots of room for our stars to run!


Rouge isn't just makeup
The two countries share six-point touchdowns, three-point field goals and two-point safety touches but we crazy Canadians added in another wrinkle, the rouge. This one point is scored when a kick of any kind sails through the end zone, other than on a made field goal. On a kick that stays in the end zone, a player receiving the ball can choose to kneel and concede the point for the benefit of getting to start their next play on the 35-yard line. It might sound confusing but it can provide some entertaining and unique scoring situations not seen south of the border.


One more player
In Canada, we like everyone to play so we let one more player per team on to the field at 12 rather than the National Football League's 11. American quarterbacks who come up to play in Canada often say the biggest change for them is getting used to this additional body trying to defend them.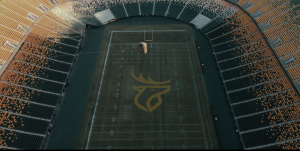 Getting to The Brick Field at Commonwealth Stadium is an easy experience if you plan ahead.


Walking /Biking
A mixed-use pathway for cyclists and walkers follows the Capital Line LRT north/south allowing for easy access from downtown. Bike racks are available at Gates 2, 6, 9, and 13.


Driving
There is no parking on-site during CFL games so taking public transit is highly recommended. The Green and Gold has partnered with Edmonton EXPO Centre for $15 parking at select parking lots (debit or credit only). Once there, it's just one LRT stop to the stadium – one free stop with the Edmonton Elks free Ticket Ride program. A drop-off zone during games is available on 112 Avenue from 95 Street to Stadium Road.


Transit
Take Edmonton's Light Rail Transit (LRT) service to the aptly named Stadium station or Bus route 125 from nearby major transit stops. Edmonton Transit also offers Park and Ride service from 6 locations around the city.


Persons with Disabilities
Commonwealth Stadium has limited accessible parking, available on a first-come, first-served basis. DATS service is welcome. Gates 2, 6 and 11 are wheelchair accessible. An elevator at Gate 11 is also available. Covered spectator spaces are available for wheelchair users; an attendant and two-family covered spaces are available as well. Tickets must be purchased for these seating areas. Accessible washrooms and family change rooms are also available.
Your ticket works as a free pass on Edmonton Transit for two hours before game time, during the game and two hours after the game.
Dos and Don'ts
Do use your game ticket as your free pass onto Edmonton's LRT and head downtown to celebrate a victory at one of the many great downtown bars and restaurants.

Do wear your team's colours (bonus points for face paint).
Don't be late. Arriving late causes disruptions to those around you while the game is on.
Do buy a 50/50 ticket. It's your chance to win and half of the proceeds go to a worthy charity.
Don't leave your seats during the middle of a play.
Don't forget to dress for the weather - The team plays outdoors and they don't delay a game because of a little rain or snow. Dress warmly and be sure to bring waterproof apparel if there is a threat of rain.