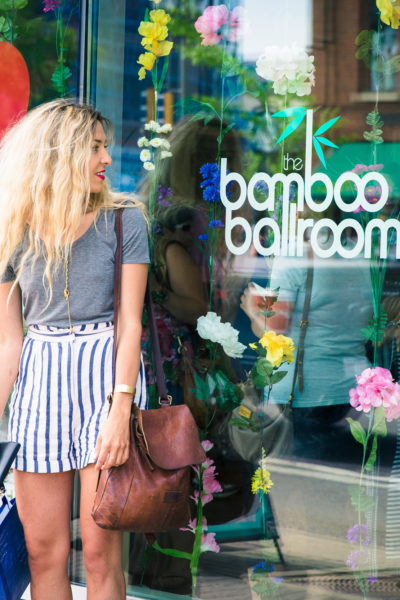 Independent Boutiques in Edmonton that Deliver
Let's all take a deep breath and accept the fact that we're going to be doing a little online shopping during this time... ok, maybe a lot of online shopping. Why not spend your hard-earned money supporting local boutiques in Edmonton that deliver the goods? Saving money on daily lattes means more pennies to put towards fresh fashions, right? Right. There are a million ways to justify it to yourself. Plus, imagine how cute you'll look... even if the only one who gets to appreciate it is your dog.
Many independent boutiques in Edmonton offer delivery, and in some cases curbside pick-up, making it as easy as ever to get your hands on new purchases. Be sure to continue practicing safe spatial distancing and frequent hand washing!
Workhall is a minimalist fashion line that is both trendy and environmentally conscious. Their hand-made collection focuses on plant-based or blended fabrics and they also offer free tailoring services in an effort to reduce garment waste. Their clothing's clean lines and classic appeal with have you filling your online shopping cart in no time.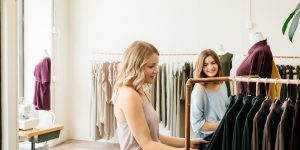 Harrow has something in stock for everyone! They carry a selection of goods that are not only high quality but as affordable as possible because they know how daunting boutique shopping can be on a budget. If you want to stand out from the crowd, Harrow is a great place to start; you'll find unique pieces for work, leisure, and everything in between.
Located in the High Street marketplace, Red Ribbon carries the best laid-back styles for everyone from adults to kids. Cute concert T's, pretty blouses, unique dresses, casual jackets, and a wide selection of on-trend accessories are just the beginning!
Your summer wardrobe starts and ends at Bamboo Ballroom. Edgy basics, party dresses, and flattering T-shirts are all just a few clicks away. You'll find Edmonton-based labels such as Suka Clothing and Hunt Amor jewellery with big brands Pink Martini, Gentle Fawn and Wildfox.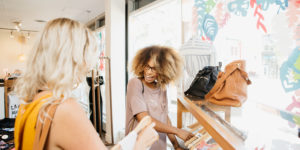 PaperDoll Clothing is located right in the heart of trendy 124 Street. They offer a carefully curated collection of stand-out pieces from across the globe exclusive to PaperDoll. Looking to bring an LA flare to your wardrobe? This incredibly curated boutique is a great place to start.
Shoes make or break an outfit, and you can't go wrong when you shop at Gravity Pope. This notable shoe-shop has been a high-end footwear staple since 1990 thanks to a wide selection of unique designer brands. Sandals, loafers, pumps, sneakers and flats are all on the menu. You can also peruse their clothing range and complete your head to toe look.

Jaisel is a must-shop for any laid back, but well-dressed man. They feature a great mix of streetwear and high-quality tailored pieces you can wear to any classy event. They also have a great selection of jeans and trendy joggers, making it a no-brainer for all your clothing needs.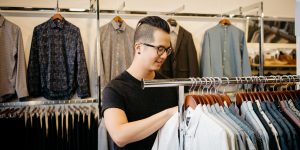 Poppy Barley is revolutionizing the footwear industry, going where no company has gone before. They offer the old art of bespoke fashion through the click of a mouse, allowing you to design your own made-to-measure shoes for the perfect fit. Their boots, booties and flats are the stuff that dreams are made of. Shoe-la-la!
Wee Love Baby Co. pride themselves on excellent customer service and an exciting selection of products. This husband and wife team works hard to bring you everything from accessories, clothes, shoes, toys and more. Make your baby or toddler smile with an adorable purchase from this local boutique!
Shades of Grey is a beautifully curated family-owned and operated boutique located on Edmonton's trendy 124th St. If you like to stand out from a crowd for all the right reasons, you'll love this retailer's mix of classic, distinctive and well-tailored styles. From the perfect button-up to the most flattering pair of distressed jeans, your wardrobe will definitely get an upgrade.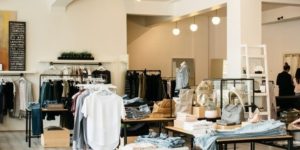 C'est Sera and Kelly Wolf
C'est Sera and Kelly Wolf invite you to shop local while thinking global. This boutique's selection is curated from the best collections from all over the world. Here you'll find unique casual dresses, flowing tops, shoes, home goods and more. They even offer curbside pick-up during this time!
The Helm is an upscale menswear boutique that carries the absolute best in well-tailored suits, ties, outerwear, shoes and accessories. If you enjoy high quality and classic styles, you've come to the right place. While their storefront is currently closed, they are still fulfilling online orders to make sure you're at the top of any best-dressed list!
Kunitz Shoes is a family-owned and operated shop that has been fitting Edmonton with quality shoes for over 35 years. Right now, they are offering curbside pick-up as well as free shipping and returns. Here, you'll find a mix of classic designs and bold new fashions that are foot-friendly above all!