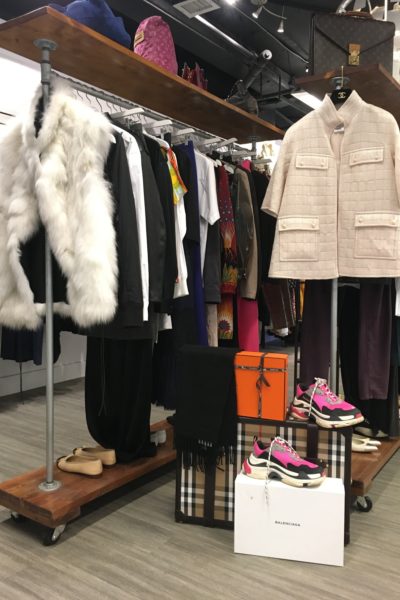 Vintage and Consignment Shops in Edmonton
Finding intricate vintage pieces and unique second-hand threads is nothing short of an art form. While we love buying new and can't resist getting our hands on the latest trends, there is no better feeling than peeling through the well-stocked racks in Edmonton's second-hand stores or vintage boutiques and coming across a one-of-a-kind treasure.

No matter where you explore, be sure to continue practicing physical distancing, frequent handwashing and following the guidelines put in place to keep everyone safe. Some of the businesses mentioned here may be offering modified services at this time. Please check their individual websites for the latest updates, and note any applicable health/safety restrictions.
On the hunt for luxury designer labels? Blogger Armoire is a wonderland of Chanel, Louis Vuitton, Prada, Hermès and more! Their expertly curated selection of luxury clothing and accessories is ever evolving - you are sure to find avant-garde and modern pieces to add to your closet. Stayed tuned to their Instagram page, as they post daily new arrivals there!

Shop In-Store: LeMarchand Mansion - #102 11523 100 Ave NW
Online: www.bloggerarmoire.com

For lovers of local designers & independent brands, Red Pony is your new favourite consignment and vintage shop! This independently owned local business is located on the north-east side of the trendy and bustling Whyte Avenue. Here you'll indulge in the thrill of finding truly unique pieces and scoring a killer deal. Just a few labels include Noul, Workhall, Aritzia, and Free People.

Shop In-Store: 9940 82 Ave NW
Online: www.redpony.ca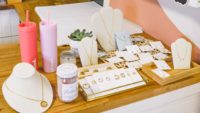 Established in 2019, Mood is your go to shop for trendy consignment. They stock a huge selection of stylish and current items with new stock added seasonally. Check out Mood Mama for a curated selection of maternity wear and ask about their selection of locally made jewellery, masks and bath soaks. Here you'll find labels like Levis, Dynamite, Madewell, Bando, and Tikkhu Jewellery.

Shop In-Store: 17520 108 Ave
Online: www.moodconsignment.com
As one of Edmonton's first consignment stores, this family-owned business has been a city staple for over 40 years. They carry a huge selection of current brands in all sizes from 0 to plus. Make sure you stop in regularly as they have new stock arriving daily. We'll be shocked if you leave empty handed! Some notable brands include Lululemon, Michael Kors, Kate Spade and Aritzia.

Shop In Store: 5212 86 St NW
Online: www.myfavoriteaunts.ca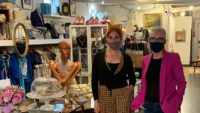 Nestled in Edmonton's 124th Street shopping district, Swish has offered its eclectic mix of couture and one-of-a-kind vintage pieces for over ten years. Get your hands on fab vintage finds ranging from the 1930s to 1980s. Carrying everything from shoes and handbags to lamps and side tables, Swish curates with an eye for quality, style, and versatility.

Shop In-Store: 10826 124 St NW
Online: www.swish-vintage.com
Mod Uncorked & Tipsy Palm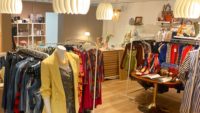 Tipsy Palm and Mod Uncorked come together in one of Edmonton's newest brick-and-mortar vintage and second-hand stores. Located just behind Floc Boutique on 124th Street, they carry eclectic, vibrant and bold vintage and second-hand treasures, as well as quirky furniture and homewares. Stop by for brands like Workhall, Brunette the Label, and J. Crew.

Shop In-Store: 10110 124 St NW
Online: www.tipsypalm.com, www.moduncorked.com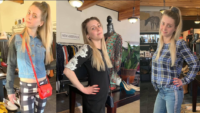 Their name says it all. Good Stuff Consignment features higher-end women's clothing and accessories for women of all ages. With an emphasis placed on quality classics and contemporary fashion with an edge, you'll be able to fill your wardrobe - no matter the season. This boutique boasts labels like Gucci, JBrand, Banana Republic and Donna Karan.

Shop In-Store: 10704 142 St NW
Score big at Nu2You where you'll find bold prints, timeless statement pieces, and must-have accessories. You'll have no problem spending hours hunting through the floor to ceiling racks and shelves to discover the ultimate statement pieces. Look no further for finds from brands like Poppy Barley, Michael Kors, Coach and Kate Spade.

Shop In-Store: 7510 Gateway Blvd NW
Online: www.nu2you.ca

With over 4,200 sq ft of ever changing inventory, you'll want to pop into Caprice Consignment often! Home to boho-chic fashion, bold pops of colour and stylish designer goods in sizes 0 to 4X, Edmonton's largest ladies consignment store is a hit for all. Their staff (aka the Retail Therapists) are always ready to help you find the perfect item for your wardrobe, and before you leave, be sure to ask about the "Painted Ladies of Caprice". Here you'll spot labels like Anthropologie, Lucky Brand, and BCBG Maxazria.

Shop In-Store: 10630 170 St NW
Online: www.capriceconsignment.com


Whyte Avenue is one of the best places in Edmonton for vintage and consignment finds, and Fish Vintage is in the heart of it. They have a slick selection of hip vintage clothing, shoes and accessories. Surf through the aisles where you'll find leather jackets, Levi's Denim, flannels and a huge stock of vintage tees.

Shop In-Store: 10367 82 Ave NW (Basement)
Online: www.fishvintage.com

Instagram Vintage and Second-Hand Sellers
Due in-part to the COVID 19 pandemic, Edmonton's community of vintage and second-hand sellers has expanded beyond the brick-and-mortar stores and onto the accessible world of Instagram. One of the easiest ways to find them? Via #MondayNightMarketYEG.

Founded in 2020 by Lawless Vintage & Rylea Coyote Vintage, the Monday Night Market is a vintage and second-hand market that takes place every Monday evening from 6:00pm-8:00pm. Every week, new and returning vendors post their items on Instagram and use the hashtag as a means of sharing what's 'new' and connecting with the community. Buyers can claim an item and purchase immediately via e-transfer. Tune into the next Monday Night Market and shop a variety of vintage clothing, accessories, handmade goods, artwork & more.