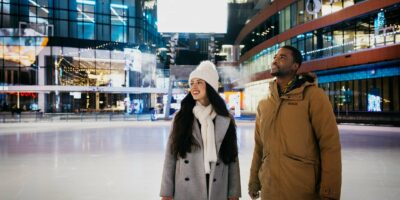 ICE District
Edmonton's newest neighbourhood for sports and entertainment.
Contact Information
Street Address

Downtown Edmonton at 104 Avenue, Alberta
ICE District is Edmonton's newest neighbourhood for sports and entertainment in the downtown core. Located at the north end of the 4th Street Promenade, ICE District features Rogers Place, an architectural and technological marvel that hosts the biggest names in music and is home to the Edmonton Oilers and Oil Kings hockey teams. Here, you'll see hockey hair and sweet guitar riffs in all their glory on the largest high-definition screen and scoreboard in any NHL arena.
What's more, ICE District is gearing up to be one of Canada's largest mixed-use sports and entertainment districts. The Grandvilla Casino and luxury hotels like the JW Marriott Edmonton Ice District are just the beginning.
This summer, take in some free outdoor events at the Summer SolstICE event series in ICE District Plaza! Live music, immersive movie experiences, ball hockey tournaments and more await you in downtown Edmonton's newest entertainment hub.