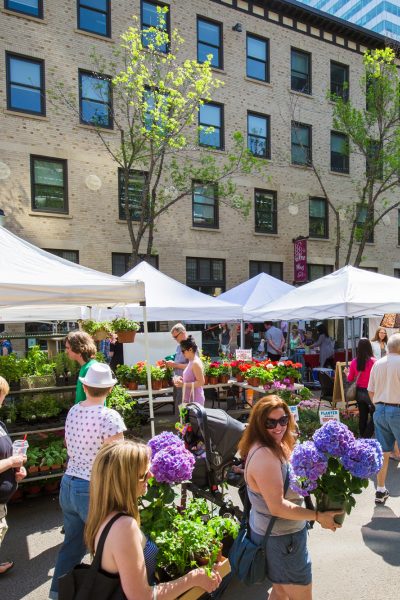 Farmers' Markets in Edmonton
Oh kale yeah! Edmontonians love farmers markets and you should too. You'll find everything from fresh local produce to hand-made jewellery, clothing, art and unique home goods. There is a market for every part of the city, and we've got you covered with this list of favourites.
Runs every Saturday & Sunday year-round.
Location: 10305 97 St NW
Must-try: The Greek Tzatziki from Theo's Greek Kouzina
Hours: Saturday: 9:00am to 3:00pm / Sunday: 11:00am – 3:00pm
Runs every Friday, Saturday and Sunday all year long.
Must-try: A cuppa joe from one of the many local coffee roasters.
Location: 3696 97 Street
Hours: 9:00am-5:00pm
Runs every Saturday from June 6th until October 10th, 2020.
Must-try: Saskatoon Berry Macarons from Sandra's Macarons.
Location: St. Anne Street and St. Thomas Street, St. Albert
Hours: 10:00am to 3:00pm

Runs every Saturday & Sunday from May 4th & 5th May until the first weekend of October.
Must-try: Fish Tacos from Calle Mexico.
Location: 1903 Parsons Rd.
Hours: 10:00am to 4:00pm
Open every Saturday, year round.
Must-Try: The Empanadas from Chilian Corner.
Location: 10310 83 Ave.
Hours: 8:00am to 3:00pm, year round
Runs every Sunday & Wednesday from May 3rd until autumn.
Must-try: The cheesecake bars from Crafty Cooks.
Location: 66 Ave. and 178 St.
Hours: Sunday from 10:00am to 3:00pm and Wednesdays from noon-5:00pm.
Runs every Sunday & Thursday from May 24th until autumn.
Must-try: Every flavour of Revolution Ice Cream Co.
Sunday Location: 102 Ave & 124 St
Sunday Hours: 11:00am to 3:00pm
Thursday Location: 108 Ave & 124 St
Thursday Hours: 4:00pm to 8:00pm


Runs every Wednesday from May 13th to October 7th, 2020.
Must-try: A jar of dill pickles from Jill's Dills.
Location: 2051 Leger Rd.
Hours: 4:00pm to 7.30pm
Runs every Wednesday from May 30th to August 29th
Must-try: the fresh strawberries from Red Apple.
Location: 152 St and Stony Plain Rd.
Hours: 4:00pm to 8:00pm, until mid September
Runs every Thursday, year round.
Must-try: the tourtiere from Little Jack Horner.
Location: 52337 RR 232, Sherwood Park
Hours: 4:00pm to 7:30pm