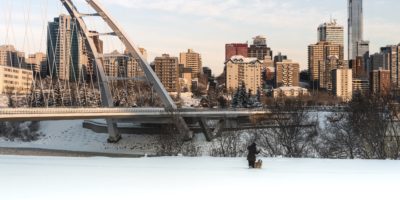 Thank you for considering a career at Explore Edmonton Corporation!

Explore Edmonton Corporation is the visitor economy and venue management organization for Edmonton. We tell Edmonton's story, elevate the Edmonton experience, and generate inbound visitation.

We are passionate Edmontonians, aligned through a unified purpose, mission, and vision to increase the economic impact of the visitor-based economy in Edmonton:
Purpose: Increase the economic impact of the visitor-based economy in Edmonton.
Mission: To showcase and inspire more people to visit Edmonton for exceptional experiences, while also enriching the quality of life for residents, and creating economic prosperity.
Vision: Edmonton will be a destination of choice, delivering year-round transformational visitor and guest experiences.

We work hard to continually improve employee, guest, stakeholder, and visitor satisfaction, increase destination attraction and awareness, strengthen Edmonton experiences and events, and improve our operational excellence.

Explore Edmonton encourages, supports, and celebrates a diverse and inclusive work environment. We strive to create a workplace that reflects the city we promote and where our employees feel safe and supported.

Our core values differentiate us from other organizations. These are the common themes that unite us and helps to define our culture. We use our core values as a guidepost for consistent decision making, to empower employees and to unleash their potential as leaders. They are:
Public Stewardship: We have been given a tremendous responsibility to be stewards of public trust as well as the architect of bold ideas.
Selfless Approach: Everything we do is done in collaboration – with others on our teams, across our groups and with our stakeholders – and when we win, we win together.
Lead the Way: We step up. Start something. Change something. Connect and support others who are willing to take a risk – on our teams, in our city.
Make an Impact: When every action, big or small, can make an impact, every action contributes to building a visitor economy that matters.
Caring for One Another: We have a genuine commitment to the success of each other, our shareholders and our community.

Explore Edmonton Corporation has implemented a COVID-19 Vaccination Policy. Employees must be fully vaccinated against COVID-19 and provide proof of vaccination, or participate in the rapid testing program. Employees who cannot be fully vaccinated based on a protected ground may request an exemption.
To limit the potential spread of COVID-19, all interviews will be conducted online or over the phone. Explore Edmonton employees are currently being asked to work from home, unless the position is required to work in the office.
Interested in joining our team? See our available career opportunities below and visit our About Us page to learn more about the organization, as well as our Venues page to learn about our award-winning venues.