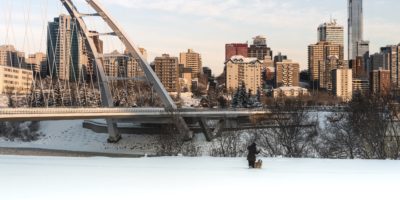 Thank you for considering a career at Explore Edmonton Corporation!

Explore Edmonton Corporation is the visitor economy and venue management organization for Edmonton. We tell Edmonton's story, elevate the Edmonton experience, and generate inbound visitation.

We are passionate Edmontonians, aligned through a unified purpose, mission, and vision to increase the economic impact of the visitor-based economy in Edmonton:
Purpose: Increase the economic impact of the visitor-based economy in Edmonton.
Mission: To showcase and inspire more people to visit Edmonton for exceptional experiences, while also enriching the quality of life for residents, and creating economic prosperity.
Vision: Edmonton will be a destination of choice, delivering year-round transformational visitor and guest experiences.

We work hard to continually improve employee, guest, stakeholder, and visitor satisfaction, increase destination attraction and awareness, strengthen Edmonton experiences and events, and improve our operational excellence.

Explore Edmonton encourages, supports, and celebrates a diverse and inclusive work environment. We strive to create a workplace that reflects the city we promote and where our employees feel safe and supported.

Our core values differentiate us from other organizations. These are the common themes that unite us and helps to define our culture. We use our core values as a guidepost for consistent decision making, to empower employees and to unleash their potential as leaders. They are:
Public Stewardship: We have been given a tremendous responsibility to be stewards of public trust as well as the architect of bold ideas.
Selfless Approach: Everything we do is done in collaboration – with others on our teams, across our groups and with our stakeholders – and when we win, we win together.
Lead the Way: We step up. Start something. Change something. Connect and support others who are willing to take a risk – on our teams, in our city.
Make an Impact: When every action, big or small, can make an impact, every action contributes to building a visitor economy that matters.
Caring for One Another: We have a genuine commitment to the success of each other, our shareholders and our community.

Interested in joining our team? See our available career opportunities below and visit our About Us page to learn more about the organization, as well as our Venues page to learn about our award-winning venues.
About our Shared Services Group

The Shared Service Group is a team of service-minded individuals who are passionate about ensuring smart, customer-focused business processes are developed and followed. This team serves multiple internal customers and is made up of key business enablers and trusted business partners who provide superior customer service through collaboration, innovation, partnerships, and leadership to ensure the best possible user experience. In alignment with the needs of Explore Edmonton, services include providing governance advice and support, offering scalable business solutions, creating value for employees by building and facilitating connections across the organization.

Job details

The Shared Services Group is looking for an experienced, designated finance professional with proven business partner and people management experience in a rapidly changing environment. Working within this organization, you will apply your notable interpersonal skills to communicate, collaborate, engage and advise a diverse group of stakeholders including internal budget owners, external auditors, and staff members across the organization.

As a business partner to various operating teams with the goal of enabling and driving performance, the Finance team continues to evolve from being transactional to strategic. Your primary focus for the first 6-12 months will be on the continued development and refinement of core accounting processes, systems and competencies as business operations resume to pre COVID levels. As operations normalize, your focus will shift to enhancing our business partner support model focused on supporting our diverse operating groups with all their financial needs.

As the business unit lead, the Director, Finance will be accountable for effectively leading and managing a team of finance practitioners who are responsible for execution of the business plan. A demonstrated ability to coach, inspire, empower and elevate team members and develop leaders at every level is essential.

This role includes responsibility for the operational oversight, planning and direction of the Finance business unit as well as accountability for establishing and maintaining EEDC's accounting principles, practices and initiatives.

The successful candidate will be responsible for:


Directing and managing the Finance and Accounting functions, as a trusted advisor and business partner
Advancing solutions that address the financial health, impact and performance of the organization
Leading, managing and mentoring the Finance team for strong alignment to organizational strategy
Continually improving internal processes and workflows to ensure an effective and positive user experience
Leading and supporting change management within the organization

The successful candidate will have:

Post-secondary degree in Accounting, Finance, Commerce or related discipline
Recognized professional accounting designation (CA, CMA or CGA)
Minimum of 7 years of progressive Finance/Accounting experience and a minimum of 3 years of experience leading a finance team
Established experience in leading the external audit process
Demonstrated ability to provide strategic support and direction to a range of stakeholders
Exceptional analytical and financial analysis skills with a strong focus and attention to detail
Proficiency in effectively leading change and positively influencing business operations
Outstanding people management skills and the ability to mentor and provide guidance and coaching to others within the Finance and the leadership team on complex issues

Explore Edmonton encourages, supports, and celebrates a diverse and inclusive work environment. We strive to create a workplace that reflects the city we promote and where our employees feel safe and supported every day. If this role piques your interest, please submit your cover letter to let us know how you feel you could make an impact along with your resume. Please submit your interest no later than March 15, 2021.