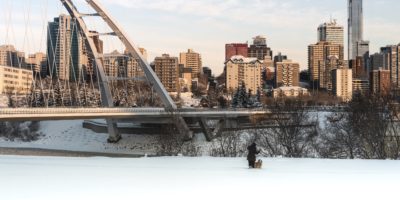 Thank you for considering a career at Explore Edmonton Corporation!

Explore Edmonton Corporation is the visitor economy and venue management organization for Edmonton. We tell Edmonton's story, elevate the Edmonton experience, and generate inbound visitation.

We are passionate Edmontonians, aligned through a unified purpose, mission, and vision to increase the economic impact of the visitor-based economy in Edmonton:
Purpose: Increase the economic impact of the visitor-based economy in Edmonton.
Mission: To showcase and inspire more people to visit Edmonton for exceptional experiences, while also enriching the quality of life for residents, and creating economic prosperity.
Vision: Edmonton will be a destination of choice, delivering year-round transformational visitor and guest experiences.

We work hard to continually improve employee, guest, stakeholder, and visitor satisfaction, increase destination attraction and awareness, strengthen Edmonton experiences and events, and improve our operational excellence.

Explore Edmonton encourages, supports, and celebrates a diverse and inclusive work environment. We strive to create a workplace that reflects the city we promote and where our employees feel safe and supported.

Our core values differentiate us from other organizations. These are the common themes that unite us and helps to define our culture. We use our core values as a guidepost for consistent decision making, to empower employees and to unleash their potential as leaders. They are:
Public Stewardship: We have been given a tremendous responsibility to be stewards of public trust as well as the architect of bold ideas.
Selfless Approach: Everything we do is done in collaboration – with others on our teams, across our groups and with our stakeholders – and when we win, we win together.
Lead the Way: We step up. Start something. Change something. Connect and support others who are willing to take a risk – on our teams, in our city.
Make an Impact: When every action, big or small, can make an impact, every action contributes to building a visitor economy that matters.
Caring for One Another: We have a genuine commitment to the success of each other, our shareholders and our community.

Interested in joining our team? See our available career opportunities below and visit our About Us page to learn more about the organization, as well as our Venues page to learn about our award-winning venues.
Social Media Engagement Specialist, Visitor Economy Marketing
About our Visitor Economy Group
The Visitor Economy Group fosters economic growth by working directly and collaboratively with businesses, stakeholders, and partners, both locally and internationally. We do this through the work of the following teams: Communications, Government and External Relations, Marketing, Destination Development and Strategy, and the Visitor Economy Sales team comprised of Edmonton Events, Meetings and Conventions and Travel Trade.

Job Details
The Marketing team inspires travellers to explore Edmonton through out-of-the-box content, stunning visuals and compelling stories. As part of our year-round marketing strategy, we work in partnership with industry leaders to promote attractions, experiences, festivals, major events, and one of the country's hottest culinary scenes.
We shine a spotlight on Edmonton through digital and social media marketing, as well as experiential campaigns, connecting visitors to the best authentic Edmonton experiences.
Reporting to the Director of Marketing, this position provides support to the Explore Edmonton Marketing Team and other business units, primarily as the online voice of all Explore Edmonton's consumer-facing social media channels and a go-to resource for social media expertise throughout the organization. Visitors are encouraged to experience additional attractions, events, and activities, resulting in extended stays to the region, generation of economic impact and return visits as well as recommendations to others to do the same.
Working within a tightly knit team, and especially closely with the Digital Content Specialist, this position will also collaborate on video and photo asset gathering projects including planning and campaign buy insight.

The successful candidate will be responsible for:
Managing Explore Edmonton's consumer-facing social media channels
Online engagement with stakeholders and the potential visitor
Serving as the social media communications conduit between Explore Edmonton and Edmonton's tourism industry
Managing active listening projects, especially during major events, conferences, and festivals
Attending selected events for live interaction including live tweeting
Collecting and analysis of social media analytics
Contributing to content creation and curation
Conducting social media trends research
Taking an active part in campaign brainstorms, asset development and campaign spend decisions
Consulting with other business units on their social media activity
Collaborating on all digital asset projects including taking the lead on user-generated acquisition.

The successful candidate will have:
Post-Secondary education in business (marketing), communications, or tourism preferred
1 – 2 years of experience in tourism or hospitality social media is an asset
Excellent people and communication skills, both oral and written
Demonstrated ability to multitask, think outside the box, and work under tight deadlines
A keen eye for detail and online analytics tracking
Able to develop and maintain relationships with key stakeholders, industry partners and the general public. A sense of humour and quick-thinking approach to online conversations is essential.
Knowledgeable about Edmonton
Passionate about the world of social media and new technology
Familiarity with Adobe suite of software considered an asset.

If this opportunity sparks your interest and highlights your strengths, we want to hear from you! Please submit your detailed cover letter and resume outlining your accomplishments, skills and abilities by Tuesday, December 8th. Click on the button below to apply.