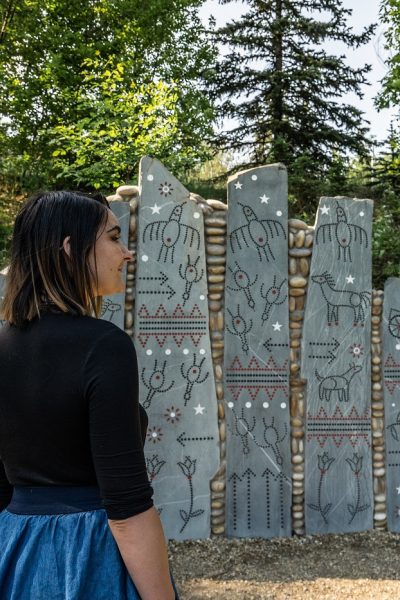 Indigenous Landmarks and Spaces in Edmonton
Amiskwaciy Waskahikan, also known as Edmonton, is home to many breathtaking Indigenous landmarks and spaces. Connect with the city's past, present and future while taking in everything from outdoor art installations to beautiful serene gardens. For more Indigenous experiences and attractions in Edmonton, check out our guide here.

Turtle Rock Effigy labyrinth
Located in Louise McKinney Riverfront Park, east of the Edmonton Convention Centre and south of the main parking lot, you will find the Turtle Effigy. This effigy/labyrinth was created in 2010 by Lea Dorion as part of The Works Art and Design Festival. You are meant to enter the labyrinth thinking of a problem. As you walk through the labyrinth, the twists and turns will guide you through thought so that when you step out, you will have come to a conclusion. The Turtle Effigy is a marriage of the traditional Indigenous turtle symbol and Celtic labyrinths. Lea Dorion did this to mirror the relationship between Canada's Indigenous Peoples and European settlers.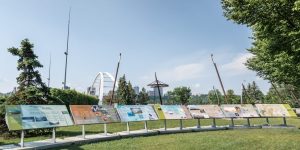 The Rossdale Cemetery is a memorial that was built to remember the traditional burial grounds located in the Rossdale Flats area. For thousands of years, this area was a gathering site for many Indigenous peoples, primarily the Cree, Blackfoot, Assiniboine, and Métis. The burial grounds used to be part of EPCOR's powerplant site until remains were discovered and a section of the site was blocked off. The City of Edmonton, EPCOR, descendants of the traditional bands of this area and other community members came together to design and create the memorial. The site is a historic cemetery and burial ground protected by law. On August 2006, the remains found were reburied during a special ceremony, and the memorial was officially opened.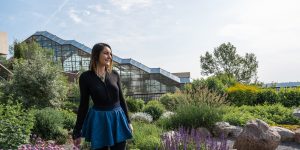 Community Medicine Wheel Garden
Located to the west of the Edmonton Convention Centre, behind the old Edmonton Visitor Information Centre, you will find the Community Medicine Wheel Garden. This garden is located on the rooftop of the Riverview Room and provides stunning views of the gorgeous river valley. The garden itself is in the shape of a medicine wheel, a symbol that honours all four directions, medicines, cycles of life and animals. The garden was created in guidance with local Cree Elder Francis Whiskeyjack. The garden is filled with dozens of plants indigenous to the area, and medicines that the Indigenous peoples often used in food, for healing, and for ceremony.

Gardens such as this one are traditionally considered sacred spaces and this particular garden was created as a place intended for people to meet, share and connect.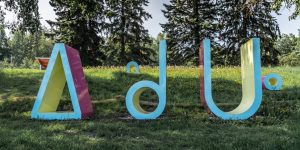 This park was created in partnership with the City of Edmonton, Confederacy of Treaty No. 6 First Nations, Métis Nation of Alberta, the Edmonton Arts Council and Indigenous artists. In this beautiful park, you will find six art installations, created by Indigenous artists who were asked to create pieces "inspired by this land". Check out our guide to Exploring ᐄᓃᐤ (ÎNÎW) River Lot 11∞ for more information!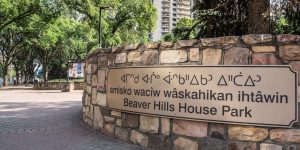 Amiskwaskahegan Beaver Hills House Park
On the northeast corner of Jasper Avenue and 105 Street, you will find a cute little park nestled in downtown Edmonton. When you first come into the park, you will notice hand prints along the ground. These handprints create a walk of honour, a tribute to Indigenous success, called the Aboriginal Walk of Honour. It recognizes Indigenous effort and hard work of Indigenous peoples bringing new understanding, language, traditions and culture in Canada.

This park gives homage to Edmonton's traditional name- Amiskwaciy Waskahikan, meaning Beaver Hills House. Edmonton was named this long before the arrival of settlers. It was given this name for the large hills you see when standing on the southern bank of the North Saskatchewan River, where the legislature grounds now sit. In the park, you will find beautiful water elements, and a little Amisk (beaver) near the waterfall to say hi to!
Mackenzie Brown is First Nations Cree from Sturgeon Lake Cree Nation, currently residing in Amiskwaciwaskahikan, Edmonton. She is a performer, drummer, tourism entrepreneur, philanthropist and advocate for at-risk youth in the Edmonton area. Mackenzie and her mom perform as "Warrior Women". They drum and teach around Alberta for the Northern Alberta Teachers Conference, the annual Jasper Dark Skies Festival, Youth Dream Catchers Conference, Canada Day, Aboriginal Day festivities and more. Along with drumming, Mackenzie is also an avid acrylic artist and traditional First Nations crafts artisan. Her art has been featured in the Pump House Gallery, the Edson Gallery Museum, the Gray Gallery Grant MacEwan, recognized for the Alberta Indian Arts and Crafts Award of 2017, featured for the Alberta Business Competition 2017 and sold to people travelling world wide at Jasper Park Lodge. She is also the recent recipient of the 2019 Esquao Award for Children's Future.