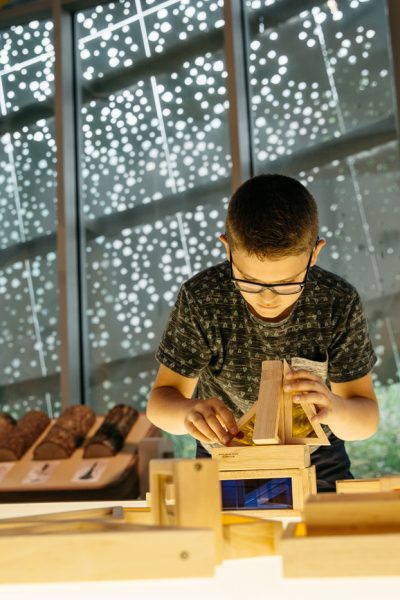 Top Things to do with Kids in Edmonton
Whether your kids are just learning to crawl, or have entered that phase where you're not cool anymore (trust us, it will pass), there are tons of family-friendly attractions and things to do with kids to keep everyone busy in Edmonton. We've picked the top 10 things to do in Edmonton with kids that they'll be talking about for years to come.
Edmonton Explored: Best Things to do with Kids
Let local designer and mom, Justine Ma, be your guide to Edmonton's best things to do with kids. Then read on to discover more activities and places to go!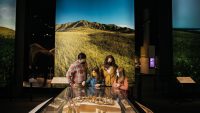 The Royal Alberta Museum is Western Canada's largest museum, with more than 82,000 square feet of exhibition space, and 7,000 square feet of interactive exhibits for the whole family to enjoy. Kids can learn about weather and the environment, explore their inner performer and put on a show in the Chautauqua, cuddle up with a good book in the reading nook, create a symphony of sound, dig for their own treasures, learn how paleontologists unearth mysteries of dinosaurs and so much more.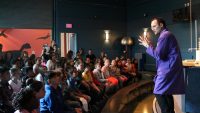 TELUS World of Science – Edmonton is a truly out-of-this-world experience. There are a wide variety of themed galleries to explore, IMAX movies to discover and tons of fun and engaging hands-on science to experience. Take your seat at the edge of the universe in the Zeidler Dome theatre and embark on an incredible cosmic journey across galaxies and to the core of an atom. Step inside the all-new S.P.A.C.E. Gallery and interact with exciting exhibits, from firing rockets and driving a Mars rover, to laying eyes upon a real-life Moon rock.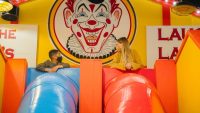 Step back in time and show the kids how mom and dad grew up. Just kidding! Fort Edmonton Park presents a historically accurate representation of life in Alberta's capital from 1846 up to 1920. Children can learn about the fur trading Fort Edmonton, a European settlement established to trade with the local Cree, Blackfoot, and other Indigenous people in the area, which eventually led to the creation of the City of Edmonton. Stroll through 1885 Street and 1905 Street to see a transition in Edmonton's history— from rugged frontier town to an established community.

Costumed interpreters demonstrate the daily lives of Edmontonians from each time period. Stop by the Capitol Theatre to see what's playing, a live performance, cinema classics or even a "4D" short film. Before returning to modern times, enjoy an old-school carnival ride in the midway.

New to the park is the immersive Indigenous Peoples Experience. This is your chance to explore life through the diversity of First Nations' and Métis Peoples' histories and perspectives. The stories, music, artwork, and text in the experience come from local Indigenous perspectives and voices, gathered through engagement with local Indigenous communities and research.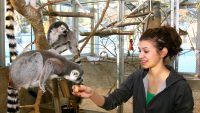 More than 350 spectacular animals, including arctic wolves, red pandas and pythons call the Edmonton Valley Zoo home, making it a must-see for families. Open during the spring and summer, the zoo is a fun and informative place for children to marvel at the majesty of nature and learn about the importance of conservation. Check the zoo's daily schedule to see which animal's caretakers will be presenting on each day.

Come for the shopping, stay for all the great family activities. The largest mall in North America has over 800 stores and services, an indoor amusement park, waterpark, even a skating rink. Mom and Dad can do all the back-to-school shopping they need in one stop before the whole family takes part in one of the different indoor spectacles. West Edmonton Mall truly is as big spirited as all of Alberta!

Sports, Sports and more Sports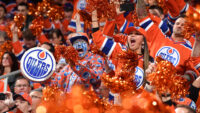 An Edmonton Oilers game is the only place to see one of the world's best hockey players, Connor McDavid, battling it out against the highest level of hockey competition in the NHL. The Oilers aren't the only option for hockey at Rogers Place, however, as the WHL's Oil Kings play 34 home games in Edmonton, and provide affordable tickets with more kid-focused entertainment.

During the summer and fall, the Edmonton Elks football team puts on the greatest show on (Canadian) turf. An Edmonton Prospects game makes for a relaxed afternoon of hot dogs and baseball. FC Edmonton goes for gold in the Canadian Premier League, perfect for the soccer-loving little ones. The Edmonton Stingers are a slam dunk for families of all sizes. See them take it to the hoop at the Edmonton Expo Centre!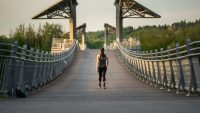 The City of Edmonton maintains over 160 kilometres of pathways and trails that wind through the North Saskatchewan River Valley - 22 times the size of New York's Central Park. So grab the fam jam and walk, run, cycle or segway your way through our beautiful urban park system. Check out our guide to the city's Best Hikes and Walks for more inspiration!

Ukrainian Cultural Heritage Village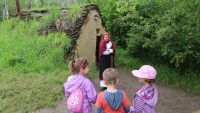 Explore some uniquely Western Canadian history at the Ukrainian Cultural Heritage Village. The Western provinces experienced a huge influx of Ukrainian immigrants at the end of the 19th Century. Many current residents can trace part of their heritage to this migration. The Ukrainian Cultural Heritage Village features more than 35 restored historic buildings and costumed interpreters portraying the lives of Ukrainian settlers.

University of Alberta Botanic Garden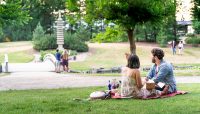 A must-visit for lovers of gardens and beautiful things. With 80 acres of display gardens (and 110 additional acres of natural areas and ecological preserves), there's so much to explore at the University of Alberta Botanic Gardens. Trek through dreamy areas like the Butterfly Greenhouse, the Kurimoto Japanese Garden or the Aga Khan Garden—4.8 hectares of modern architectural beauty inspired by Moghul traditions, and designed for the Edmonton region's climate and topography.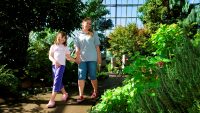 Breathe in colourful and exotic life at the enchanting Muttart Conservatory. Each of the four glass pyramids holds a themed garden representing a different world biome and species that hail from Mexico to Madagascar. Come and be a part of all the family-friendly programs taking place throughout the year, and experience the magic of this iconic attraction.

Summer fun at Snow Valley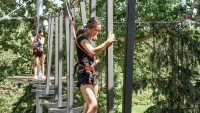 The best day ever starts and ends at Snow Valley. Climb the biggest and most intricate jungle gym you've ever seen at the Snow Valley Aerial Park, then spend the afternoon playing Target Golf! You'll hit golf balls at various yardage markers and novelty targets scattered up the hill. Fancy yourself a bit of a gold digger? The Whitemud Creek Mining Company has returned after 50 years. Located alongside the Aerial Park Tower, the sluice will allow you to sift through sand to find stones, fossils or other treasures.

In the winter, head to Snow Valley to hit the slopes! This is the perfect place for new skiiers to get comfortable on the hill!