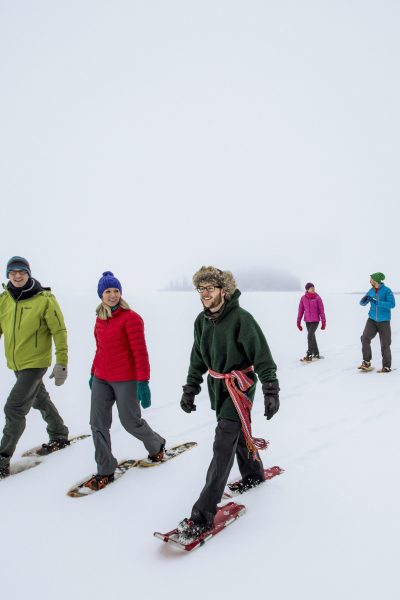 Guide to Snowshoeing in Edmonton
It's true what they say, the best shoe is a snowshoe. Snowshoeing was a traditional mode of transportation for Indigenous People in Canada, and it's still a practical way to explore Edmonton today. This guide will help you find where to rent your snowshoeing gear and which trails should make it to the top of your bucket list. Now is the time to dash through the snow and embark on an epic winter adventure or tour!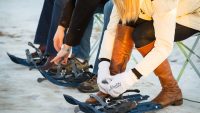 Gear up! You'll want to start by layering your clothing. Begin with a base layer such as a long sleeve t-shirt and build from there. Depending on the weather, a thick sweater, parka, warm socks, hat, scarf, and winter footwear will be essential. Don't forget to bring a backpack to hold extra socks, your camera, water and snacks.

Need to rent snowshoes while in Edmonton? Not a problem! River Valley Adventure Co. has a variety of sizes and allows you to rent by the hour or per day!

To get the most of our your snowshoeing adventure, River Valley Adventure Co. will be your knowledgeable physically-distant tour guides. They know the best routes and will provide you with fun, historical and insightful information about the area. Don't be surprised if you discover some of Edmonton's locally famous hidden gems. Contact them through the RVA website to make a booking!

Embark on a snowshoe tour led by Talking Rock Tours at Elk Island National Park! Your winter geo-adventure begins at the Moss Lake Trailhead, where the last glaciation deposited abundant rolling hills. This region of the national park is perfect for beaver habitat, as well as getting the heart rate up while snowshoeing in the winter wonderland of Elk Island. Your journey ends with an indigenous sharing circle around a fire.
Go walkin' through a winter wonderland with Haskin Canoe. Their tour guides will take you through the city's river valley trail system, where there is the perfect balance of big city views and forested pathways. This 1-2 hour trek can take place during the day or in the evening, and is the perfect way to see the beautiful river valley from a fresh perspective.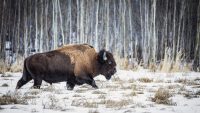 Picture yourself crossing a frozen, snowy lake as the knock-knock-knock of a woodpecker echos from the forest beyond. Snowshoeing is a fantastic way to discover the beauty that surrounds Elk Island National Park. If it's daytime, you might get lucky and spot a bison dashing through the snow. At night, there's the prospect of northern lights. As part of the Beaver Hills Dark Sky Preserve and the Beaver Hills Biosphere Reserve, Elk Island National Park is an exquisite spot to view the wonders of the aurora borealis.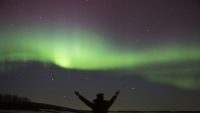 Join fellow night sky enthusiasts as you head out on a guided hike on snowshoes around Astotin Lake with the Snowshoe and Stargaze Experience. Take a seat by the crackling campfire and gaze up at a sky full of stars. One thing is for sure - this will be a night to remember.