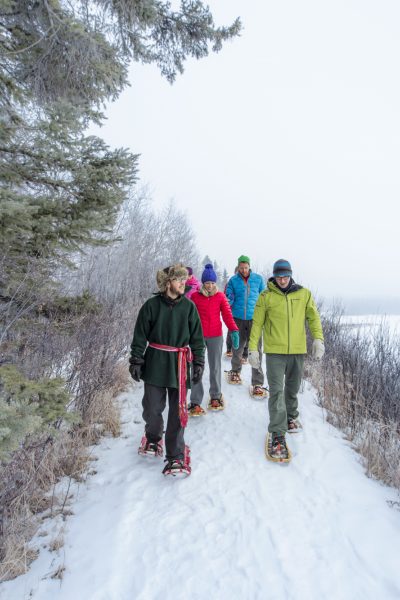 Snowshoeing in Edmonton
Get those snow boots ready to explore! Edmonton's 7,400 hectares of parkland and 150 kilometres of interconnected trails are waiting for you.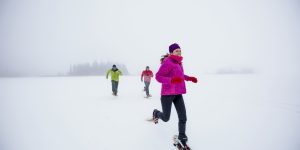 Picture yourself crossing a frozen, snowy lake curling with motionless whitecaps as the knock-knock-knock of a woodpecker echoes from the forest beyond. If it's daytime, you might get lucky and spot a bison plowing through the snow; at night, there's the prospect of northern lights.

I've had people rent snowshoes figuring they'll only be out for an hour, and they return three hours later, red-cheeked and having fun.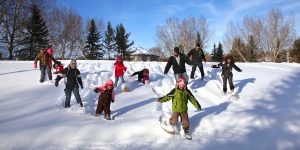 Edmonton's river valley is 22x the size of New York's Central Park and looks the most magical in winter. Want to set out on your own adventure? Rent a pair of snowshoes and head out to the trails!

Places to rent snowshoes:
River Valley Adventure Co - 9999 Grierson Hill (guided tours available)
Elk Island National Park - East of Edmonton (guided tours available)
Strathcona Wilderness Centre - East of Edmonton

Got your snowshoes? Here are some of the best areas to explore:

Fort Edmonton Park - Corner of Fox and Whitemud Dr.
John Janzen Nature Centre - Beside Fort Edmonton (corner of Fox and Whitemud Dr. )
Rundle Park - 29 St and 113 Ave
Borden Park - 75 St and 112 Ave
Terwillegar Park - West end of Rabbit Hill Road
Victoria Park - 12130 River Valley Rd
William Hawrelak Park - 9930 Groat Rd