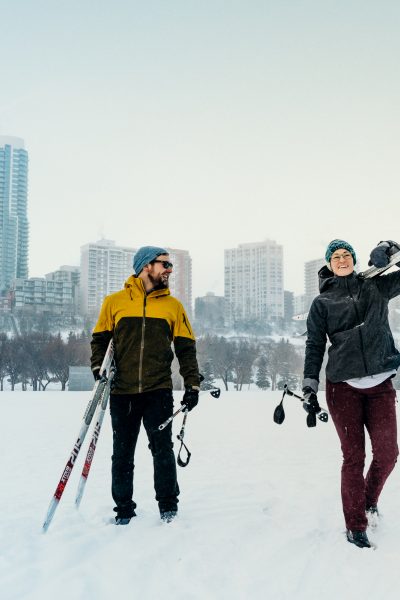 Guide to Cross-Country Skiing in Edmonton
Cross-country skiing enthusiasts don't have to go far to find the best places to strap on their skis and venture into a peaceful, snowy wilderness. Edmonton's expansive river valley and park systems run right through the heart of the city and feature over 160km of fresh trails waiting to be explored. Read on for information on tours, the best parks & trails and more.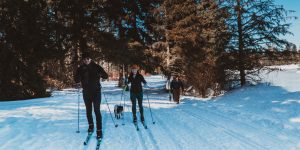 You Have to Ski it to Believe it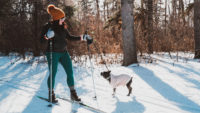 Racing along the banks of the North Saskatchewan River Valley is as peaceful and scenic as the stunning cross-country skiing trails just outside of the city, like the Cooking Lake Blackfoot Provincial Recreation Area, the Strathcona Wilderness Centre and Elk Island National Park. Of course in these wildland areas, you'll be skiing in home ranges of moose, deer, and other large animals, while in the city the wildlife species tend to be a little smaller. Although it is not uncommon to see deer, do expect to see hares, foxes, coyotes and perhaps if you are lucky and have a keen eye you might see a great horned owl hiding within the forests of spruce, balsam poplar, birch and alder lining the trails.
Parks & Trails to Discover
Look no further for some of the best parks & trails in and around Edmonton. Whether you're planning to stay within city limits, or venture a bit further, an afternoon of adventure is closer than you think!

Trails in Edmonton:
Argyll / Mill Creek - 69 Avenue & 88 Street
Capilano Park - 10810 54 Street
Gold Bar Park - 109 Avenue & 50 Street
Goldstick Park - 50 Street & 109 Avenue
Hermitage Park - 2115 Hermitage Road
Kinsmen Park - 91 Avenue & 108 Street
Riverside Golf Course - Rowland Road & 84 Street
Rundle Park - 2909 113 Avenue
Victoria Golf Course & Park- 116 Street & River Valley Road
William Hawrelak Park - 9330 Groat Road

For information on trail conditions visit the City of Edmonton website, or check out the SkiYEG app (available for IOS or Android).

Trails near Edmonton:

Cooking Lake-Blackfoot Provincial Recreation Area - 52365 Range Road 210, Sherwood Park, Alberta (60 km east of Edmonton)
Elk Island National Park - 54401 Range Road 203, Fort Saskatchewan, Alberta (48 km east of Edmonton)
Strathcona Wilderness Centre - 52535 Range Road 212, Ardrossan, Alberta (16 km east of Edmonton)
Canadian Birkebeiner Ski Festival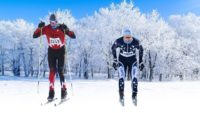 Once, you have your ski legs, consider challenging yourself to the Canadian Birkebeiner Ski Festival. Feel the rush as you glide across the final stretch of track before falling into a blanket of white snow. The fatigue only lasts an hour or so, but the sense of accomplishment and appreciation for one of winter's oldest sports will last forever!