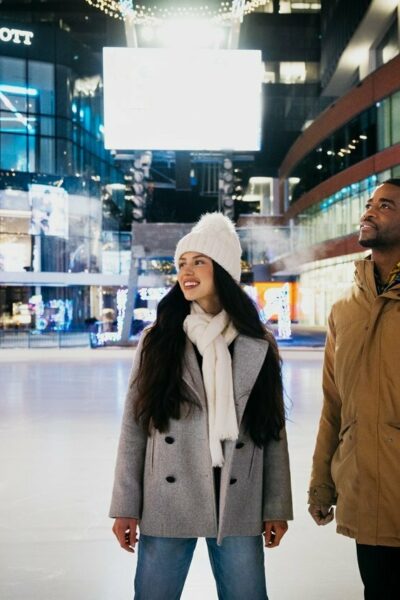 Outdoor Ice Skating in Edmonton
Discover the adrenaline rush of skating at one of Edmonton's renowned outdoor rinks, surrounded by gorgeous snow-covered winter scenery. Bring a thermos of hot chocolate and spend an afternoon with loved ones who laugh along with you as you attempt a figure eight. Visit the City of Edmonton website for the latest on rink openings and ice conditions. Looking for skate rentals? Totem Outdoor Outfitters has you covered with a wide selection of skates, hockey equipment and more!

Edmonton's outdoor rinks:
Enjoy free admission at these legendary outdoor rinks around Edmonton!
Castle Downs - 11510 153 Ave.
Outdoor skate change area available. Washrooms located inside the centre. Lounge and locker area are currently closed.

Jackie Parker Park - 4540 50 St.
Washrooms located inside the Jackie Parker Park Pavilion. Lounge and locker area are currently closed. Skate change area is set up outside.

Rundle Park & IceWay - 2909 113 Ave.
Washrooms and skate change area located inside the Rundle Family Centre Pavilion. Skate rentals are offered here!

Victoria Park Oval & IceWay 12130 - River Valley Rd.
Skate change room, washrooms and water bottle fill-up station available inside the pavilion.

Meadows Outdoor Leisure Ice - 2704 17 St.
Washrooms and skate change rooms located adjacent to the rink.

Astotin Lake - Elk Island National Park
Contact the Elk Island Visitor Centre for up-to-date ice condition reports!

City Hall - 1 Sir Winston Churchill Sq.
Skating is officially back at City Hall! Free skate rentals will provided during the following times:
Fridays: 5:00 pm – 9:00 pm
Saturdays: 12:00 pm – 9:00 pm
Sundays: 12:00 pm – 5:00 pm
Make sure to check ice conditions before heading out to skate!