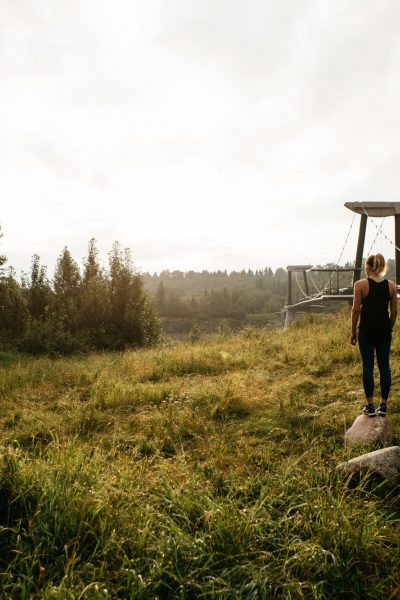 Best Hikes and Walks in Edmonton
The City of Edmonton maintains over 160 kilometres of pathways and trails that wind through the North Saskatchewan River Valley and the city's many other green spaces. Most of these trails are paved and intended for mixed use, meaning cyclists are welcome (although a few of our favourites are foot traffic only).
The 186-hectare Terwillegar Park in Southwest Edmonton makes a nice spot for a picnic or leisurely nature stroll in the summer, and the right terrain for cross-country skiing in the winter. For a more structured route, walk or run the perimeter of the park, starting at the parking lot, for a total of 6.5 kilometres and a nice view of the river.
Terwillegar Park is an off-leash dog park, meaning your best furry friend can get in on the action.
Whitemud Park
With a starting point near Fort Edmonton Park and the John Janzen Nature Centre, a walk through Whitemud Park can be just the beginning of a day full of outdoor activity. The trailhead is just south of the Alfred H. Savage Centre, which is a good spot to stop for water and a bathroom break. The trail runs through Whitemud Ravine Nature Reserve and is foot traffic only, no bicycles allowed. The full trail distance is 6 kilometres, however, the halfway point at Snow Valley is a natural turnaround point.
Government House Park
On the north shore of the North Saskatchewan River, and not far from downtown Edmonton, is Government House Park. This park is a favourite for locals who like to picnic, run, or cycle. Running along the river before turning up into MacKinnon Ravine, this 2.5 kilometre (5 kilometres with return) trail features an increasing incline further into the route and some magnificent river valley views along the way.
Elk Island National Park is not only a great spot for stargazing (it's a dark sky preserve after all), but is the perfect place to watch grazing bison in the distance. Camp beside the lake and spend the afternoon hiking through the variety of trails (lucky for you, there are options for all skill levels). Here are a couple of our favourites:
An easy 3.5 kilometre hike through Aspen forest and sedge meadows, the Beaver Pond Trail is a great route for viewing birds in the summer and grazing animals in the winter. Interesting fact: Beavers that you may spot on this hike are the result of reintroduction by park staff in the 1940s, as the fur trade had previously eliminated the original beaver population.
For the more ambitious hiker, try the Tawayik Lake Trail which leads past the lake, through aspen forests and meadows. This difficult trail is 16.5 kilometres and will take 4 to 5 hours to complete for most. When you access the trailhead, on Tawayik Lake Road, keep your eyes peeled for the bench commemorating the visit of Pope John Paul II in 1984.