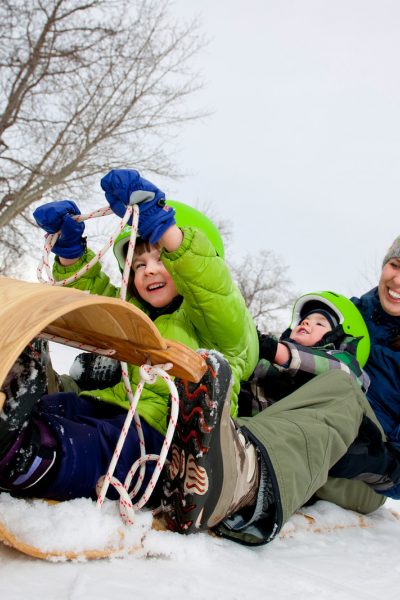 Guide to Tobogganing and Sledding in Edmonton
It's time to saddle up your sleds, carry out your crazy carpet, or transport your toboggan down to one of Edmonton's best hills for a cold-weather adventure! Nothing says winter fun like kicksledding or tobogganing through a fresh blanket of pristine snow. Feel the brisk wind nip at your cheeks as you race friends and family down the hill, then warm up with a hot chocolate from a nearby local coffee shop. We're talkin' the kind of day that frosty dreams are made of!

No matter how you explore this season, be sure to continue practicing safe physical distancing, frequent handwashing and following the guidelines put in place to keep everyone safe.
Best Toboggan Hills in Edmonton
Before heading out for a day of sledding, cruise on over to the City of Edmonton Website for updates on hill conditions.

Emily Murphy Park Hill
Located on the southside of the North Saskatchewan River, the steep run eventually evens out at the bottom, making for a smooth landing. The park is also equipped with firepits and bathrooms nearby.

Gallagher Park
This hill comes complete with a stunning view of the downtown skyline. The slope is large, making for a long walk to the top - but it's well worth the effort!

Government House Park
With a a fantastic view of MacKinnon Ravine, this hill offers an exhilarating run perfect for thrill seekers. Plus, scenes from the movie Snow Day starring Chevy Chase were filmed here!

Queen Elizabeth Park
10380 Queen Elizabeth Park Road
Located in the city's core, the hill at Queen Elizabeth Park is a great spot for an afternoon of sledding. Make a day of it by exploring the winding river valley trails nearby afterwards.

Rundle Park ACT Hill
This hill is located in picturesque Rundle Park, on the north east side of the city. There's a clearly marked area to the left of the hill where you can climb up - an important feature that reduces the risk of collisions!

Rundle Park Walton's Mountain
Also at Rundle Park, Walton's Mountain offers a steeper option for older kids or adults looking for the thrill of a big hill. We recommend starting out at Act Hill, then making your way to Walton's Mountain to finish off your day with a hit of adrenaline!

Whitemud Park North
This medium-sized run has stairs on the side that lead to the top, which helps you avoid the odd crash. There's also a large washroom building at the bottom of the hill which can be used as a changeroom.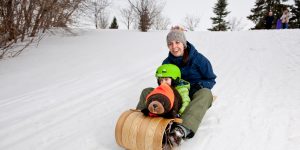 While tobogganing is one of our favourite winter pastimes, it can also result in injury if not done safely. To reduce the risk of getting hurt on your run, please check that the path is clear before taking off and make sure to walk up the hill outside of the sledding area. Do not dig holes or build ramps on the hills and always sit face-forward on your sled. Tobagganing is not recommended after dark, and dogs are not permitted at many of the city's hills. Helmets are also recommended. Slide at your own risk and remember to have fun!

What's one of the best things about tobogganing? We think it might be warming up with a creamy hot chocolate afterwards. Check out these cozy cafes, perfect for an après-sled pit stop: