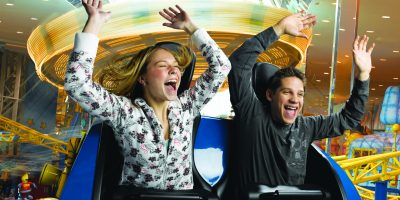 Galaxyland Amusement Park, located in West Edmonton Mall, is the world's largest indoor amusement park offering space themed rides for all ages. You'll get goose bumps deciding which ride to try first.
Feel gravity force you back into your seat as you climb 14 storeys, heart in your throat, on the Mindbender, the world's largest indoor triple-loop roller coaster. Next up: the spinning roller coaster, then an astronaut launch up and down to earth, on the Space Shot.
Grab your laser sharpshooters and take on the zombies (or robot cowboys) at the new Galaxy Quest 7D experience. It's an interactive simulation ride featuring stunning 3D graphics in a multi-sensory theatre.
For young adventurers, the Galaxy Kids Playpark lets tiny tots explore slides, fun caves and go on a ball crawl. Older kids can burn energy on the bumper cars and electric go-karts, and check out the arcade games and rock climbing wall.
Afterward, take an easy train ride through the park to plan your next exhilarating conquest.