When you choose to bring your event to Edmonton, not only do we work alongside you to bring it to life, but our designated Event Development team is there to take your event from good to outstanding.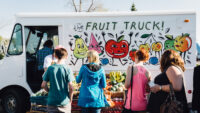 Our Event Development team believes in connecting you with all of Edmonton's best local suppliers to ensure that your event works to give back to the local community as much as possible.
INDIGENOUS ACKNOWLEDGEMENTS
Edmonton is lucky to boast the second largest Indigenous population in Cannada, full of talented performers, artisans, musicians, and entrepreneurs. If you're looking to find a respectful and intentional way to honour that your event is being hosted on Treaty 6 Territory, our Event Development team will connect you with our partners at Indigenous Tourism Alberta to ensure you're taking the appropriate steps. Our team is also connected with many talented Indigenous artists who have supported events in the past by drawing murals, crafting trophies, designing team jerseys and more. Explore Edmonton strongly supports taking steps towards reconciliation by acknowledging and celebrating Indigenous culture, and we hope to support you in taking these steps through your event.
THERE'S A VOLUNTEER FOR THAT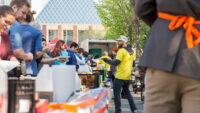 Edmonton is well known for having an amazing community of eager volunteers. Luckily, the Event Development team at Explore Edmonton is well connected to these networks and will gladly work to connect you with the people you need – whether it's marshals for your racecourse or post-secondary students to capture social media content at the sidelines of a tournament – Edmonton's volunteers are here to help. Visit our Volunteer Support page for more details on how Explore Edmonton can connect you with some helping hands.
THINGS FOR EVERYONE TO DO IN EDMTONTON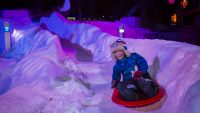 We know that bringing your team, families, artists, etc. to a new city can be equal parts exciting and overwhelming. The Event Development team is here to make sure that event organizers, participants, and visitors lean into the excitement. Check out these itineraries to uncover all that can be experienced in Edmonton.
Additional Event Resources