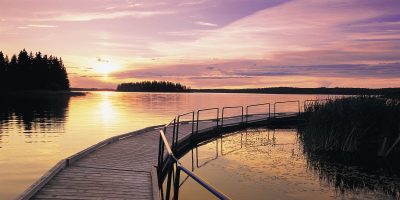 Things to Do Outside this Fall
Autumn in Edmonton is a breath of fresh air! Adventure in your own backyard this season as you discover incredible outdoor attractions in and around the city. With plenty of space to roam, Alberta's capital is the perfect place to admire the shifting leaves and connect with nature. What are you waiting for? Start exploring!
As your favourite attractions, experiences and restaurants reopen, be sure to continue practicing safe physical distancing, frequent hand washing and following the guidelines put in place to keep everyone safe.
The River Valley is Calling
The North Saskatchewan River Valley in autumn is a sight unlike any other. The river valley has over 150 km of trails that are perfect for jogging, cycling, and taking in the picturesque city vistas.
Feeling adventurous? Blaze your own trail on an e-scooter tour with River Valley Adventure Co. Want to get that bird's eye view? Get your head in the clouds with Edmonton Regional Helicopters.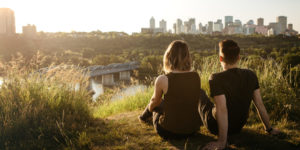 Explore Indigenous Edmonton

Amiskwacîwâskahikan, also known as Edmonton, is located on Treaty 6 Territory, home to many nations including the Cree, Saulteaux, Blackfoot, Sioux and Métis People. Edmonton has many Indigenous parks that are easy to visit while engaging in physical distancing. Take a self-directed tour with this handy guide to the city's remarkable Indigenous landmarks and spaces, and check out our guide to exploring ᐄᓃᐤ (ÎNÎW) River Lot 11∞.
A bison traffic jam is one situation that Google Maps can't prepare you for! With hundreds of free-roaming bison at Elk Island National Park, you just might catch a glimpse of a herd grazing in an open meadow or stopped in the middle of the highway with steam rising from their woolly coats in the morning. Just 35 minutes East of Edmonton, Elk Island provides some of the best wildlife viewing opportunities in North America.
The park is also part of the Beaver Hills Dark Sky Preserve, meaning it's a stellar location for stargazing. Bring a blanket, a basket full of late night snacks, (ahem, stock up on delicious food from local restaurants and bakeries - check out our massive list here) and gaze up at the starry sky where you'll see star clusters, nebulae and galaxies. Be sure to check out the new Geo Domes at Elk Island Retreat for the ultimate glamping experience.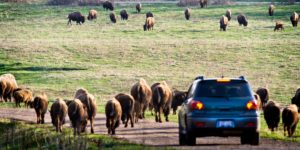 Embark on a Self-Guided Tour
Be your own tour-guide with a little helping hand from technology! The Commonwealth Walkway App is a great guide to exploring Edmonton's river valley while reading and listening to one of five storylines (Indigenous, History, Family, River & Winter).
Gain a new perspective on Edmonton's history and take a free audio tour while using the Edmonton Queer History App. Stretch your legs, and expand your knowledge of Edmonton's ongoing story.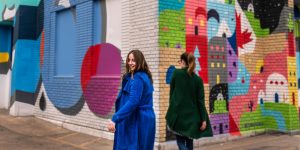 Paint the town red, and every other colour too.
Edmonton's street art game has exploded in the last few years, thanks to the visionary team at Rust Magic. Rust Magic represents spray-paint culture at its finest by showcasing high-quality pieces and educating the public on the often misunderstood art form. Check out their virtual mural map and plan your drive (or a physically-distanced walk) around the city where you'll discover incredible large-scale works by international and local artists. Visit their Instagram page for some visual inspiration, and be sure to pack a camera so you can capture the moment yourself!
Dust off your camera or smartphone and get ready to capture the city's summer glow. Edmonton has plenty of Instagrammable locations just waiting to be discovered. Check out our list of picture-perfect hidden gems in our two-part article series: Edmonton's Best Photo Spots and Edmonton's Best Photo Spots 2.0. You'll see the city from a whole new perspective while taking your Instagram page to the next level.
A short forty-minute drive from downtown Edmonton you'll find the University of Alberta Botanic Garden — the largest botanical garden in the province. The gardens have partnered with extraordinary local food and beverage makers to create fully stocked picnic baskets for two. Boxes are charcuterie-style and adorned with fresh flowers and herbs grown right there at the garden.
Rather take your picnic plans into your own hands? Pick up snacks from Edmonton's incredible restaurants, and fill your basket to the brim. Then lay out your blanket at one of our favourite picnic spots!