Edmonton's Best Photo Spots 2.0
So, your Instagram feed needs a refresher, and not just any old selfie will do. You're looking for something more unique, that shows some effort and a whole lot of Edmonton pride! Check out these fresh and visually appealing locations in our beautiful city for your next perfect photo op. Tag #ExploreEdmonton so we can see where your imagination takes you!

For more photo spots, check out our original guide to snapping pics in Edmonton.

As you're touring around the city be sure to continue practicing safe physical distancing, frequent hand washing and following the guidelines put in place to keep everyone safe.
Alberta Legislature Grounds
The Legislature grounds provide the perfect backdrop of historical grandeur mixed with natural greenspace. The Legislature buildings themselves are striking, with marble pillars and intricate carvings that will catch the eye of anyone viewing your photos. Portraits out on the sprawling lawn will always leave your Instagram audience in awe. Shots of the fountain, impressive in daylight and even more so when it lights up with bright colours at night, are also a photo favourite.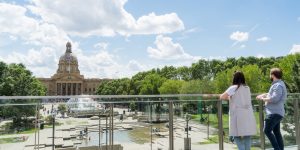 Thanks to Spanish street artist duo PichiAvo, a blank white wall on 106 Street and 103 Avenue in Edmonton now features a breathtaking mural. We don't even have to mention that this would make for some pretty epic Instagram angles – you probably have a thousand creative ideas in your head already. The mix of classic art style with modern flair is something you don't see every day, so make sure to capture the moment!
As the funicular climbs up the river valley's steep incline, you'll be able to get tons of shots of that incredible view from multiple different angles! Operating year-round, the glass-walled elevator ride takes about a minute to bring you from downtown to a spot halfway into the valley; the perfect photo vantage point. There's also a lookout reaching farther over the whole valley so you can snap views that your followers will go crazy for.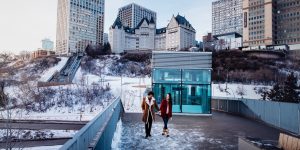 If you're looking for a modern and industrial Instagram aesthetic, look no further than downtown Edmonton's Ice District. With glass and steel melding together to form breathtaking buildings that soar sky-high, photos from around 104 Street and 104 Avenue are sure to impress.
The sleek arch of the Walterdale Bridge is always a stunning photo backdrop. Stretching across the North Saskatchewan River, the bridge is easy get up close to for detailed pictures, and it's visible from afar for more picturesque river valley scenes.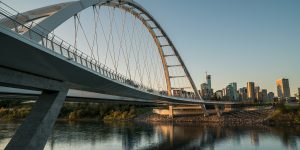 Along the side of the Mercer Warehouse building lives one of the most photogenic spots in our beautiful city — a stunning row of vintage neon signs, lighting up the sky with every colour imaginable. The wall of historic signs tells a story of Edmonton's past, featuring advertisements from bygone businesses. The neon sign museum is outside, easily accessible, and always open — check it out during daylight or at night for a different kind of glow.