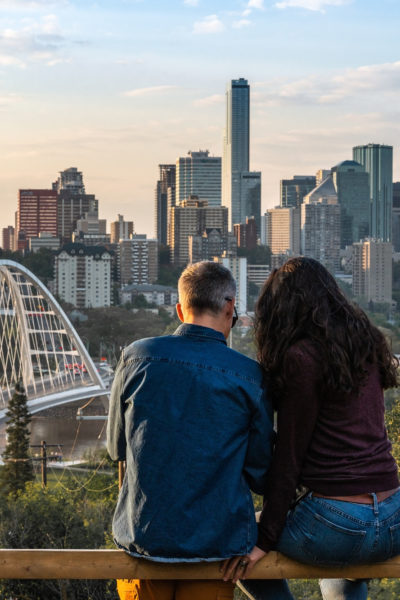 Edmonton's Best Photo Spots
Looking to take a stellar #YEG photo for the 'gram? Edmonton has plenty of picture-perfect and Instagrammable locations that are just waiting to be captured. While this barely scratches the surface on the best places to take photos in Edmonton, here are a few of our favourite spots.

And don't worry, these aren't high-traffic touristy locations. Rather, they're the everyday gems that sometimes go unnoticed by the average Joe. Don't forget to tag #ExploreEdmonton in your social media posts!
Rainbow Road perfectly captures the magic and whimsy of Old Strathcona. Inspired by the famous level in Mario Kart, you'll find this highly photogenic design on the ground of the Spur Line Alley. Stop by Made by Marcus and grab an ice cream cone, then strike a pose on this joyful new art installation.

Spur Line Alley north of Whyte Avenue between 104 Street and 105 Street
Visiting the pyramids of Giza was one of the best moments of my life. Since then, seeing similar architecturally designed structures always tugs at my heartstrings. The Muttart Conservatory is one of Edmonton's most unique looking attractions housing botanical gardens in four glass pyramids. While I love admiring the Muttart Conservatory from spots like Gallagher Hill or the Edmonton Convention Centre, nothing beats getting up close and personal. I can't help but feel like I'm a spy in a James Bond movie.
*Note: The Muttart Conservatory is closed for renovations until early 2021, but you can still snap a pic of the exterior!*

Located on 9626 96a Street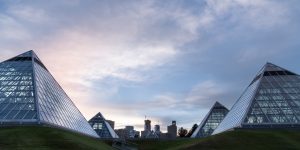 If you paid me a dollar for every time I've witnessed a couple canoodling on this bench, I'd have…well, probably only $10.00. The Forest Heights Park lookout point is pretty romantic. I mean just look at that skyline and river valley view! Before leaving, take a stroll down the trail that runs alongside the park. Because of the high elevation, you'll get great views of the river valley the entire time.

Located on 10104 84 Street

Graffiti Streetcar Tunnel
The High Level Bridge Streetcar seriously doesn't get the attention it deserves. Providing one of the highest river crossings by streetcar in the world, the views from the top deck of the bridge are both spectacular and exhilarating. Don't drain your camera battery quite yet, though! My favourite spot is the graffiti streetcar tunnel near the Jasper Plaza terminal filled with intricate black and white art. Be sure to cruise over once you're back on your feet to check it out!

Located just under the 99 Avenue bridge, West of 109 Street
While it's almost impossible to take a bad photo of the bridge, one of the best times to capture it's beauty is at night when its lit up with 60,000 LED bulbs. My favourite sight to capture is the tail lights of cars as they zoom by. In the summer (if you time it right) you might just snap a shot of the High Level Bridge Streetcar perched a top.

Foot access to the bridge is available via 109 Street on both the north and southside of the North Saskatchewan River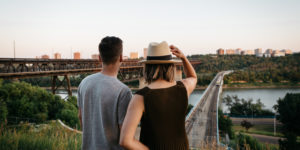 Once an area of disaster during a 1999 landslide, the Ramsay Heights neighbourhood is now home to one of the best vantage points in the city. The bend in the river forms the shape of a perfect horseshoe, and with its western exposure, the sunset looks pretty darn good from here. Don't forget your bug spray!

Located near 4112 Whitemud Road

Talus Dome, Edmonton's most expensive and perhaps most provocative piece of public art, always has people talking. Yup, it's a massive pile of nearly 1000 steel balls forming an abstract talus shape located beside Quesnell Bridge. While you've probably driven past the structure hundreds of times, I encourage you to take a closer look at it. Think fun house meets the compound eye of a fly. You can capture some pretty warped and funny reflections that will have you busting a gut laughing.

Access via Fort Edmonton Park road
Crush Beers Not Dreams Mural
Pete Nguyen's giant skull on the side of the Commercial Hotel is the perfect backdrop for an edgy photo shoot. The slogan is also spot-on, because the Whyte Avenue area is loaded with local taprooms and breweries. You can also see Nguyen's art on a wall outside Woodshed Burgers, a noodle dragon inside Nudoru Ramen Bar and a wall outside Edmonton Print Machine.

The side of the Commercial Hotel - 10329 82 Avenue
Skiing, tobogganing, splashing around in the spray park, picnicking, or belting out tunes at our beloved Edmonton Folk Music Festival, Gallagher Park is a wicked spot to hang out no matter the season. While I love all of these activities, my personal favourite is grabbing a late night snack (usually a 20-piece box of chicken nuggets), relaxing on one of the scattered benches and admiring our twinkling skyline.

Located on 9505 96 Avenue


Take your instagram game up a notch by posting a photo of the Crawford Block Mural. This brand-spankin' new piece of street art was created by world-famous artist Okuda San Miguel. His works can be seen in the streets and galleries of India, Mali, Mozambique, the United States, Japan, Chile, Brazil, Peru, South Africa, Mexico, and more. To get a closer look at the rad geometric shapes and organic forms, grab a seat on El Cortez's outdoor patio and sip on a tasty cocktail while you enjoy the view.

Located on 10319 83 Avenue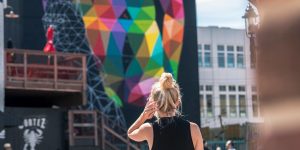 Kinnaird Park is rad because it's one of few spots north of the river where you can still snag a photo of the Edmonton skyline. Behind the lookout point is a huge grassy area which serves as a perfect spot to sunbathe in the summer, set up a picnic, or toss the ol' frisbee around. Plus, hardly anyone is ever there, so it feels like you have the place to yourself! The park has a great trail system and I recommend trekking East towards the Highlands hiking trail before popping back up and checking out the mansions on Ada Boulevard.

Located near 7696 Jasper Ave

Keillor Point (End of the World)
The Keillor Point lookout sits atop an aged retaining wall along the bank of the North Saskatchewan River Valley. Until 2018, the lookout was deemed off-limits due to it's instability and the potential danger it posed; However, this didn't stop locals from venturing over to this hidden gem to catch a peek at the spectacular view. As of summer 2019, improvements have been made to the viewing area and it's now open and safe for the public to access.

Located just off the walking path near 74 Avenue and Saskatchewan Dr.



UFO? Research station? Museum? Nah, just the most beautiful and extravagant bathroom I've ever seen! Borden Park is super cool because they have tons of public art pieces, and this pavilion fits right in. The mirrored triangular panels almost camouflage the building in the daytime. But if you come after the sun goes down, it can't be missed as it glows from within. Don't forget to pack your bathing suit if you're here in the summer. You can cool down after a day of exploration at the natural swimming pool.

Located on 7507 Borden Park Road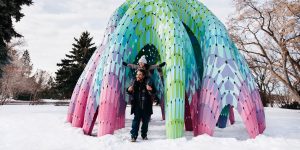 Speaking of public art, Borden Park's 'Vaulted Willow' is an absolute stunner. Created by MARC FORNES/THEVERYMANY, the project's aim is to "resolve and delineate structure, skin, and ornamentation into a single unified system." I'm no architect or art school graduate, but I like everything about it: the shape, texture, and colours. Does the structure remind anyone else of Sully from Monsters Inc? Oh just me? Ok cool.
I'm a big fan of running stairs, but I'm even a bigger fan of running stairs when there's a killer view involved. That's exactly what you'll find at the Wolf Willow Stairs. You can access them from Westridge Park or from the Fort Edmonton Park footbridge. If you choose the latter, be prepared to sweat it out and hike up 200 stairs to get to this vantage point. As Drake once said, started from the bottom now we're here. And dang, it's worth it.

Accessible via the stairs from Westridge Park (170 Willow Way) or from the Fort Edmonton Park footbridge


Northern Lights (Just Look Up!)
Did you know that Edmonton is North America's northernmost city with a population over one million? This means a couple of things to me: long bright days in the summer and long dark nights in the winter. No complaints about winter from my end though. We are lucky to experience one of the most magnificent shows on earth: the Northern Lights. Check out our guide for the best places to stargaze in Edmonton! Hot tip: check out AuroraWatch and sign up to receive e-mail alerts when aurora may be visible!

Beaver Hills Dark Sky Preserve is located north of Highway 16 in Elk Island National Park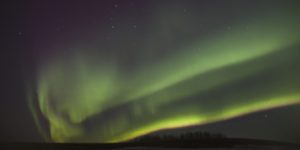 In my opinion, Glenora is one of Edmonton's most lavish neighbourhoods. I mean, just look at that fountain! Am I in Paris? If you're in the area, be sure to check out Alexander Circle where you'll find this grand fountain surrounded by historic homes. I personally love to people watch and daydream about the day when I'll be able to save up enough money to buy one of these houses. A girl can dream!

Accessible via 103 Avenue and 133 Street
Former Royal Alberta Museum Grounds
While the Government House commands the attention of most people, I prefer the Jeongja! This traditional Korean pavilion, built as a place where people and nature can unite, was gifted to Alberta from the Gangwon Province in Korea in commemoration of Alberta's centennial and the 30th anniversary of the Alberta-Gangwon twinning relationship to foster agricultural cooperation. Fun fact: the Jeongja is built entirely of wood and stone without nails or screws!

Located on 12705 102 Avenue

Based on the name of this location, you're probably excited to see a photo littered with cute dogs. Sorry to disappoint. While I am Edmonton's #1 dog fan, the lookout spot here is what really knocks me off my feet. Why? Because it provides unreal views of the Equine Centre (you can hear the horses neighing!), the North Saskatchewan River, Fox Drive, Talus Dome, and the Edmonton Valley Zoo. If you time your visit right, you'll be able to catch a spectacular sunset with the west-facing view.

Accessible via 119 Street and Saskatchewan Drive