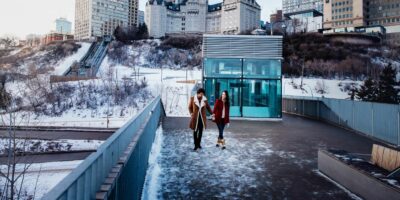 The Commonwealth Walkway
Download the app and step into the rich history of Edmonton.
Contact Information
Street Address

Various locations throughout the River Valley, Edmonton, Alberta
Explore the Commonwealth Walkway with the help of an interactive app and discover the history of Edmonton's river valley!
Using the downloadable app, visitors can explore the river valley while reading and listening to dozens of stories in five main categories (Indigenous, History, Family, River & Winter). Where does the North Saskatchewan River start? How did folks cross the river before bridges? When was Edmonton's first funicular built? Learn these little-known facts and more about Edmonton's vibrant story while satisfying your thirst for adventure!
Edmonton's Commonwealth Walkway travels for 10 kilometres through the North Saskatchewan River Valley. From the Funicular to the Groat Bridge, the Walkway includes paths to the Indigenous Art Park, John Walter Museum and Alberta Legislature.