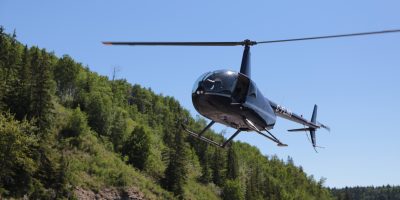 Panoramic views of the city and river valley… from the privacy of a helicopter! Enjoy this unforgettable perspective of Edmonton in air-conditioned comfort. Or even take the doors off if you're feeling adventurous!
Your adventure begins at the Executive Flight Centre at Edmonton International Airport. You'll feel like a celebrity enjoying a drink in the private lounge while you wait for your personal chopper. Before you know it, poof! You're high above the city! Within minutes of departure, you'll follow Edmonton's river valley as it winds its way to the city's core. Passing over parks and golf courses, you'll follow the North Saskatchewan River west to lake country. Here, "getting away from it all" takes on new meaning as the colourful landscape reveals a new personality in every season.
A River Valley Tour provides the opportunity to land on a sand bar then experience the thrill of departing only feet over the water, gently climbing as the sandbar and river disappears below! A perfect setting for a sunset flight. You can choose a Tour Package or create your own Custom Flight experience.
Edmonton Regional Helicopters specializes in helicopter services and charter operations 12 months of the year throughout the central Alberta region. This includes heading west to the Rocky Mountains which is only 40 minutes away!
Visiting the Edmonton area for the first time? Celebrating a special occasion? Anniversary? A surprise gift? Just give them a reason and they are there to help inspire an unforgettable day!