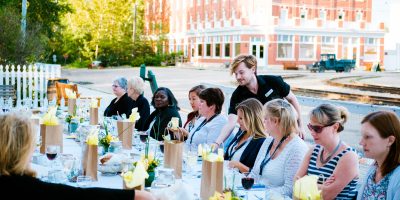 Business Event Development
A conference is a massive undertaking. As a conference planner, you're expected to balance the needs, goals, and vision against a set budget all while coming up with an inspirational and creative experience. Not to mention the "never before seen" concept that you're hoping to introduce in a brand-new city! It can seem daunting, but that's where our Event Development personnel can help. They are experts in helping to create a conference experience that is unforgettable.

Our Business Event Development team can be your point of contact for everything and anything Edmonton. They'll introduce you to the city's best vendors, find authentic offsite venues for your delegates, help you with pre & post planning, and – here's the best part – connect you with incredible Edmontonians that can take your conference to a whole new level.

Want to get started? Check out these resources to get a head start!
"Explore Edmonton caters to your needs and not what they feel they should be showing us. What is it that you are really looking for? They listen, and that's what I was shown."
- Hanso Sighn (Arbonne, January 2018)