We know that a lot of little changes can go a long way, paper over plastic, eat local, ride transit when you can, but we got to thinking, what if we went big? What if we changed how business events operated in Edmonton? So our team got to work finding local businesses, venues, farmers, artists, and entrepreneurs who are as passionate about sustainability as we are. Then we stacked our team with sustainability experts who are up to date on the latest research and trends. Now, not only can we help you offset your flights and reduce the carbon footprint of your event, we can make sure you don't have to compromise quality or your budget for a completely unforgettable, and environmentally sustainable, event.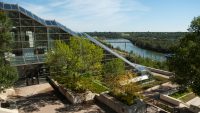 Our two award-winning venues, The Edmonton Convention Centre and Edmonton EXPO Centre are leading the way in the sustainable meeting industry. From The Responsible Events Program, waste management initiatives, sustainable permaculture, greenhouse gas reduction plans, and solar panel energy, our venues are strategically designed and operated so event emissions are low and corporate social responsibility initiatives are easy to incorporate into any event.



Complimentary Carbon Offsetting Services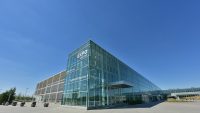 Events can emit a large amount of GHGs—from the energy consumption at venues to attendees' transportation and the food on their plates. Although Explore Edmonton and our venues provide sustainable event solutions, some emissions are impossible to avoid. Carbon offsets are investments in projects that remove the equivalent volume of unavoidable GHGs emitted from your event from the atmosphere.

Explore Edmonton has partnered with one of the largest and most experienced full-service carbon management teams in North America to measure and offset your event's carbon footprint. We provide complimentary consulting and guidance, to first reduce carbon emissions at your event, and second, offset your emissions.



Global Destination Sustainability Movement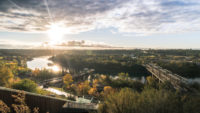 Edmonton is the first city in Western Canada to join the Global Destination Sustainability Movement (GDS-Movement). In an effort to measure and improve our sustainability strategies the GDS-Movement holds us accountable as a Destination Management and Marketing Organization (DMMO). Their vision is to create flourishing and resilient communities for residents and tourists alike to visit, live, and thrive in.

Edmonton completed our first GDSI In October 2021 and has successfully ranked #2 in participating North American Cities and #20 in all participating Large Cities. Our largest strength is our Social Performance with a 91% on our Score on Social Progress Index, with a moderate ranking in our Environmental Performance and a need for improvement in our DMMO and Supplier Performance. We're grateful to be held to an industry standard as we continue to put together strategic and calculated plans for improvement.



Net Zero Carbon Events Initiative Supporter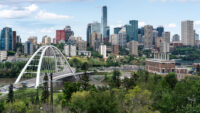 Explore Edmonton proudly takes part as a supporter of the Net Zero Carbon Events initiative.

This initiative from the Joint Meetings Industry Council (JMIC) has over 200 organizations within the event industry that have pledged to go Net Zero or support the movement.

As a supporter, Explore Edmonton will be involved in the entire Net Zero Carbon Events process as it is being developed and will be called upon to Lead The Way by sharing our experiences with tracking our emissions and the work that we are doing to fulfil our emission reduction goals!

This initiative is also a great opportunity for us to learn from other key players in the industry and to continue to encourage each other as environmental stewards.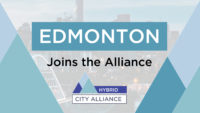 Hybrid events are an important way forward for the event industry to return to live formats. This format provides a wider reach of your conference. In a hybrid meeting, some participants are attending in-person and other participants are connecting virtually at the same time. You can even set up a multi-hub event connecting multiple locations around the world and make the meeting event more global and interactive!

Hybrid events are an excellent way to reduce your event's carbon footprint by cutting down on emissions and waste from event swag to carbon emissions from air travel. They also reduce financial barriers to entry, are more accessible for attendees with disabilities, cater to a diverse audience, and are generally more culturally sensitive.

Looking to host a hybrid or multi-city event? As members of the Hybrid City Alliance, we're equipped to help make this happen for you.



Explore Edmonton's Carbon Reduction Plan
We're on the path of reducing our carbon emissions by 30% by 2035 to combat the climate emergency. We know that progress requires not just a bold goal, but a thorough plan. We have since established and resourced a growing team of sustainability emission experts, dedicated to making emission reduction activities a priority in our day-to-day decisions. Our objective is to make every business decision with our emission targets in mind. Read through our 2021 Green House Gas (GHG) reduction report to learn more about how we're committed to staying on track towards our goals.