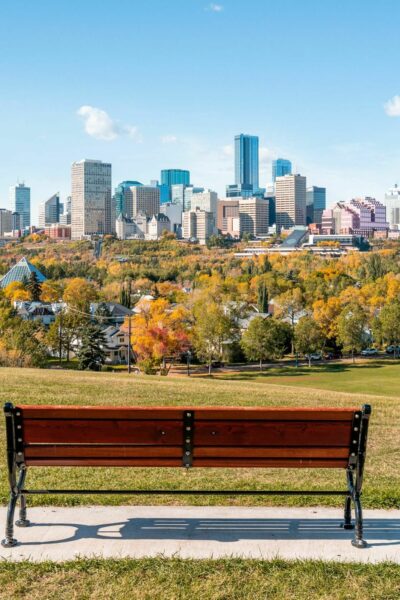 Things to Do Outside this Fall
In Edmonton, fall is welcomed with open arms! Though we love summer, there's nothing like the river valley's transformation into a beautiful fall wonderland along with the smell of the crisp, cool air. It's truly a sight to behold. Discover all the outdoor fun to be had this season!
Fall Foliage in the River Valley
There's no doubt about it... the best place to take in the fall colours is Edmonton's river valley! This massive park has over 150 km of trails that are perfect for jogging, cycling, and taking in the picturesque city vistas. Check out the city's best hikes and walks, or blaze your own trail on a Segway tour with River Valley Adventure Co. Take your river valley adventures up a notch when you explore the Commonwealth Walkway with the help of an interactive app! Visitors can explore the river valley while reading and listening to one of five storylines (Indigenous, History, Family, River & Winter).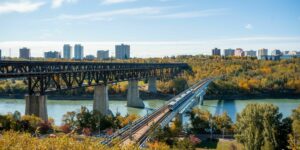 Get a Couple Last Rounds In
Indulge in the sport of the season – golfing in Edmonton during the fall is a regal delight. The crisp, cool temperatures and the kaleidoscope of colors create the perfect recipe for a great game. As the leaves change and the fairways become a canvas of autumn hues, you'll find yourself immersed in a golfing experience like no other. Visit our Best Golf Courses in Edmonton article to choose your next tee time!
Experience the perfect blend of adventure and food on a Food Bike Tour, a delicious culinary journey for you and your loved ones. Pedal through hidden culinary gems on the thrilling tour, or opt for the Food Electric Bike Tour for ease. If you prefer a leisurely pace, join the Farmers' Market Walking Tour. Get ready for a taste-filled adventure that will leave your senses satisfied!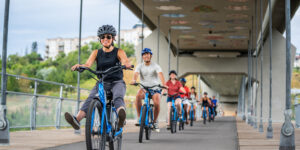 Patio Season is Every Season
Though summer might be over, the best summer patios in the city are still yours to enjoy! Whether you're looking for afternoon beers or weekend brunch, cheap eats or fine dining, there's no shortage of incredible options in Edmonton. From massive outdoor patios like Campio Brewing Co. and Baijiu, to vibrant rooftops like Craft Beer Market and Spotlight Cabaret, you're never too far from a stellar patio.
Discover Indigenous Edmonton
In recognition of Truth and Reconciliation day on September 30th, take a self-directed tour with our guide to the city's remarkable Indigenous landmarks and spaces, and don't forget to check out our guide to exploring ᐄᓃᐤ (ÎNÎW) River Lot 11∞. Talking Rock Tours provides interactive experiences that reveal the history of the land with a Métis guide and geologist who combines his culture and knowledge of geology. Venture further to Metis Crossing, the first major Métis cultural interpretive centre in Alberta. The wildlife park is home to rare white bison, wood bison, plains bison, elk, and Percheron horses.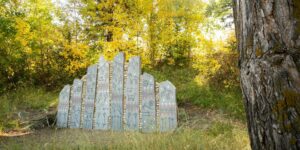 Embrace your love for corn at the Edmonton Corn Maze! Each year, they unveil a new theme that promises to to get thousands of delighted visitors lost in their tracks. Meander through 5 kilometers of twists, encounter 85 decision points, and follow clue cards suitable for all ages. Alongside the maze, discover farm fun like jumping pillows, potato guns, the Corn Cob Express, and a locally grown produce market. It's a corny adventure waiting for you!

Head to Fort Edmonton Park for some truly spooky adventures! Venture into the shadows of the Fort Complex and 1885 Street during Paranormal Tours as guides teach you paranormal investigation basics. Explore the park after dark, learning to use investigation tools and techniques. If you're looking for something really spooky, DARK offers three wicked experiences that will leave you sleeping with one eye open. From local food truck favourites to creepy cocktails to a live DJ spinning eerie beats, DARK is Edmonton's Haunted Festival that you definitely don't want to miss.
Pumpkins After Dark is a one-of-a-kind outdoor walk-through experience that features over 6,000 pumpkins! From September 22 - October 31, explore the magical pathway of lit pumpkin sculptures and displays, with music, sounds and special effects. This family friendly event has something for everyone.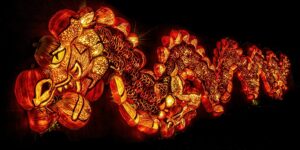 Channel Your Inner Photographer
Edmonton's river valley truly shines in the fall, offering endless Instagram-worthy spots just waiting to be discovered! Whether you're a pro or just love snapping photos, the autumn hues in Edmonton offer fantastic opportunities for capturing the beauty of the season. Peruse our list of picture-perfect hidden gems in our Edmonton's Best Photo Spots article and make your followers jealous. You'll see the city from a whole new perspective while taking your Instagram page to the next level.
Just 35 minutes east of Edmonton, Elk Island National Park provides some of the best wildlife viewing opportunities in North America! This park is the cornerstone of Canada's bison conservation story; without this place and the dedication of its people, herds of plains and woods bison would not thrive in Canada today. If stargazing is up your alley, you can experience the wonder of Elk Island's night sky with Gateway to the Stars. In the heart of the Beaver Hills Dark Sky Preserve, escape the city to gaze upon the countless stars in our galaxy and learn to navigate from one constellation to the next. Campfire and a friendly park interpreter are included.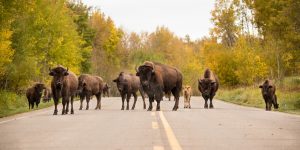 Seize control of your dining destiny and elevate your picnic game by grabbing delectable bites from Edmonton's incredible restaurants and filling your basket to the brim! Once you've gathered your feast, choose one of our cherished picnic spots, lay out your blanket, and enjoy. Or, if you're looking for a touch of luxury, let YEG Picnic or True North Picnic. work their magic. These local experts will craft and set up the ultimate alfresco experience, making any occasion extraordinary.
Edmonton loves its football! Grab a drink, a hot dog, and join the fun-loving fans at The Brick Field at Commonwealth Stadium. Cheer on the Elks as they battle it out on the field! Mark your calendars for an epic clash between the Elks and the BC Lions on September 22, followed by a fierce battle against the Montreal Alouettes on October 14.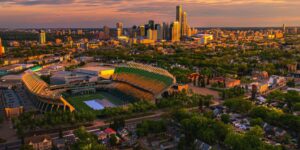 If you haven't had the chance to ride a Vespa, you're missing out! Take an exciting Vespa tour around Edmonton's most beautiful streets with VespaYEG. You'll find hidden gems and local treasures with the help of a dynamic guide. All tours begin with a complimentary mocha, latte, americano, or espresso at District Moto. Afterward, you'll cruise towards Edmonton's finest historical backdrops, including the Alberta Legislative Grounds, University of Alberta, and the High Level Bridge.

Explore Edmonton's iconic places with YEG Scoot! Embark on an exhilarating adventure while riding an electric scooter around the city's most unique spots. Cruise across the High Level Bridge and feel the wind rush by! YEG Scoot offers high-performance scooters and custom experiences curated by locals. This outing is perfect for date nights, team activities, and spending time with friends. Weeeee!