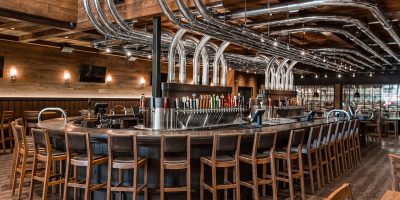 Craft Beer Market
Over 100 different beers on tap. Need we say more?
Situated in one of Edmonton's most unique venues, Craft Beer Market is a premium casual restaurant in the heart of downtown Edmonton. Featuring high ceilings, rustic wooden trusses and an overall vintage feel, Craft seems genuinely 'Edmonton'. And with one of the best rooftop patios in town you need to pop in. Stop by for their "New North American Classic Cuisine" - from their 20 Napkin Burger to their Big Rock Beer Can Chicken - where everything is focused around fresh, local ingredients. Oh, and did we mention the beer? They have an eye-popping 104 different kinds of beer on tap.
Must try: beer flights (six 4 oz samples)!