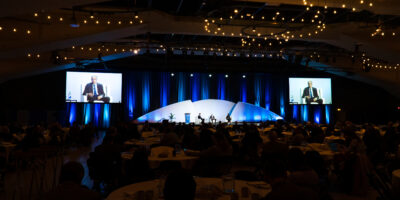 Canadian Hydrogen Convention
dmg presents the Canadian Hydrogen Convention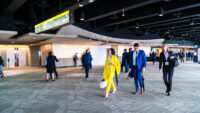 The energy transition has challenged corporations, governments, and other agencies to decarbonize and electrify traditional energy sources. Hydrogen has emerged as a key energy pathway for many countries, and the race is on to see which will position themselves as tomorrow's hydrogen superpowers.

Hydrogen features heavily in Canada's strategy to fulfill its commitment to achieve net-zero emissions by 2050. In response to growing national interest, dmg events developed the Canadian Hydrogen Convention (CHC) to catalyze the country around this opportunity. As the largest hydrogen convention in North America, this event would firmly position Canada as a global hydrogen leader.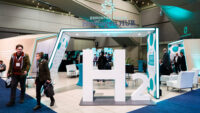 It makes sense for this event to take place in the Edmonton region, the driving force of Canada's hydrogen economy and home to Canada's first and largest hydrogen hub – the Edmonton Region Hydrogen HUB. The technology, infrastructure, and talent in the Edmonton region is instrumental in Canada's journey to achieving a net-zero future. This is a place where trailblazers, visionaries, and innovators in the production, adoption, and use of hydrogen are spurring radical change across a range of sectors.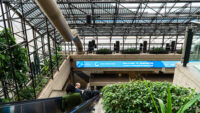 As a first event with a small amount of time to plan, dmg was initially expecting around 500 delegates at the Canadian Hydrogen Convention in 2022. However, event attendance significantly exceeded expectations due to the partnerships and the support of Explore Edmonton, Edmonton Global, and Alberta's Industrial Heartland. In addition to delegates from across Canada, the event attracted representatives from over 20 countries and more than 1,000 gathered at the opening night reception alone.

As the 2022 event began, the Government of Alberta declared April 25-29 Hydrogen Week. Featuring a jam-packed trade floor as well as strategic and technical program tracks, CHC brought tremendous value. The exhibition floor reflected Canada's global expertise that spans the entire hydrogen value chain.
We had around 4,000 hydrogen leaders visit Edmonton and engage with one another to accelerate the hydrogen transition. Seeing Edmonton profiled so predominantly on the trade floor was inspiring.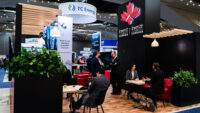 Uniting the entire Canadian supply chain, the Canadian Hydrogen Convention convened global leaders to discuss innovations and solutions for low-carbon hydrogen production, energy infrastructure, storage, and how to achieve a net-zero future.
How Explore Edmonton helped
It was a challenge to pull off this event within seven months, including a period of uncertainty during the Omicron wave of COVID-19. Generally, an Edmonton Convention Centre Event Manager would be introduced to an event client 8-12 months in advance to start answering preliminary questions, especially for a first time event. For the Canadian Hydrogen Convention in 2022, these conversations and logistics were executed in just over two months.
Collaboration between dmg events, Explore Edmonton, Edmonton Global, and Alberta's Industrial Heartland was incredibly important. For high-profile events like this, Explore Edmonton's partnership with Edmonton Global is invaluable.
Edmonton Global worked closely with Explore Edmonton and other partners during the lead up to the event. The focus and creativity that Explore Edmonton brought to the table made this a truly memorable event.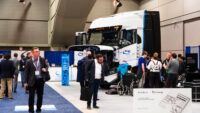 In addition to funding and resources from Explore Edmonton's Business Events team, the Edmonton Convention Centre (ECC) rose to the challenge and played host to the event. The CHC presented an opportunity for the venue to establish a new standard operating procedure (SOP) to allow hydrogen vehicles to be featured on the trade floor. As a result, thousands of delegates got an up close and personal view of a hydrogen truck and a hydrogen car. ECC also executed an intensive security detail, keeping the building closed to external events for the duration of the conference.
Explore Edmonton exhibited at a unique booth delivering Visitor Services and Business Event information. Delegates were able to learn more about the city and about hosting their own business events in Edmonton.
Event Legacy in the Community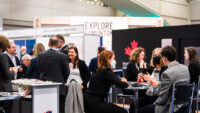 The Canadian Hydrogen Convention delivered a Direct Economic Impact of approximately $1.8 million and supported nearly 800 jobs in Edmonton.

While the hydrogen industry in our region is thriving, there is still not a high level of community awareness about this emerging industry or the economic and environmental impacts it will bring. The CHC provided an opportunity for younger generations of future talent to engage and learn more about the sector. Edmonton Global worked with Edmonton Public Schools and Inside Education to welcome high school students to the event. Explore Edmonton worked with the University of Alberta to donate conference passes to undergraduate and graduate students.

Known for their high standard of event delivery, dmg events received a lot of kudos for the Edmonton-based event after the show. They were also able to generate more than 3.8 million media impressions – bringing the world's attention to the Edmonton region.
Edmonton is now the meeting place for the hydrogen sector.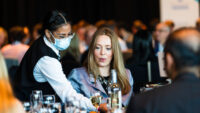 Due to the success of the Canadian Hydrogen Convention, dmg quickly announced plans for an ancillary event to be hosted at the Edmonton Convention Centre in September of the same year – Carbon Capture Canada. They also announced their intention to host the Canadian Hydrogen Convention in Edmonton for at least the next nine years.

The Edmonton region is excited to welcome the Canadian Hydrogen Convention back to the ECC in April 2023. Don't miss your chance to be among industry leaders in energy for an even bigger and better hydrogen experience.