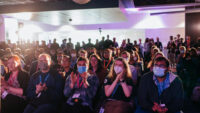 The Alberta Machine Intelligence Institute (Amii) established AI Week to celebrate Alberta's rich history of excellence in artificial intelligence (AI) research. As a non-profit research institute, Amii is one of three National AI Institutes in the federal Pan-Canadian AI Strategy. One of its objectives is to advance leading-edge research in AI and translate scientific advancement into industry adoption of the technology.

AI Week is an opportunity to explore machine learning and AI by hearing from speakers, participating in socials, and attending special events. The inaugural event in 2022 recognized two decades of research history in Alberta and the fifth anniversary of Amii in its current form. Yet, more than a celebration, AI Week was also a springboard for the next 20 years of AI impact.

We were excited by the opportunity to host a multi-day, multi-venue event series that gave our delegates a fantastic experience learning more about the science and business of AI while also showcasing many of Edmonton's amazing hotspots and hidden gems.
Spencer Murray, Director of Communications & Public Relations - Amii
AI Week 2022 brought together diverse individuals from the academic, business, government, investment, and startup communities. Included in this group were individuals from around the world who received the opportunity to attend through Amii's talent bursary program. These recipients may not have otherwise had the means to travel to Edmonton and attend AI Week.

Altogether, AI Week focuses on bringing together communities that may not always interact. By connecting across industries and sectors, delegates experience opportunities to connect and learn.
How Explore Edmonton Helped
Explore Edmonton's Business Events team provided resources to help Amii execute AI Week. The result? A successful and sustainable business event that delivered impactful economic benefits.
We were pleased to have the support of Explore Edmonton for our inaugural AI Week. Always willing to offer resources and provide helpful suggestions, the Business Events team gave us confidence that we were not alone in the planning and execution of this major event. Their assistance helped us make the first AI Week a great success.
Spencer Murray, Director of Communications & Public Relations - Amii
The Business Events team connected Amii to other teams at Explore Edmonton, like Event Development and Sustainability. While the Event Development team provided experience recommendations, the Sustainability team provided Carbon Neutral Event program consulting.

Amii planned AI Week 2022 amidst the ever-changing reality of COVID-19, but Explore Edmonton was there to help them navigate the city's recovering service levels.
AN EVENT THAT IMPACTS THE COMMUNITY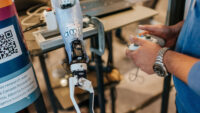 AI Week furthered Amii's role in connecting the Edmonton region to global conversations in AI, but community benefits do not end there. Some key highlights include:
515 travel bursaries were awarded to emerging AI talent, including 51% from outside of Alberta
Researchers from more than 30 countries experienced Alberta's AI excellence at the academic symposium
More than 500 job seekers connected with 19 companies hiring for roles in AI and ML at the talent and career mixer
20 years of AI excellence in Alberta were celebrated at the Amiiversary party, which also served as the launching point for the next 20 years
This inclusive event also generated a Direct Economic Impact of $949,294 and supported 275 jobs. Opportunity for economic development in Artificial Intelligence within the Edmonton region is massive. As a core member of the Pan-Canadian AI Strategy, Edmonton is also home to one of the top AI research institutions in the world – the University of Alberta. AI Week now anchors Edmonton's place in the industry by acting as a launch point for future growth and as an inspiration to future startups or founders.
AN EVENT THAT CONSIDERS THE ENVIRONMENT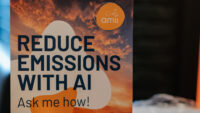 Amii and Explore Edmonton acknowledge that the event industry contributes to global emissions. We all play a key role in reducing the environmental impact of meeting and celebrating in person. Mindful of this, Amii participated in Explore Edmonton's Carbon Neutral Event program. They considered and selected lower carbon options, such as offsite venues and a host hotel within walking distance.

Amii also worked with Explore Edmonton to measure their total greenhouse gas emissions. This included emissions from the venue, travel, catering, hotel stays, paper usage, and third-party server consumption related to streaming the event. Based on calculations by Ostrom Climate, we know a total of 754 tonnes of carbon dioxide equivalent were produced by the event.


To mitigate the climate impacts, Explore Edmonton invested in carbon offsets from Ostrom Climate's Climate Action Portfolio. These include long-term conservation projects such as the Darkwoods Forest Carbon Project and The Southern Cardamom REDD+ Project. This portfolio also supports a variety of clean energy projects that reduce the need for fossil fuels.

Ultimately, the event was carbon neutral because Explore Edmonton purchased offsets equal to the number of tonnes emitted. Now, Amii is also armed with data to understand the event's emissions and strive to continue to lower them in future years.
AI Week is now an annual event with a new name: visit UpperBound.ai to learn more and get your early bird ticket for 2023.