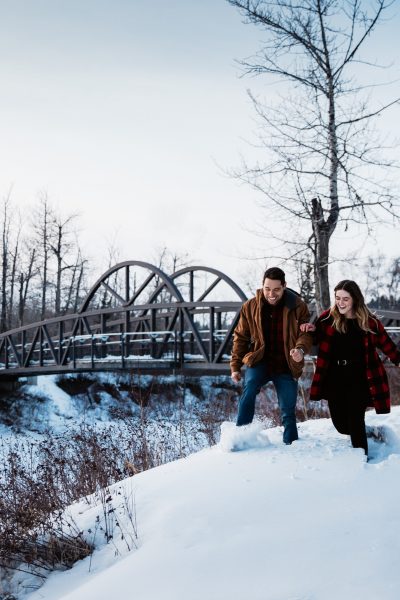 Free Things to Do in Winter in Edmonton
Holiday gifts, snow tires, a giant space heater for your home office... winter can be expensive. But don't worry! Edmonton has tons of festivals, events, and outdoor adventures to keep you busy. It might be cold outside, but you don't have to freeze your bank account to enjoy these free (or cheap) activities!

No matter how you choose to explore, be sure to practice safe physical distancing, frequent hand washing and following the guidelines put in place to keep everyone safe.
The beautiful river valley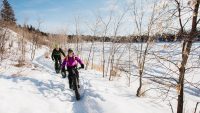 North America's largest stretch of urban parkland offers plenty of paths to try, especially in the winter! The North Saskatchewan River Valley has over 150 km of trails that are perfect for walking, hiking, or even cycling (just make sure you've got some big tires!). For a unique two-wheeled experience, River Valley Adventure Co. offers winter Segway tours. You'll explore the winding tails like you've never seen them before!

Winter is also a great time to explore the Edmonton Commonwealth Walkway! This trail includes paths to many landmarks around the city and is supplemented by stories, images, and audio clips, all connected to Medallions along the walkway. Download the Commonwealth Walkway app and discover all kinds of winter stories taking place across the city!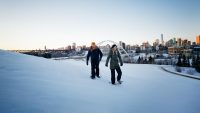 If you're after something that's more off the beaten path, give snowshoeing or cross-country skiing a try! Whether you're exploring the trails along the river or trekking through the park systems that run right through the heart of the city, the snow is your canvas.
Looking for snowshoe or ski rentals? Totem Outdoor Outfitters has you covered with a wide selection of gear for adults and kids alike.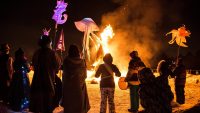 We're known as Festival City for a reason, and winter is no exception. There are tons of festivals and events happening during the chilly months, including some that are completely free to attend!
Glide along the city's largest skating pond at Silver Skate Festival! Experience magnificent winter artwork at the Waiward Snow Sculptures Garden, explore the spectacular Folk Trail, learn about Indigenous culture through storytelling, and much more. While you're there, don't forget to check out the International Festival of Winter Cinema to watch some amazing Canadian films, all viewed on a giant snow screen! Now that's pretty cool.
February 11 - 21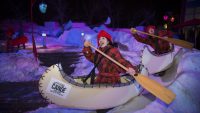 Have you heard the legend of The Flying Canoe? Portage over to Edmonton's French Quarter this March to experience Flying Canoë Volant, a multi-day celebration of French-Canadian, First Nation, and Métis culture. Enjoy the colourfully-illuminated trails of the Mill Creek Ravine, and head to the Edmonton Ski Club on March 4 & 5 for the iconic Flying Canoë Volant Races!
March 1- 5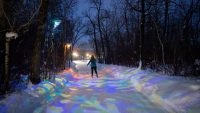 There's nothing more Canadian than lacing up a pair of skates and striding off on an icy pond, rink, or trail. Go for a skate at any of Edmonton's classic spots - the artfully-lit Victoria Park IceWay, the scenic downtown rink in Churchill Square, or the five-hectare lake at Hawrelak Park. Whether you're a first-time figure skater or channelling your inner Connor McDavid at an outdoor rink, there are plenty of places to get your skate on.
Be sure to visit the City of Edmonton website for the latest on rink openings and ice conditions.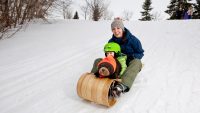 Wanna go fast? Cruise down some of Edmonton's best hills on your toboggan, sled, or crazy carpet. Feel the brisk wind nip at your cheeks as you race down the scenic Gallagher Park hill, the historic Government House Park hill, or the thrilling Rundle Park slopes. We recommend wearing helmets and the appropriate outerwear (something with flames to make you go faster, obviously).
Once you're finished your ice-capades, warm up with a hot chocolate from a nearby local coffee shop. It's the kind of day that frosty dreams are made of!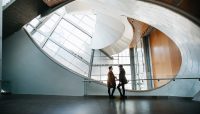 Feeling creative? Looking for some inspiration? The Art Gallery of Alberta (AGA) is the perfect place to indulge your senses with over 6,000 contemporary and historical works from celebrated Canadian artists. Expand your perspectives (without hurting your wallet) with free admission to the AGA from 4:00-7:00pm on the last Thursday of every month, starting January 27, 2022. Admission must be booked ahead of time through the AGA website.
Make a little go a long way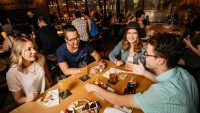 Don't mind spending a few bucks? There are plenty of ways to have fun this winter without completely breaking the bank! If you're after some sweet food and drink discounts, we've got you covered. Experience Whyte Avenue's historic culinary scene with the Explore Edmonton Old Strathcona Dining Pass, devour some delectable downtown dishes with the Explore Edmonton Downtown Dining Pass, or peruse some new brews with the Explore Edmonton Brewery Pass. These passes are a great way to experience our city's best eats and drinks while keeping some of that precious cash in your pockets.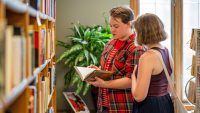 Bookworms, rejoice! If you like to spend those dark winter evenings cuddled up with a book, there are plenty of amazing used book stores in the city. Discover your next great read at Wee Book Inn or Daisy Chain Book Co. and get the best bang for your book!
Buy a coffee and get rewarded - that's what we call perks on perks. Check out the Sweet Treats & Latte Festival from February 5 to 27! Enjoy feature treats and lattes at many of Old Strathcona's incredible coffee shops and receive an illustrated coffee sleeve or sticker (and maybe some limited edition merch). Let's face it, you're gonna buy that coffee anyway, so why not collect some free goodies and support some amazing shops while you're at it?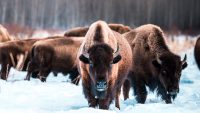 If you're searching for more winter adventures, look no further than Elk Island National Park, a serene destination located just a short drive outside the city. You'll discover a treasure trove of winter activities including animal watching, cross-country skiing, and some of the best stargazing our province has to offer. Grab the family and head out on an incredible adventure at this natural wonderland!