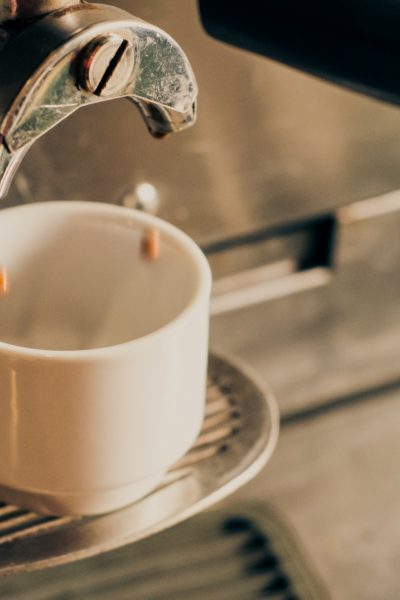 Edmonton's Best Independent Coffee Shops
Edmonton coffee shops come in every size and flavour, from the every-man chains (Tim Hortons, Second Cup) to the tiny, indie variety (a la Little Brick and Farrow) and everything in between. Over the last few years, new coffee shops have popped up in YEG like a bag of Orville Redenbacher's on movie night. The new generation of sleek, quirky java haunts sprinkled throughout Edmonton complement our cadre of veteran cafes. This roundup is meant to peek into Edmonton's sovereign coffee spots and offer a quick guide to coffee in Edmonton.

Whether you enjoy your coffee in the café or take it to-go, be sure to continue practicing safe spatial distancing, frequent hand washing and following the guidelines put in place to keep everyone safe! We also recommend checking the individual business' website for updates on dine-in availability, curbside pick-up and more.
Stop in at Block 1912 and enjoy some of Edmonton's finest coffees and gelatos, located in a historic building in the heart of Old Strathcona. The comfy seating and fresh fruit pies (baked on site) will make you want to stay for the whole afternoon.

Farrow customers like their caffeine with a sandwich, thank you very much. Farrow, as hip as it comes for coffee, is as popular for their sandwiches as their mugs of Stumptown and Bows & Arrows coffee.
Masters of coffee since 2006, Transcend is a must-try destination for true coffee fanatics. Staff are well trained and passionate, often reciting the complicated alchemy of handcrafted coffees. Take the Flat White for example. It's a popular drink originating in Australia/New Zealand where milk isn't heated as much as in a latte, making it a bit more thin, yet still sweet.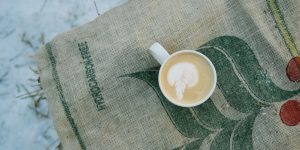 This cafe was started by local small-space hospitality visionary Nate Box. District's space was recently expanded and now the daytime cafe and bakeshop stays open late and turns into a cool spot to grab wine and small eats at night.
Little Brick brought history back to life in an old brick house tucked away in Riverdale. This adorable coffee shop serves up delicious brunch and lunch items, and has one of the best little patios in the city.
Step into the first half of downtown's DOSC and you'll find yourself in the Sober Cat Cafe. DOSC's space features a cafe, serving Rogue Wave coffee, a cocktail bar and a steakhouse. Stop by in the morning for a coffee and return in the evening for a steak and sophisticated cocktail.
Credo is a set of sibling coffee shops well-known amongst locals for their quality coffee (and London Fogs for those non-coffee folks). Each cup of Credo coffee is filled with feel-good flavour. Their coffee is direct trade, ensuring their growers are paid 25% higher rates than fair trade prices.
At Lock Stock, espresso is pulled with care, savoury biscuits are baked fresh and heated to order, and English muffins are fried daily for a variety of sandwiches, making them a necessary stop when in the downtown neighbourhood.
Remedy Cafe is one part Indian and Pakistani restaurant, one part coffee bar. If the hit TV show 'Friends' was filmed in Edmonton, the cast would gather daily at the Jasper Avenue location. Their legendary house-made chai pairs well with either a sabhji masala or butter chicken wrap.
Jasper Avenue's Coffee Bureau features all kinds of shine: from the 1950s Italian brass chandelier and fancy customized Izzo espresso machine to the bright smiles of husband and wife owners. Coffee Bureau serves locally roasted Ace Coffee and Steven Smith teas alongside freshly baked cookies, muffins, croissants and gluten-free nibbles.

Coffee Shops in Other Areas
Rogue Wave is owned by two caffeinated Daves, yes that's right, two Daves. They built their first roaster from scratch named 'Stubby' and have been turning out incredible coffee ever since. The roasted beans in-house make a huge difference; the coffee is earthy and smooth. Must try: Mexican hot chocolate.
Indulge the right side of your brain at The Carrot, a community arts coffeehouse that sprouted up on Alberta Avenue. Every Friday and Saturday night The Carrot features live music, poetry, comedy or whatever might be on tap. What's more, this coffee shop is volunteer-powered and supports artists in the community.
Tucked away in Edmonton's Riverbend area, this eclectic and comforting spot is the perfect place to relax with a good book, catch up with friends, or perch with your laptop for an afternoon.

Mandolin Books and Coffee Company is an amazing gathering spot; in the summer they even have a dog-friendly patio in the back. They buy and sell used books, have locally made pottery, Pinocchio ice cream and frequently host book readings and local authors.