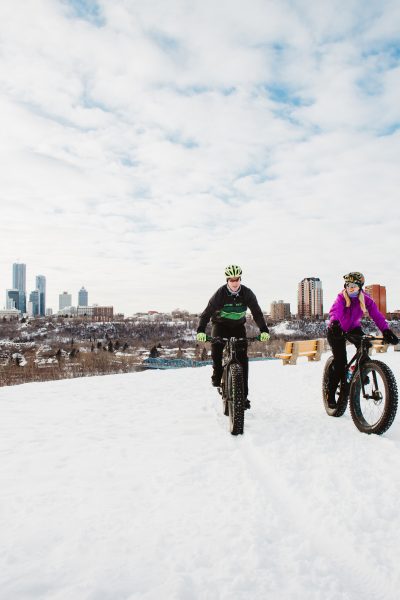 A Thrill Seeker's Guide to Winter in Edmonton
LET'S GET EXTREME (extreme... extreme...extreme...).

We're calling all adrenaline junkies! If our monster truck voice wasn't enough to get your heart racing, we understand. But you better buckle up — winter in Edmonton is no time for hibernating. In fact, it's one of the best times for thrill-seekers to explore the city in unconventional ways. Continue reading for a list of the most adventurous, adrenaline-pumping, and yes, even EXTREME things to do in Edmonton this winter.

No matter how you explore this season, please continue to practice safe physical distancing, frequent hand washing and following the guidelines put in place to keep everyone safe.
Fat Bike through the River Valley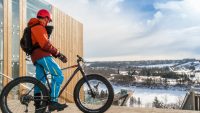 Winter transforms Edmonton's river valley into an extreme cyclist's dream. With over 400 combined kilometres of paved and single-track trails, cycling is the fastest way to see it all. By slapping monster truck tires on a widened mountain bike frame, you get a snowmobile that can chew through slush and ice. Take in picturesque views while the winter wind whooshes through your hair - we'd be surprised if you could name a better feeling.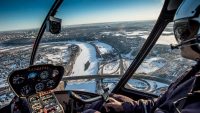 Leave your fear of heights on the ground and see the city from a whole new perspective — in a helicopter up in the sky. Edmonton Regional Helicopters specializes in helicopter services and charter operations 12 months of the year throughout the central Alberta region. This includes heading west to the Rocky Mountains, which are only 40 minutes away when your ride is a helicopter!
Channel your Inner White Walker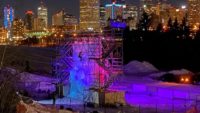 Head to the Edmonton Ski Club for an adventure of a lifetime - climbing up a towering wall of ice like the fearless explorer you are. The ACC Edmonton Ice Wall is the first of its kind in Edmonton, and you'll want to visit this attraction before the warm spring sun melts it away. The towering structure even lights up at night, taking the whole experience up a notch. What are you waiting for? Get climbing!

You Have to Ski it to Believe it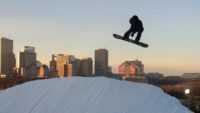 Strap on your skis or snowboard and feel your energy soar as you take on a run at Snow Valley Ski Club. Or head downtown to the Edmonton Ski Club where you'll find 25 acres of machine-made pristine groomed snow (including a mogul run and Terrain Park). You can also ride the slopes at the Rabbit Hill Snow Resort, the largest ski and snowboard resort in the Greater Edmonton Area. With so many options, you'll be wishing winter stuck around all year round!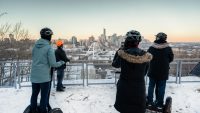 Discovering the expanse of urban parkland known as the North Saskatchewan River Valley by foot is so... ordinary. Why use your legs, when you can take it to the extreme on a guided Segway tour with River Valley Adventure Co. It's where bold travellers break off from the beaten path and make their way into the wild (don't worry, you'll be wearing a helmet - you daredevil, you)!
Good Things Come to Those Who Bait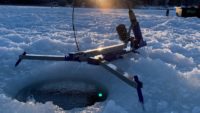 Set your alarm bright and early, gear up and get ready to spend the morning ice fishing on one of the many frozen ponds and lakes in and around Edmonton. Trust us, you'll be hooked after dropping your very first line. Read through our guide to the best places to reel 'em in during the winter months, and always check the ice report and weather conditions before heading to the fishing hole!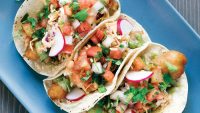 If you're more of an adventurous eater than an adventurous doer, you're in luck. There are plenty of ultra spicy food options in our fair city. You'll be sweating, your eyes will be watering, and you'll be dreaming of a big, cold glass of milk. Head to Northern Chicken to get your 3 piece in extra hot. Or take it to the max (you crazy daredevil) and ask them to crank up the heat to whatever inferno-level you crave. Tres Carnales downtown also has a selection of killer hot sauces which take their already delicious tacos up a notch. Still looking for more spice in your life? Swing by Nudoru and order a big bowl of their Dragon Ramen. It features a super hot chili paste that will clear out those sinuses, no problem. Don't say we didn't warn you.
Get your Climb On at Rock Jungle
Spider-Man ain't got nothing on you. You're a climbing sensation, and a Rock Jungle facility is the perfect place to show off your skills. Boulders Climbing (downtown) is the first bouldering-only climbing facility in Edmonton. Here you'll find over 6,500 square feet of climbing walls built by the world's leading climbing wall maker, Walltopia. Factory Climbing (Westend) boasts over 5000 sq ft of bouldering, with over 80 top rope routes, a lead pit with 50-foot routes, six autobelays, a kilter board, and premier fitness training equipment. We're getting sore just thinking about it.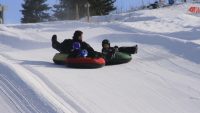 Snow tubing is one of the most thrilling winter activities, and Sunridge is the place to get tubular in Edmonton. This is the perfect activity for thrill-seeking families, who like to do winter a little differently. With a dedicated tubing lift (so you don't have to walk up the hill), three groomed chutes, and special tubes, you'll look at winter with a totally different perspective. Some might even say, an extreme perspective.
Enter Beast Mode with November Project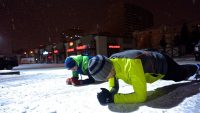 When former Edmonton Oilers captain Andrew Ference moved to Edmonton, he started the first November Project tribe in Canada. Yes, our northern climate adds to the challenge of the workout. But if you finish the session in -30C weather, they give you a badge to prove how much of a warrior you truly are. Anyone can join, just show up! November Project encourages people of all ages and fitness levels to get out of bed and join the tribe.
Indoor Thrills at West Edmonton Mall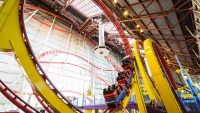 Looking to take things up a notch, but would prefer to stay inside? World Waterpark at West Edmonton Mall isn't just for chilling out on the glorious indoor beach (although we won't judge you if you do). Take your visit to the next level and try the world's largest permanent indoor zipline, The Skyflyer. Then head to Galaxyland and ride Mindbender, the world's largest indoor rollercoaster. Cruise on over to Drive for a go-karting experience like no other. Pick up a WEM Multi-Play Pass at visitor services to make the most of your visit!