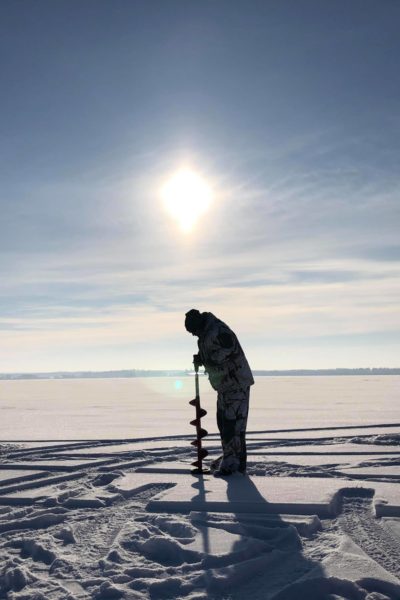 Best Places to Go Ice Fishing in Edmonton
Jason fell in love with fishing around 10 years ago when his dad bought him a rod and reel and he felt that very first tug of the line. Since then, fishing has become his connection with nature in every season, and a chance to escape the noise for a while. Read on for tips, tricks and a guide to some of the best spots to drop a line in and around Edmonton this winter. Pigeon Lake, Long Lake, Wabamun Lake, Hermitage Pond and Spring Lake are just the beginning!


Always check the ice report and weather conditions before heading out to fish!


Header image provided by The Locators.

It might seem strange to want to gear up and go spend a morning on a sheet of ice but trust me, once you step out onto a frozen lake for the first time, you will understand why ice fishing is such a popular winter activity. If you are prepared and have an open mind, you will be pining for the cold weather to stick around so you can get back out on the frozen water.

Ice fishing is not all that different from fishing in the warmer months - you still need the basic fishing equipment like a rod, reel and tackle or bait. You can buy specific tackle for ice fishing if you wish, but just about anything in your arsenal will work just fine - the biggest difference will be your rod. You may not want to bring out the six-footer you would normally use in the summer, because you are standing directly over the hole in the ice. You can buy ice fishing rods that are much shorter (around a foot and a half) or you can even make your own with a small plank of wood and some fishing line!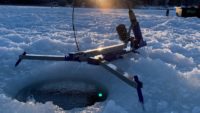 The most important bit of equipment you will need is an ice auger. This is how you will drill down through the ice to get to the water. There are two types of augers that come in a few sizes. Manual augers are more economical, but you will be using elbow grease to get through the ice, while a gas/electric auger will do the work for you lickety-split but is far more expensive. The good news is that you can rent these items for a day or the weekend rather than purchase them. A 6-8 inch auger will be plenty big enough.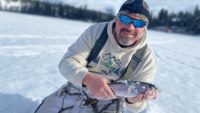 The last thing you want to make sure you have is a scoop. Once you drill down, there will be some leftover snow and ice that needs to be taken out of the hole before you can drop in a line, and trust me, you do not want to forget this! The water will also freeze over gradually while you fish and will need to be broken up again, and the last thing you want to be using is your hand to get the ice out.

There are a few optional items you might want to consider adding to your arsenal that can help with the experience, like an ice fishing tent or fish camera, but these are certainly not needed to have a great day out on the ice!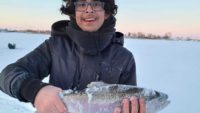 First things first, make sure you have a current fishing license. Always check the weather conditions and the forecast, just like you would in the summer. Most importantly, always, always check the ice report for the body of water you are travelling to. If the ice is less than 10 cm (4 inches) deep, you shouldn't be walking out. Lastly, never go ice fishing on a river. The current makes the ice unpredictable, so stick to static bodies of water.

Fishponds are an awesome place to begin your ice fishing journey. Within the city limits, you can get your gear together and be fishing within the hour. Hermitage Pond is a great spot in Edmonton, right next to the North Saskatchewan River. You won't even realize you're only 10 minutes away from downtown. The City of Fort Saskatchewan, about 40 minutes north, also has a great pond filled with rainbow trout and walking trails that surround the area.
Perfect for a family day trip, Pigeon Lake, Long Lake and Wabamun Lake are excellent choices for people looking to get out of the city and be back before sunset. These are three of the most popular lakes in central Alberta because they are all only about an hour outside of Edmonton and it's so easy to get on and off the lakes with your equipment. These fishing holes are ideal for catching Pike, Walleye, and Perch. Pro tip: If you are having trouble finding a place to start, look for holes drilled out by others from the day before!

Spring Lake is a great option if you are looking to catch some beautiful rainbow trout and not venture too far from the city. However, make sure you pack light because the only way to get to the lake once you park your car is to trek on foot. A tip I've found useful is to pack a small sled or toboggan. Once you park, you can drag your gear behind you as you head toward the lake. Although it can be a little tricky to get on this lake, it's well worth it. Quiet, and not overly busy, you will be pulling up some amazing fish.

There are several lakes and stocked ponds around Edmonton that are perfect for ice fishing. Generally, any lake or pond you can fish in the summer can be fished in the winter, but these are a few of my most-loved spots. Summer doesn't have a monopoly on fishing, so get out there and drill some holes.

Tight lines!