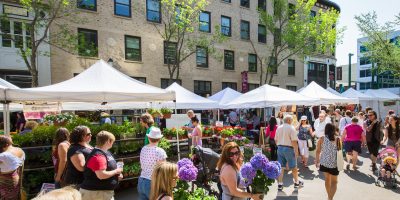 Edmonton Downtown Farmer's Market
Local flavour. Urban touch.
Contact Information
Street Address

103 Ave between 96 Street and 97 Street, Edmonton, Alberta
An integral part of Edmonton's downtown for more than a century. This year-round market is known for its friendly, open atmosphere and quality products delivered direct by friendly, local farmers, growers and artisans. Find the market on Saturdays at 104th street and Jasper avenue, and on Sundays outside the GWG Building at 103 avenue and 96 street.

The market attracts tens of thousands of visitors every weekend – people like you who want quality products made, grown and raised by good, local people in a hip, friendly, urban atmosphere.