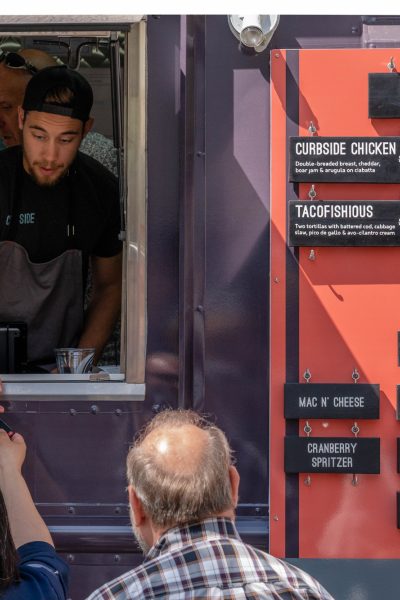 Must-Try Food Trucks
Michelle Ferguson is a writer for Edmonton Made, a program under Edmonton Economic Development Corporation that increases the exposure of locally based businesses and rallies community support around them. She shares stories about local entrepreneurs and business trends on edmontonmade.com.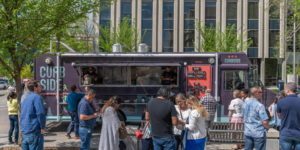 Once an anomaly — the capital region didn't pick up on the trend until about six years ago — street food has become synonymous with Edmonton's endless summer days. Today, there are about 100 different vendors to choose from.
And we aren't just talking hot dogs (though we have no beef with a juicy frank). Whether you're in the mood for bannock, wood-fired pizza or camel burgers, Edmonton's diverse food truck scene has got you covered.
Here are five of tastiest street eats the city has to offer:
Yvonne Irnich, owner of DaVinci Gelato, started making gelato when she was 17 years old in Germany. But it took a fire to get her St. Albert business started. After watching a building she was working on go up in flames due to an act of arson, Irnich retired as a project manager and opened her own gelateria. Since launching in May 2015, DaVinci has become a national brand. DaVinci makes gelato the way it was done many decades ago in Italy: from scratch, using only fresh, natural ingredients. With 155 flavours (so far) and new dairy-free/vegan options to choose from, Inrich's creations are sure to please any palate.
Must try: Salted caramel gelato.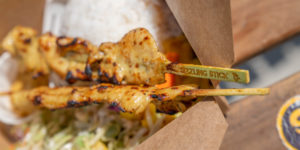 Born in Singapore, Nick Wong grew up eating satay — a Southeast Asian dish consisting of a thin cut of marinated meat on a stick — which he now serves fresh out of his truck The Sizzling Stick. Wong manufactures the meat skewers at the Food Processing and Development Centre in Leduc. The meat is cooked to order using a customized grill. Designed by one of Wong's partners with a background in mechanical engineering, the grill delivers perfectly cooked satay in under two minutes.
Must try: Pork satay with a side of fragrant coconut rice and homemade peanut sauce.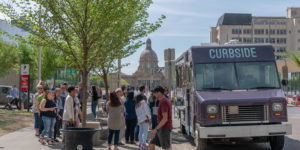 Curbside brings 30 years of catering expertise to the streets. Mich de Laive, Kim Szalynski, and Todd Rutter, from A Capella Catering, noticed more and more individuals using food trucks to cater events and wanted to get in on the action. The eclectic menu is inspired by some of Rutter's favourite food truck cuisine from across North America — from authentic Texas BBQ to Kauaian beach food to Portland-inspired cart fare. Curbside is also one of the only food trucks that serves breakfast. Forgo the bagel and grab a Scotch egg (egg wrapped in Italian sausage, breaded and baked) instead.
Must try: The Austin Brisket, smoked low and slow for 12 hours on a mix of Ontario oak, Okanagan cherry wood and local birch.
Edmonton's culinary ingenuity extends beyond the confines of the kitchen and into the streets.
Jonathan and Thea Avis were bankrupt and living off their boat in Puerto Escondido, Mexico, when they decided to open Meat Street Pies. After four decades in the food business, misfortune hit the dessert company Jonathan owned and he was left with nothing but his culinary skills. For inspiration the chef turned to his British roots — tweaking the shape of his pies so that they could be eaten like a hamburger. You'll find British classics like steak and kidney, as well as other ethnic pies like tourtière and Jamaican patties.
Must try: Steak and cheese pie, made with a healthy serving of Balderson aged cheddar.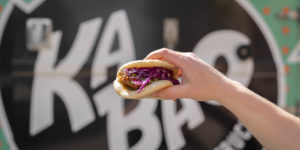 Baozi, or bao, is a Chinese steamed bun filled with meat or vegetables. A staple of dim sum, the dish was popularized by New York chef David Chang, who started serving them up taco-style in 2004. It was this modern, deconstructed twist on a childhood favourite that inspired McKenzie Mills to open Kabao. Whether you go with fried chicken, beef brisket (served with gochujang BBQ sauce and horseradish slaw) or Philly cheesesteak, Mills' baos are Asian fusion at its best.
Must try: Pork belly bao, the bun that started it all.