When in Rome… but you're not in Rome, you're in Edmonton! So do like the Edmontonians do and enjoy a delicious burger made with Alberta Beef. Is there something special, something magical about the beef from Alberta? Yes, there is, and you'll understand what we're talking about when you try a burger at one of Edmonton's best burger joints. Fasten your seatbelts, pull out your Google Maps and save these burger destinations to your favourites because you're going to need a few days to hit them all.

Whether you dine-in or opt for grab and go options, be sure to continue practicing safe spatial distancing, frequent hand washing and following the guidelines put in place to keep everyone safe! We also recommend checking the individual restaurant websites for updates on curbside pick-up, delivery, dine-in requirements and more.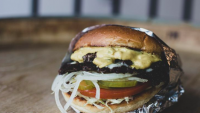 At Odd Company Brewing, they use the scientific method in the pursuit of perfection with everything they do; how the heck else do you think they won "Best Burger in YEG"?! Their burger begins with the star ingredient: the meat, which is provided and ground by RngRd. They toast a buttery brioche bun then they take classic yellow mustard and put it DIRECTLY ON THE FLAT TOP (mind. blown.) allowing it to get all caramely and crispy under thinly sliced white onion and two of those delicious patties. They melt slices of Cadillac of Burger Cheese for that needed swiss-y flavour. All that's left is to stack it to the heavens: OCB sauce, firm tomato slices, crunchy iceberg lettuce, and exactly two pickle slices. This burger is always asking for a pint on the side. Beefy. Crispy. Soft. Saucy. Beer-y.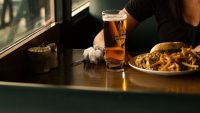 You'd be forgiven for thinking that local favourite MEAT would have the delicious burgers. While they do have some very tasty sandwiches, it's their sister restaurant next door, The Next Act Pub, that you need to add to your burger bucket list. Perhaps nowhere in Edmonton has a better reputation for burgers as The Next Act Pub. Try classics like the PB&J (that's right, peanut butter and jelly on a burger) or opt for the Drama Queen, one of the best veggie burgers in town.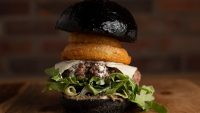 Meat the Bun is a casual style eatery in Edmonton's southside – come in, order first, then dine-in or take your bounty to-go. You can't go wrong with any of their burgers - we're talking brioche buns and juicy meat with just the right texture. If you're looking for something instagrammable, as well as delicious, you've got to try The Queen. It's made with a black sesame bun, truffle infused mushrooms, smoked gouda cheese, arugula, an onion ring and truffle aioli (drool). Don't sleep on their savoury sides either. The Truffle poutine is the perfect decadent accompaniment to your burger!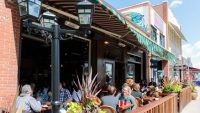 If you need a break from delicious Alberta beef (though we're not sure why you ever would), try the Lamb Burger at The Sugarbowl. A classically-made, no-frills burger, Sugarbowl's offering lets the locally sourced meat and fresh veggies speak for themselves. Don't hesitate to partner that burger up with a beer because they've got one of Edmonton's best craft and Belgian beer lists. Cheers!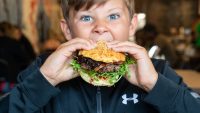 Prepare to take your hunger to the woodshed with one of the juicy burgers at Woodshed Burgers. The latest restaurant from Paul Shufelt (the Workshop Eatery is his other very respected restaurant) uses only fresh beef that is ground daily. Opt for the namesake burger, The Woodshed, or skip the beef altogether and ask about the story behind their fish filet while you enjoy some beer battered Icelandic cod.
Woodshed now has a second location on the southside.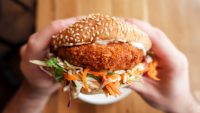 Come hungry because Fox Burger, one of the newest entrants to Edmonton's burger scene, makes their burgers big. If you're spending a morning in the Highlands neighbourhood then grab one of Fox Burger's very legit breakfast burgers. Otherwise, washdown one of their Bacon Pepper Smash burgers with a beer, all of which are brewed in Alberta.
Have you experienced a bad burger and now you're looking for a little meaty redemption? Stop in at The Burger's Priest where delicious meat becomes a religious experience. Don't worry, all denominations are welcome to this casual eatery. Ask about the secret menu if you're a true believer in the church of beef. Can we get an Amen?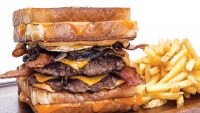 1st RND's burgers are a total home run. This sports bar should be your number one pick when it comes to watching the big game and chowing down on a delicious burger. Be sure to try one of their creations featuring unique toppings like perogies, hummus or donair. Don't see the burger you're craving? Then build it your way to get a hole-in-one.