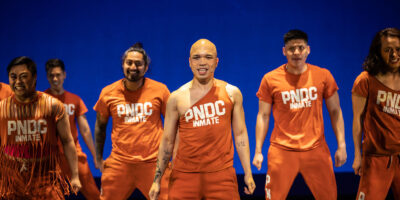 Prison Dancer
The Dancing Inmates of Cebu.
May 6 – May 28, 2023
Time

Street Address

The Citadel Theatre - 9828 101A Ave, Edmonton, Alberta
Get ready to bust a move with Prison Dancer, the electrifying new musical based on the viral video that broke the internet! In 2007, 1,500 inmates in a Philippines prison shook their groove thing to Michael Jackson's "Thriller," and now their story has inspired a toe-tapping extravaganza by Filipino-Canadian masterminds Romeo Candido and Carmen De Jesus. Don't miss out on the dance party of the year!
Photo by Nanc Price for The Citadel Theatre's production of Prison Dancer (2023), featuring Renell Doneza, Byron Flores, Josh Capulong, Julio Fuentes, Daren Dyhengco and Pierre Angelo Bayuga.