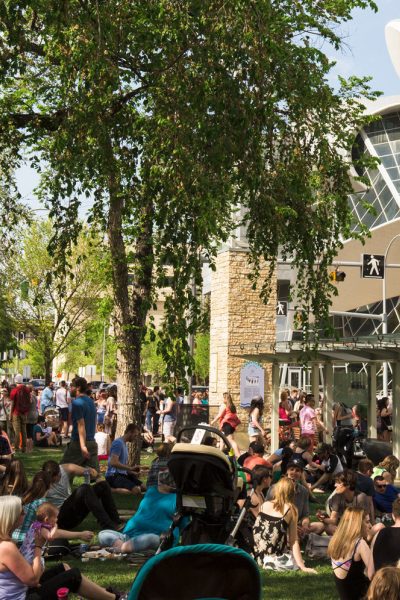 Ultimate Guide to the Art Gallery of Alberta
The Art Gallery of Alberta (AGA) isn't just a shiny piece of modern architecture, it's also one of Canada's largest art galleries, featuring everything from Renaissance masters to modern up-and-coming art stars. There is also a lot to do beyond wondrous art gazing.
Take in four levels of art
The AGA has six gallery spaces, a rotating installation in the their main hall and more — so let's break it down! There are 3 gallery spaces on level one (including a dedicated kids gallery), 2 gallery spaces on level two, and the largest exhibit space on the third floor. Frequently, there is also a display on the lower level featuring work from Art Rental & Sales or pieces from local artists.
Insider Tip: They rotate their exhibitions every few months and reduce the cost of admission whenever they have limited galleries open.
Drop-in on some art making
Every Wednesday from 7:00pm-9:00pm the gallery hosts drop-in art classes for adults. Learn anything from impasto painting techniques to clay sculpting and everything in between. Want to secure your spot? Call Guest Services on the day of the class to register.
Get in on everything free
First off, admission is free every Thursday from 5:00pm-8:00pm. We also suggest checking out their event calendar to line up your visit with some of their free event offerings. From artist talks, to movie screenings, exhibition tours (free with admission) to their roving sketch series — there's something for everyone.
Insider Tip: Got kids? Take them to Tours for Tots (drop-in gallery adventures for kids aged 3-5) or BMO All Day Sundays.
Stretch out yo gams in front of some art
Yoga in the Gallery is a really cool way to see an exhibit and get some fitness in too. Each class is themed based on the exhibit it's held in, so you can really connect with your artistic side. They sell full session passes (5-6 classes), but generally include drop-in spots for each week.
Party like it's Warhol's Factory
Like the look of the AGA during the day? Well just imagine it at night, with some killer themed decorations, music pumpin' and drinks-a-flowin. Refinery is a late-night art party that features one night only installations, live performances, and hands-on projects with a side of good old-fashioned partying. These parties only happen a couple times a year, and are worth planning a weekend trip around!
And it's all pretty affordable
Did you know that full access to the Art Gallery costs less than a movie ticket? Adult admission is $12.50 (+gst) and admission for students/seniors is even cheaper! It's also free for anyone up to age 17, and Alberta post-secondary students (with ID).
Best places to eat near the AGA