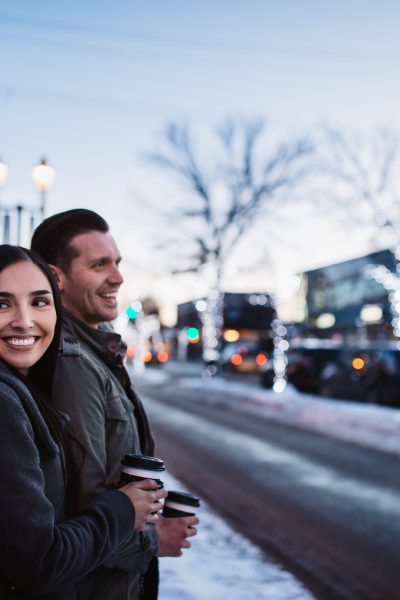 Date Night in Edmonton: Winter Edition
Winter may be cold, but boy, is it romantic. A fresh blanket of snow insulates the city while the moon shines bright in the dark night sky. You pull up to your date's house in your '97 Tercel, and you don't know it yet, but this is the start of something special. You hold hands – even though they're covered in woolly mittens, the electricity is palpable. Sigh. Winter truly is the season for falling in love.

Planning a first date (of a hopeful many)? Looking for date ideas to spice things up? Searching for romantic things to do this weekend? Look no further than this handy guide.

No matter how you explore this season, please continue practicing safe physical distancing, frequent hand washing and following the guidelines put in place to keep everyone safe.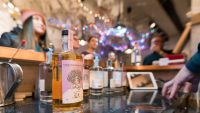 Surprise your date with a tour and spirit tasting at Edmonton's very first distillery. Strathcona Spirits is the smallest distillery in North America, but the small-batch gin and vodka produced here packs a punch. You'll be introduced to the stills, the process, unique ingredients, and the history of this Edmonton original. The tour is a quick one, leaving plenty of time to hop over to one of the many Old Strathcona restaurants for dinner or appies. Check out our Old Strathcona Dining Pass for discounts to this district's hottest eateries.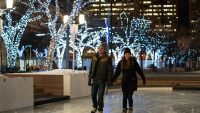 Don't say "see you later boy"! We are spoilt for choice when it comes to outdoor skating options in Edmonton. There's Hawrelak Park (9330 Groat Road), City Hall (1 Sir Winston Churchill Square), and the Victoria Park Oval (12130 River Valley Road) for starters. If you're a regular Kurt Browning, this is the perfect opportunity to impress with a triple axle or two. New to skating? Well, that's just fine. You can't help but have a good time when you've got good company and the glory of a northern winter.
Flora and Fauna at the Muttart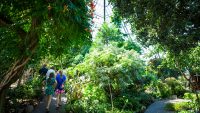 The corpse flower, who generally only blooms every few years, attracts the flesh-flies that pollinate it by releasing a "fragrance" that resembles the smell of rotting meat. Now, you may want to consider a more subtle approach to wooing your date, and a good place to start is The Muttart Conservatory. Each of the four iconic pyramids holds a themed garden representing a different world biome and species that hail from Mexico to Madagascar. Although she's not in bloom (sorry flesh-flies), Putrella, the Muttart's corpse flower, would be pleased to make your acquaintance at this newly renovated attraction.

Get Jazzy at the Yardbird Suite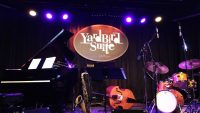 Prove that you're one cool cat with an outing to the Yardbird Suite. Here you'll find the performance venue of the Edmonton Jazz Society – this joint presents the best in local, national and international jazz & blues. You'll find a unique experience in an intimate atmosphere every weekend between the middle of September and the end of June. They're bringing sax-y back. Get it?
Snowshoe and Stargaze at Elk Island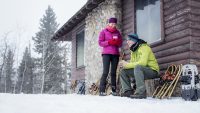 Escape the city and snowshoe side by side as you gaze upon the countless stars in our galaxy. The Snowshoe and Stargaze Experience at Elk Island National Park will truly take your breath away. A friendly park interpreter will be happy to third-wheel in the heart of the Beaver Hills Dark Sky Preserve. You may even see a bison poke its head out from between the trees. It knows the look of pure, unadulterated love. Plan your future together while you munch on s'mores and sip hot chocolate by the campfire.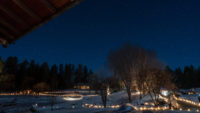 For a unique night out that is full of the season's beauty, you have to check out the Northern Light Dining Experience at the University of Alberta Botanic Gardens (now until March 13). The experience includes a three-course fondue served in a private transparent dining dome. After dinner, step outside to enjoy the stars around a fire, or stroll the wintry Garden. The domes will book up fast, so reserve your spot now to avoid missing out!

Go on a Culinary Adventure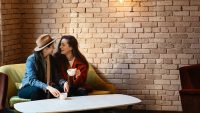 It seems like there are new restaurants popping up everyday in Edmonton. Trying all of the city's hot spots will take unparalleled drive and determination. Who are we kidding, it'll take nothing more than a good appetite and pants with a little give in the waist. Although we can't guarantee a love connection, we know you'll have an awesome meal and/or tasty cocktail at local gems like Fox Burger, Partake, Bundok, DOSC, and The Butternut Tree.
Sparks fly at Telus World of Science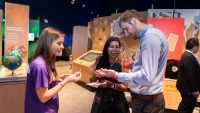 TELUS World of Science – Edmonton is a truly out-of-this-world experience. There are a wide variety of themed galleries to explore, IMAX movies to discover and tons of fun and engaging science to uncover. Take your seat at the edge of the universe in the Zeidler Dome theatre and embark on an incredible cosmic journey across galaxies and to the core of an atom. This is the perfect place to find out if you've got chemistry!