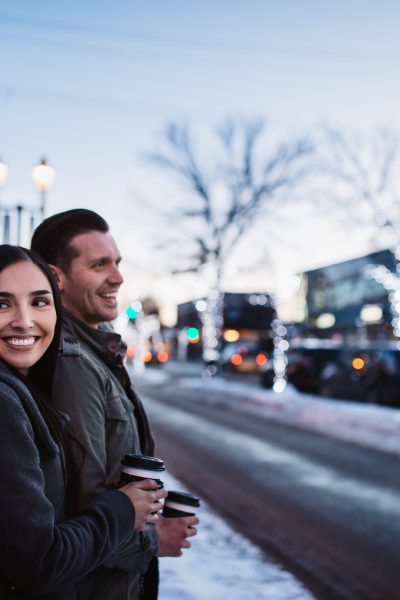 Date Night in Edmonton: Winter Edition
Winter may be cold, but boy, is it romantic. A fresh blanket of snow insulates the city while the moon shines like a luminous nail clipping in the dark night sky. You pull up to your date's house in your '97 Tercel, and you don't know it yet, but this is the start of something special. You hold hands, and even though they're covered in woolly mittens, the electricity is palpable. Sigh. Winter truly is the season for falling in love.

Planning a first date (of a hopeful many)? looking for date ideas to spice things up? Searching for romantic things to do this weekend? Look no further than this handy guide.

They say that laughter is the way to the heart… or was that food? Whatever. We're going to go with laughter here. Take your date to one of Rapid Fire Theatre's weekly shows, and the friend-zone will be a distant memory. Head to the Citadel Theatre where you'll find shows like Theatresports, CHiMPROV, and Rapid Fire's Saturday Series. They'll have you laughing until you cry— look at you, revealing your sensitive side.
Surprise your date with a tour and spirit tasting at Edmonton's very first distillery. Strathcona Spirits is the smallest distillery in North America. Here you'll be introduced to the stills, the process, unique ingredients, and the history of this Edmonton original. The tour is a quick one, leaving plenty of time to hop over to one of the many Old Strathcona restaurants for dinner or appies. Plus, if the date doesn't go well, you're in luck because the $10.00 tour fee is waived when you buy a bottle...
Skating, Skating and more Skating
There are so many awesome outdoor skating options in Edmonton. There's Hawrelak Park (9330 Groat Road), City Hall (1 Sir Winston Churchill Square), and the Victoria Park Oval (12130 River Valley Road) for starters. If you're a regular Elvis Stojko, then this is the perfect opportunity to impress with a triple axle or two. New to skating? Well that's just fine. You can't help but have a good time when you've got good company and the glory of a northern winter.
Get Jazzy at the Yardbird Suite
If you want to show your date that you're one cool cat, look no further than the Yardbird Suite. This is the performance venue of the Edmonton Jazz Society, and this joint presents the best in local, national and international jazz. On Tuesday nights you can see Edmonton's best jazz players as well as talented up and comers. The evening begins with a one hour set from the featured band and is followed by a jam session. They're bringing sax-y back. Get it?
Snowshoe and Stargaze at Elk Island
Escape the city and snowshoe side by side as you gaze upon the countless stars in our galaxy. A friendly park interpreter will be happy to third-wheel in the heart of the Beaver Hills Dark Sky Preserve. You may even see a bison poke its head out from between the trees. It knows the look of pure, unadulterated love. Plan your future together while you munch on s'mores and sip hot chocolate by the campfire.
Select dates this winter, registration required
Go on a Culinary Adventure
It seems like there are new restaurants popping up everyday in Edmonton. Trying all of the city's new hot spots is going to take unparalleled drive and determination. Who are we kidding, its going to take nothing more than a good appetite and pants with a little give in the waist. Although we can't guarantee a love connection, we know you'll have an awesome meal and/or tasty cocktail at local gems like Fox Burger, Partake, Bundok, DOSC, and The Butternut Tree.