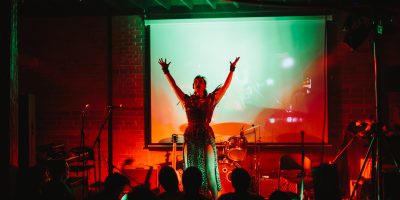 This year, Nextfest goes online. This new format will allow the festival to continue providing a platform for emerging artists, a meeting ground for community, and a springboard for creative invention.
Want a glimpse at the next generation of Edmonton talent? Look no further than Nextfest, a festival made up of hundreds of young and emerging artists from a wide variety of disciplines. Nextfest is curated on the principles of youth, creativity and newness. Each year the festival celebrates an electric line up of performances and installations taking place in venues across the city.
Founded in 1996 by Theatre Network's Artistic Director Bradley Moss, Nextfest is a common ground for the next generation of creators and producers. It is also the place where many of the city's great performers and artists got their start. The festival is inclusive, inexpensive, and celebratory, aiming to show young artists that the future is theirs to shape. Make sure to keep the party going at the Nextfest Nite Clubs, your late night stop offering original encounters in multidisciplinary performance.