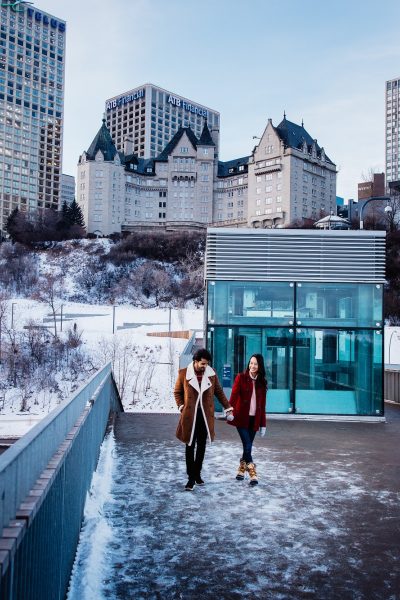 Valentine's Day in Edmonton
Remember the good ol' days of elementary school when Valentine's Day simply meant passing out little heart-shaped cards to all of your best buddies? No pressure to plan the ultimate romantic date night. Just "I choo-choo-choose you!" and "Let's bee friends". Well, times have changed, and you've got some planning to do. Whether you're looking to impress a new-found flame, keep things exciting with a long-time love, or treat your friends to a pal-entine's day to remember, we've got you covered with this guide to the epic things to do this Valentine's Day in Edmonton.
Do you believe in Love after Life?
True love never dies… or does it? Spirits, spectres, and the mysteries of the unknown come to Fort Edmonton Park in Séance, a re-creation of a late-1800's spiritualist meeting. Nothing says Valentine's Day like communicating with spirits from beyond the grave. Prepare yourself for paranormal phenomena, mind-reading spirits, and eye-popping apparitions as you become a direct participant in the search for the afterlife. This show is not for the faint of heart!
February 14-15

Treating your date to a live play or musical is a classic date-night idea. Snag a pair of tickets to Dear Evan Hansen, and you can't go wrong. This contemporary new musical has won countless Tony Awards, and lucky for you, it's coming to the Northern Alberta Jubilee Auditorium courtesy of Broadway Across Canada this February. Grab a cocktail before or after at a south side restaurant like Pip, Biera or Three Boars and you've got yourself an incredible night out.
February 11-16
Grab a table for two and take in The Late Valentine's Show by House of Hush Burlesque. Step back in time at Crash Hotel's vintage cocktail bar to an era of luxurious outfits, cocktails and a night of classic burlesque. If you're craving glittery costumes, glamour, or wild gin-soaked revelry – you've come to the right place! Already have plans on February 14th? Check out A Valentine's Violette Underground for more incredible burlesque performances at Woodwork on February 16th.
February 14
This year, Silver Skate Festival will be creating a unique series of outdoor Long Table Dinners in an Old-Time Trapper's Tent. Envision you and your loved one wrapped in furry blankets, sitting at long tables with only 24 guests, warmed by two roaring fires from wood burning stoves. Enjoy a glass of wine served to you by a sommelier, taste creatively prepared 4 to 5 course menus by some of Edmonton and Western Canada's top, and up and coming Chefs. You're sure to knock the socks off of any potential romantic interest with this night out. There are limited seats available so book ahead!
February 7-17
Speaking of Silver Skate Festival, if you really want to "wow" your date, you have to check out the iconic Ice Castles. This breathtaking structure made completely of hand-placed icicles makes its home in Hawrelak Park, and has even seen its share of marriage proposals over the years. The perfect backdrop for a cute couples photoshoot, the Ice Castles are sure to take your relationship to the next level.
Open while weather permits
Sweet Nothings at The Foundry Room takes "dinner and a show" to a whole new (romantic) level. The evening will feature a performance by Edmonton's own Viva Dance Company with music by Asim Chin. An incredible dessert buffet from Silk and Slate Catering will be available before and after the dance performance, so come with an appetite!
February 14
Edmonton is overflowing with award-winning restaurants that are perfect for special occasions. Head to Bar Clementine for a creative cocktail and speakeasy-inspired atmosphere. Check out Uccelino for the best Italian dishes you've ever savoured (no kidding!). Make a reservation at The Fairmont Hotel Macdonald's Harvest Room and have dinner in a literal castle. Wherever you dine, make sure you save room to share desert!
Looking for a Valentine's gift that your partner will actually love? Look no further than West Edmonton Mall, the Mt. Everest of shopping and entertainment. Here you'll find everything from big name retailers to local boutique-style shops. Think outside the chocolate box and consider giving your love an experience like mini-golf, skating or a trip to Galaxyland or the World Water Park!