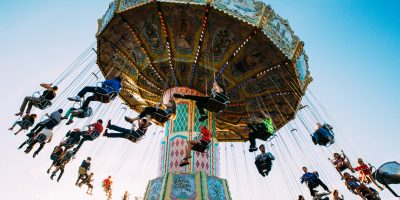 K-Days
Don't miss the thrill and excitement of K-Days, full of rides, games, and the most fun imaginable!
Experience the wonder of the midway at K-Days, Edmonton's extravaganza of rides, games, music, food and adventure. The rides and games alone will leave you breathless and wanting more. See the colourful parade full of brass bands and beautiful floats, and watch fireworks lighting up the night sky. Be one of the thousands of people screaming out for the band onstage. Savor the tangy smokiness of a perfectly barbecued rib, taste the warm sugary bliss of freshly fried donuts and bite into the gooey crispness of a candy apple.

Take the kids to Kids Town where they can see some of North America's top entertainers for children. Ride the A&B Rail Services Klondike Express, a smaller scale version of the mighty locomotive that connected the land from the Atlantic to the Pacific. In Homegrown Alberta (Hall F), you can engage with a variety of Alberta-based maker's, performer's and artists. Head on over to Hall D to experience this year's Feature Show, Pandora's Boxes, featuring President's Choice SuperDogs and Milord Entertainment Acrobats… There's something for everyone at Edmonton's incredible K-Days.

Taking in Edmonton's must-see attractions (like this one) is a breeze with the Edmonton Attractions Pass. Click here to learn more.