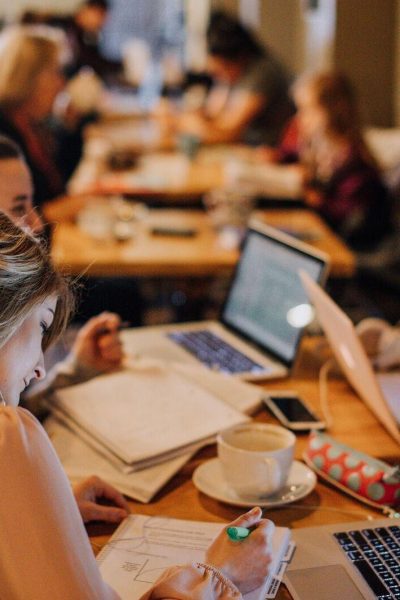 Best Coffee Shops for Studying in Edmonton
Discover the best study spots in Edmonton to try the next time you're looking for a social setting to catch up on readings or assignments. These coffee shops serve up a high-quality caffeine boost and comfy vibes to get you through a long day of studying!

If you're a coffee fan, chances are you've tried Transcend's local and freshly roasted espresso creations. You'll be hard-pressed to find a bad review about any of Transcend's menu offerings. The Garneau location can fill up with university students quickly, but the Ritchie Market coffee shop has plenty of parking options and both locations boast a ton of seating and spacious tables. Transcend's free Wi-Fi is as strong as its coffee, making it the perfect study space to settle in for a few hours and catch up on work.
8708 109 Street NW and 9570 76 Avenue NW

Credo's friendly and comfortable atmosphere gives you the feeling that you're set up in the right place to write an A+ essay or cram for an exam. With plenty of outlets and a variety of seating options for whatever level of comfort you're looking for, this quiet coffee corner is the perfect place to catch up on your reading. Don't worry, spreading out multiple books on your table is encouraged and camping out for hours (with the aid of a few coffees) is more than welcome.
10134 104 St NW and other locations

Quiet and cozy, Iconoclast offers two ideal locations for setting up your office for the day, downtown and a little further north in the trendy neighbourhood of Oliver. Bonus: because the giant roaster in the centre of this café is constantly grinding fresh coffee beans for your next cup, the comfortable atmosphere is made even better by the delicious scent floating through the air. Iconoclast also takes being environmentally conscious extremely seriously, serving everything in compostable packaging and sourcing ethically grown coffee. The spacious café fosters both a studious and a social environment, so do come prepared with headphones for more privacy.
11523 100 Ave and 12021 102 Ave

This convenient Whyte Ave spot offers an extensive food and coffee menu and has lots of seating and large tables for visitors who want to spread out and work. One of the best things about this café close to the University of Alberta is their extended hours; Block 1912 understands the student schedule and the frequent need for late-night caffeination.
10361 82 Ave NW

Drunken Ox Sober Cat (or DOSC) lives up to its name by hosting both the wild, late-night partiers and the quieter, bookish crowd. Afternoons are the best time to catch up on work with a handcrafted coffee here, as it's usually a more relaxed vibe than later in the evenings. DOSC is very spacious inside those beautiful brick walls, with plush, comfy chairs beside large windows, or take a seat at the bar to make refilling your cup much easier! The café menu will blow you away with its selection and freshness; there is something for every taste and to sustain every workload.
10190 104 St NW

Dedicated to locally crafted beverages, from coffee to beer and wine, Square One's goal is to make their guests comfortable. If you need a spot to study or catch up on work deadlines, this is the place! Spacious with lots of seating options available and an impressive menu, Square 1 is a student's paradise.
15 Fairway Dr. and EIA Airport Mall