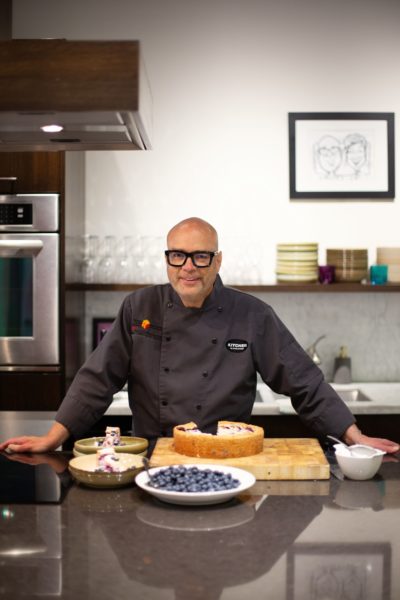 Cooking with Heart: Brad Smoliak
On September 1, a brave little sous-chef joined local culinary trailblazer, Brad Smoliak in the kitchen. The two set out to prepare a three-course lunch – a simple salad followed by a plate of creamy pasta carbonara, and to finish it all off, sweet crepes for dessert. There are a lot of things that Brad and his little sous, Sam, have in common - but a passion for cooking is right at the top of that list. This enthusiastic 8-year-old dreams of serving up culinary masterpieces one day, just like his hero, Brad.

Over the last few months, we've been highlighting local entrepreneurs who are making a difference in Edmonton. This time, we're shining the spotlight on Edmonton's own legendary cuisinier, Chef Brad Smoliak. Read on to discover the heartwarming story of how he, and a very special boy named Sam, made a lasting connection in the kitchen.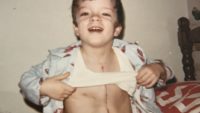 When Brad Smoliak was born in 1966, his parents were told that he was not going to live. He was diagnosed with Transposition of the Great Vessel, which basically means that he was born with a backwards heart. Over the years, he has undergone several surgeries and fought through many serious health scares - most recently in 2018, when he went into late-stage heart failure. Brad needed a heart transplant. Unfortunately, a few days after receiving this news, he learned that his body was not in a state to support a healthy new heart. He was told he had 3 to 6 months to live.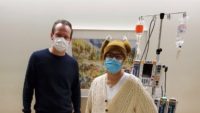 Enter Dr. Buchholz, the leader of the Ventricular Assist Device program at the Mazankowski Alberta Heart Institute. Dr. Buchholz presented Brad with a life-saving opportunity: to live, with a battery-powered artificial heart.
Today, Brad is living with a Ventricular Assist Device, a mechanical pump that supports heart function and blood flow (which he has lovingly named Sid). He wears two large batteries during the day and plugs into the wall at night; it might sound a bit strange, but Brad is alive.
Having never let his health stand in the way over the years, Brad founded KITCHEN by Brad Smoliak in 2012. KITCHEN is a culinary studio in the heart of downtown Edmonton that offers cooking classes, wine pairings, private kitchen parties, long table dinners and much more. Brad has cooked for the likes of Queen Elizabeth II, and was the lead chef for Alberta House at the Vancouver Olympics in 2010, and for Canada House at the London Summer Olympics in 2012. He is an expert on the grill, and has written his own book called "The Canadian Barbecue Cookbook". His contributions to Edmonton's booming culinary scene are extensive yet somehow, between all of his professional accomplishments, this local business owner has also made a habit of giving back to the community through ongoing fundraisers and special events.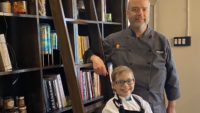 Brad's wife, Leanne says, "The man came close to meeting his maker several times, but sheer tenacity and his love of life won each time. It is now gratitude that fuels us to give back to the community that wrapped its arms around us to get us through some very dark days".
For the Smoliaks, it isn't just about raising money, but about raising awareness of the world-class medical programs, technology, and staff here in Edmonton, whether it is the housekeepers or the surgeons. They have made it their goal to get the word out about how fortunate they are, and it was in doing this that they met Sam.
When Sam's mom, Judi, heard about Brad on the news, she started following KITCHEN on Facebook. On top of a boundless love for all things food, Brad and Sam also share a similar heart story. She responded to one of Brad's Facebook posts, telling him about her son:

You are my 8-year-old son Sam's hero. Sam has LTGA, VSD Pulmonary Stenosis and spent 236 days in the Stollery in 2017/18 and has been waiting 2 years for a heart transplant. Like you, Sam wants to be a chef.


It was a no-brainer - Brad and Leanne invited Sam for a one-on-one cooking class at KITCHEN. When the two met, the young chef-to-be was wide-eyed and shaking with excitement. Sam was presented with his own chef's jacket, and the fast friends cooked up a storm, serving up a delicious meal for Judi and Leanne.
When Brad was a teenager, he recalls telling his parents that he wanted to be a chef. He was told that this type of career would be very challenging for someone with his condition. It wasn't until much later on in life that he finally went on to cook for a living and start his own business. On September 1, Brad got to tell Sam, 'Yes, you can be a chef. You can be whatever you want to be'.

So, what's next for Brad and Sam? The two are now working on a fundraiser with A&W, where they'll be flipping burgers to raise money for the Mazankowski Institute. They are also planning on auctioning a dinner at KITCHEN where Brad and Sam will do the cooking. The funds raised will be split between the Mazankowski and the Stollery Children's Hospital Foundation. Stay tuned for the latest and greatest from this dynamic duo!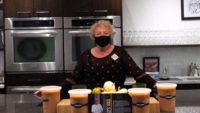 Currently, KITCHEN is running a program called KITCHEN To-Go where $5.00 from each takeaway meal purchased goes directly to supporting the University Hospital Foundation. They also recently ran a Thanksgiving soup fundraiser using the harvest of herbs and vegetables from the Pandemic Farm Project by David and Amy Benjestorf.
Last year, the Smoliaks participated in The Heartbeat Run, after Brad had only been out of the hospital for about 10 weeks. He weighed just over 135lbs, yet he found the strength within himself to walk 3 kilometres. His team ended up raising over $17,000 for the University Hospital Foundation and the Mazankowski Institute.
On top of supporting fundraisers and other initiatives benefitting world-class institutes like the Mazankowski Alberta Heart Institute and The Stollery Children's Hospital Foundation, there are several ways that you can make a difference too.
If you can, give blood and give it often. Brad alone has used more than 100 units of blood between surgeries and other complications. Giving blood is easy, and it costs nothing. For more information on donating blood in Canada, click here. You can also make sure that you are registered to be an organ and tissue donor and don't forget to let your loved ones know.
Volunteer your time! If you are interested in helping at the Mazankowski Alberta Heart Institute, contact Volunteer Resources at the University of Alberta Hospital at (780) 407-1965.

We would like to close off this article with a quote that Brad had by his bed when he was in the Hospital. It's a quote that he lives by, and shares with friends and family at every opportunity:

None of us are getting out of here alive, so please stop treating yourself like an afterthought. Eat the delicious food. Walk in the sunshine. Jump in the ocean. Say the truth that you are carrying in your heart like a hidden treasure. Be silly. Be kind. Be weird. There is no time for anything else.
- Anthony Hopkins