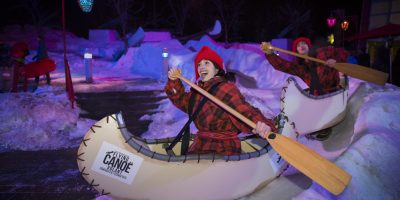 Flying Canoë Volant
Discover The Flying Canoe, a combination of a French-Canadian and First-Nations legends.
March 1 – March 6, 2021
Time

Street Address

Mill Creek Ravine and La Cité francophone - 8627 Rue Marie-Anne-Gaboury (91 Street), Edmonton, Alberta
Join one of Edmonton's great winter celebrations! The Flying Canoe Volant is a creative, interactive, and cultural event that celebrates local history and everything that is great about a long winter's night.

Loosely based on the legend of the Flying Canoe, and on French-Canadian, First Nation, and Métis traditions, the Flying Canoe Volant invites you for a nighttime adventure in Edmonton's French Quarter and along the illuminated trails of the Mill Creek Ravine.

Extending from the Mill Creek Ravine to La Cité francophone, this large-scale community offers something for everyone. In the ravine, you'll step into a magical surrounding as you encounter artistic lighting installations and engage in Métis jigs/reels, bannock making, storytelling, drumming, and conversation. Emerging from the ravine, hop on a horse-drawn carriage towards La Cité francophone. On the way, a community stage, snacks and snow carvings await at Rutherford School. Finish off the night in celebration at La Cité francophone with bilingual musical performances in the cabaret, children's activities, multi-disciplinary Aboriginal artist representations, a winter patio, outdoor DJ and a snow slide.

And while you're in the neighbourhood, don't forget to check out the local businesses of the French Quarters. So put on your toque and mittens and come brave the cold!