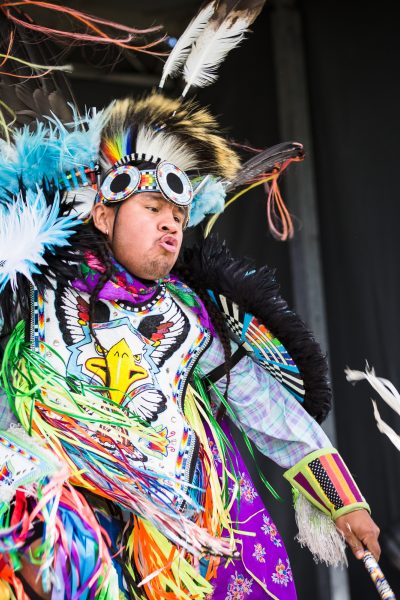 Amiskwaciy Waskahikan: Indigenous Experiences in Edmonton
The traditional name of Edmonton is Amiskwaciy Waskahikan, meaning Beaver Hills House. This place was the traditional meeting ground for many Indigenous communities, including the Cree, Saulteaux, Nakota Sioux, Blackfoot and the Métis Peoples. During the time of the fur trade, Edmonton became a hub for the Hudson's Bay company. Many Indigenous groups reside here, and the history of the land is long and vibrant.

Here are the top experiences related to the Indigenous history of the land ranging from museums, to parks and everything in between!

For more Indigenous landmarks and spaces in Edmonton, check out our guide here.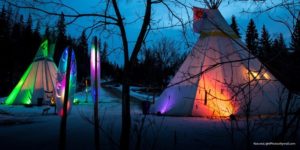 Participate in Indigenous Peoples Celebrations and Festivities
Every year, there are several Indigenous festivals that take place in Edmonton. If you're a cinematography fanatic or love Indigenous performing arts, don't miss the Dreamspeakers International Film Festival and Rubaboo Theatre Theatre Festival! Edmonton is also lucky enough to have its very own annual Edmonton Indigenous Peoples Festival put on by the Canadian Native Friendship Centre of Edmonton. In past years, this festival held the world's largest round dance!

Catch all the celebrations put on throughout Edmonton for National Indigenous Peoples Day on June 21 of each year. There are several celebrations taking place every year at Canada Place, Enoch Cree Nation, Métis Crossing, the Edmonton International Airport, and Bent Arrow Healing Society just to name a few!

Finally, check out the awesome Indigenous villages at festivals such as Silver Skate Festival, Flying Canoë Volant, Deep Freeze Festival and K Days!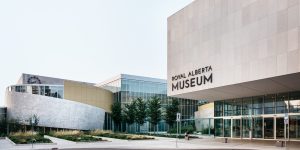 Since the Royal Alberta Museum's opening in its new location, the Human History Hall has been created, showcasing the stories of the past and present in Alberta. The Royal Alberta Museum holds over 18,000 historical artifacts from various Nations. The Human History Hall is a beautiful representation of both historical and contemporary Indigenous stories in Alberta. The museum also holds the Manitou Asinîy, a sacred meteorite believed to hold great power and significance to many Indigenous communities.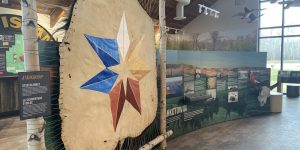 Traditionally, Indigenous lands covered large areas. Specifically, in the Edmonton region Indigenous groups were primarily nomadic, meaning they moved across the land, following their food source– the bison. Many Indigenous groups' traditional areas stretched from Edmonton all the way to Elk Island National Park.

Elk Island National Park is one of the first national parks to sell authentic Indigenous and locally made work in their Visitor Information Centre. The park works hard to create connections with surrounding communities to hold beadwork, art and much more for purchase.

You can also experience Cree craft workshops on select days throughout the summer by Cree-Ative Designs, a Cree mother-daughter duo.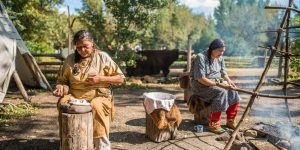 Indigenous Peoples Experience at Fort Edmonton Park
Although Fort Edmonton Park is closed for the next season, there are some very exciting things going on behind the construction walls! Fort Edmonton is creating the Indigenous Peoples Experience - a new signature exhibit providing story-telling, programming, graphics, media and more reflecting on the Indigenous peoples and culture in Edmonton. When the park reopens in 2021, you won't want to miss this!
Do you love Indigenous fine art? Then the Bearclaw Gallery is a must-see. The Bearclaw gallery carries a variety of Canadian First Nations, Métis and Inuit art– from paintings, to sculptures to crafts and gifts. This gallery also features works from internationally acclaimed Indigenous artists including Alex Janvier, Maxine Noel, Norval Morriseau, Aaron Paquette, Jason Carter and more!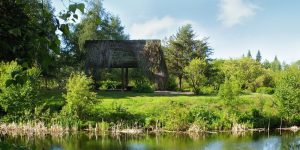 Indigenous Garden at the University of Alberta Botanic Gardens
At the University of Alberta's Botanic Gardens, you will find the beautiful Indigenous Garden. This garden is full of plants, herbs and medicines used by Indigenous peoples for centuries! Be sure to take a walk around and look at the many story plaques outlining traditional plant uses, medicinal properties and more.
Take a tour with Talking Rock Tours
Edmonton's own Keith Diakiw is a Métis guide and geologist who infuses his Métis culture and knowledge of geology to make fun, interactive tours that tell the story of the land. He currently offers tours of the Edmonton Oil and Gas industry, Edmonton's stunning river valley and Elk Island National Park. Come experience the geologic wonders of Alberta and immerse yourself in the Indigenous stories of our past!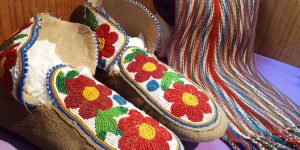 Experience a part of Indigenous culture through Wase Saba Experiences. Sissy Thiessen is a Treaty 6 Nakota Sioux, Cree & German Indigenous cultural facilitator, Powwow dancer, crafter/beader, spoken word poet and creative writer from Edmonton, Alberta. Book an experience or check out her event calendar to see Sissy in action around Edmonton.
Michif Cultural Connections
Located just outside of Edmonton in St. Albert, you'll find Michif Cultural Connections. Michif Cultural Connections provides Métis programming and workshops including moccasin making, jigging classes, traditional finger weaving, Michif language classes and an exhibit of Métis artifacts at the historic Juneau House. The house is also home to an established library of Métis archival documents and has a gift shop to purchase a variety of Métis arts and crafts!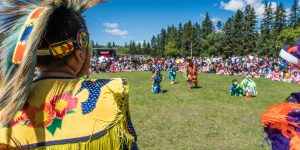 Join ReSkilled Life to learn about building the foundation of a life that is connected with nature, each other, and our inner voices. ReSkilled Life offers a variety of hands-on experiences from traditional hide tanning, Metis beading, moccasin and mukluk making and even cheese making! As an Indigenous woman, Natalie seeks to bring her traditions, stories, and culture to life in the center. In her Metis culture, being a bridge between two worlds is a longstanding value. With this as a firm guiding light, ReSkilled Life offers both domestic homesteading and wild crafting focused workshops.
Located just 1.5 hours outside of Edmonton, Métis Crossing celebrates the story of the Métis through traditional crafts, tours, and food experiences. Take their Paddle into the Past canoe voyageur experience, or enjoy tours of their museum, historical village, indoor meeting area, outdoor stage and more! Métis Crossing also has a campground and traditional trapper tents to rent for a cozy, cultural stay.
Note: Metis Crossing is closed for the season and will re-open in the summer of 2020.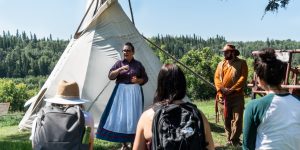 Mackenzie Brown is First Nations Cree from Sturgeon Lake Cree Nation, currently residing in Amiskwaciwaskahikan, Edmonton. She is a performer, drummer, tourism entrepreneur, philanthropist and advocate for at-risk youth in the Edmonton area. Mackenzie and her mom perform as "Warrior Women". They drum and teach around Alberta for the Northern Alberta Teachers Conference, the annual Jasper Dark Skies Festival, Youth Dream Catchers Conference, Canada Day, Aboriginal Day festivities and more. Along with drumming, Mackenzie is also an avid acrylic artist and traditional First Nations crafts artisan. Her art has been featured in the Pump House Gallery, the Edson Gallery Museum, the Gray Gallery Grant MacEwan, recognized for the Alberta Indian Arts and Crafts Award of 2017, featured for the Alberta Business Competition 2017 and sold to people travelling world wide at Jasper Park Lodge. She is also the recent recipient of the 2019 Esquao Award for Children's Future.