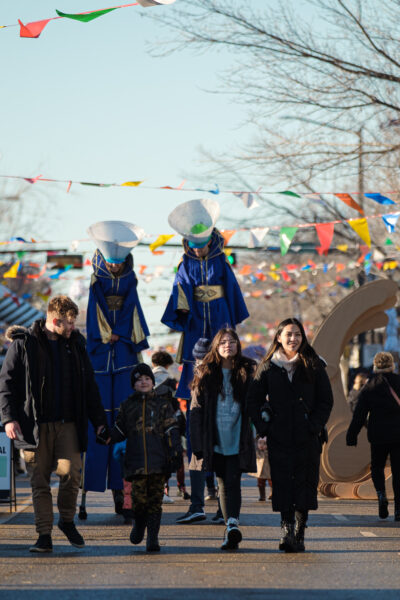 Must-See Winter Festivals in Edmonton
Listen up, the chilly months are no time for hibernating. Leave that to the bears! Make the most of the season before it melts away with these spectacular winter festivals that are back and better than ever. Every season is festival season here in Edmonton!


One of Edmonton's hippest neighbourhoods flips the switch on its holiday lights at the All is Bright Festival. Witness some amazing fire and light dancers, cozy up in the beverage gardens, cook some delicious treats over the fire and much more. This outdoor party will be bumpin' no matter the cold because the real fun starts when temperatures drop! Find all the excitement on 124 Street at Helen Nolan Park.
November 18, 2023
Deep Freeze: A Byzantine Winter Festival
Embrace our Northern climate and celebrate Ukrainian, Indigenous, and French-Canadian cultures at Deep Freeze: A Byzantine Winter Festival. Experience winter panache, food, art, culture and fun—including races in actual deep freezers! Take an amazing stroll down Alberta Avenue district and be enchanted by magnificent ice sculptures, song, dance, and tasty delights. Forge your way to Deep Freeze Festival to celebrate all things winter and culture in our great city!
January 2024, Dates TBA
Chiseled: Edmonton International Ice Carving Competition
Edmonton's International Ice Carving competition – formally Ice on Whyte – has moved to the ICE District! See the work of some of the world's elite carvers. Artists have thirty-four hours to complete their work, with the full splendour revealed on the final day!

January 16-18, 2024
Looking to try your own hand at ice carving? Ice on Whyte – now named Activate Arts Alberta – will return to McIntyre Park with ice sculpting demonstrations, lessons, and more!
January 16-18, 2024
Flying Canoë Volant is a creative, interactive, cultural event where you can celebrate local history and everything that is great about a long winter's night. Inspired by the legend of The Flying Canoe and French Canadian, First Nations and Métis traditions, this event celebrates Edmonton's beautiful Mill Creek Ravine and the newly established French Quarter. Channel your inner voyageur with light, music, legends and dance!
January 31 – February 3, 2024
Celebrating over 30 years, the Silver Skate Festival is an extravaganza of arts, culture, recreation, sport and culinary delights! Some call it a winter wonderland, others call it a "true Canadian experience," and you'll likely have your own name for it after partaking in this snowy 10-day festival. Enjoy a tuneful compilation of Edmonton-based music and indulge in some amazing culinary experiences!
February 9-19, 2024
Canadian Birkebeiner Ski Festival
Channel your inner adventurer, strap on your skis and whip around the loppet when you take on the Canadian Birkebeiner! Feel the rush as you glide across the final stretch of track before falling into a blanket of white snow. The fatigue only lasts an hour or so, but the sense of accomplishment and appreciation for one of winter's oldest sports will last forever!
February 9-24, 2024
Celebrating its 11th anniversary, Skirtsafire is a theatre and multidisciplinary arts festival featuring women artists! Be entertained and inspired by theatre, music, dance, comedy, visual art, spoken word, workshops, design and more. Taking place in various venues in the heart of Old Strathcona: theatre & dance in the ATB Arts Barns, comedy, music and art installations at The Gateway Theatre, and pop-up performances and art installations in various businesses on Whyte.
February 29 - March 10, 2024