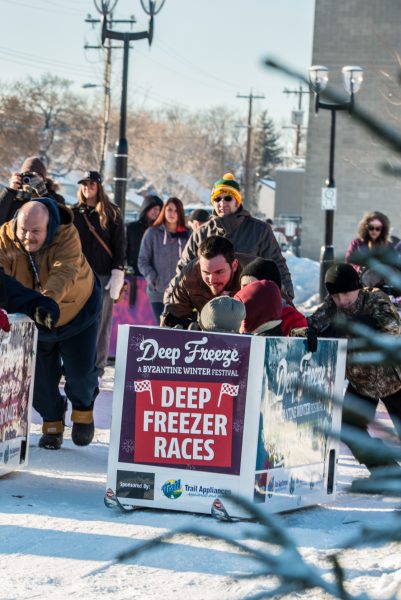 Must-See Winter Festivals in Edmonton
Listen up, the chilly months are no time for hibernating. Leave that to the bears! Make the most of the season before it melts away with these spectacular winter festivals that are back and better than ever. Every season is festival season here in Edmonton!

No matter how you explore, be sure to continue practicing safe physical distancing, frequent hand washing and following the guidelines put in place to keep everyone safe.
One of Edmonton's hippest neighbourhoods flips the switch on its holiday lights at the All is Bright Festival. Witness some amazing fire and light dancers, cozy up in the beverage gardens, cook some delicious treats over the fire and much more. This outdoor party will be bumpin' no matter the cold because the real fun starts when temperatures drop! Find all the excitement on 124 Street at Helen Nolan Park from 4:00-8:00pm.
November 20
This year, the legendary sell-out event, Luminaria, is back for the month of December. This means that even more visitors can safely take in the candlelight, starlight, peace and tranquility. A short forty-minute drive from downtown Edmonton you'll find the University of Alberta Botanic Garden — the largest botanical garden in the province. When the snow falls, the garden transforms into a true winter wonderland with snow sprites, glowing light sculptures, musical performances and more. Don't miss the magic!
November 27-January 9
Deep Freeze: A Byzantine Winter Festival
Embrace our Northern climate and celebrate the Russian/Ukrainian "Olde New Year" at Deep Freeze: A Byzantine Winter Festival. This multicultural winter extravaganza transforms 118th Avenue and Borden Park for a festival that brings together Ukrainian, Franco-Albertan, Franco-African, First Nations and South American communities to celebrate their diverse cultures, and revel in the magic the season. Deep freezer races, Olde Tyme curling, blacksmith demonstrations, log sawing and much more await!
January 14-23
Edmonton's winter sunshine is bright enough to light up your day at the Ice on Whyte Festival, but those rays can't keep the cool away from one of our city's favourite sub-zero celebrations. The canvas is all around you in Edmonton—when the temperature drops, creativity rises at the International Ice Carving Competition. You can even take in this winter must-do while sipping on a drink from the ice bar!
January 27-February 6
Flying Canoë Volant is a creative, interactive, cultural event where you can celebrate local history and everything that is great about a long winter's night. Inspired by the legend of The Flying Canoe and French Canadian, First Nations and Métis traditions, this event celebrates Edmonton's beautiful Mill Creek Ravine and the newly established French Quarter. Channel your inner voyageur with light, music, legends and dance!
March 1-5
Some call it a winter wonderland, others call it a "true Canadian experience", and you'll likely have your own name for it after partaking in this snowy 10-day festival. You'll see winter at its finest as you explore the Silver Skate Festival in the heart of Hawrelak Park. Whether you're carving a snow sculpture or riding in a horse-drawn sleigh, one thing is for sure — your winter boots will thank you.
February 11-21
A Festival for the Artist Within
Head to Skirtsafire to be stirred and inspired by their wide variety of programming including theatre, music, dance, comedy, visual art, spoken word, workshops, design and more - all featuring women and non-binary artists.
March 3-13
A Celebration of Diversity on Film
This festival started fourteen years ago as a short-film competition tackling day-to-day issues, talents and stories of the local Muslim community. The Mosquers film festival aims to educate, entertain and build bridges by showcasing talent and the diverse Muslim experience. Indulge in an event filled with incredible short films, feature entertainment, an award ceremony, and an after party for the ages.
March 12