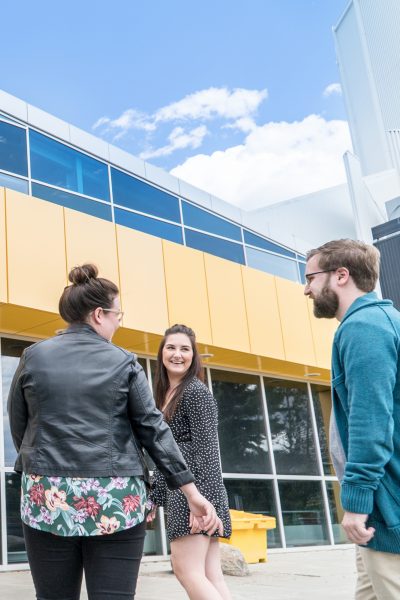 Things to Do in October
When the air turns crisp, we don't hibernate. Instead, we embrace the season and cozy up to the various activities that occur around town. Toss on your infinity scarf, grab a cardigan, sip your favourite pumpkin flavoured beverage and embrace the season before it's gone.

Dino-mite for the whole family
Explore Earth's prehistoric past at Dinosaurs Unearthed: Down to the Bone. Life-sized animatronic dinosaurs, full-scale skeletons, authentic fossils and interactive activities will challenge what you think you know about dinosaurs.
Until November 4
This three day, multi venue, choose-your-own-adventure music experience takes over downtown this October. From punk shows to sultry songstresses and more, Up + Downtown Music Festival has ear candy for every taste. Over 100 bands, DJs, and comedians are coming your way, so rest up. It's going to be a wild ride.
October 5-7
A-ha moments around every corner
After nearly three years of closure, the Royal Alberta Museum will finally be opening the doors to its brand new location in downtown Edmonton. With twice as much space as the former location (more than 82,000 square feet to be exact!), expanded permanent galleries, and a brand new experience for visitors of every age—you'll be able to feed your curiosity year round.


15 days of Popcorn for Dinner
Indulge your cinematic appetite with the Edmonton International Film Festival (September 28-October 7)...and a large bag of popcorn (with extra butter of course.) This year's festival is filled with independent, international and eye-opening films. Discover little-known gems and experience the best in independent filmmaking from around the globe!

Looking for something a little more bite-sized? The Edmonton Short Film Festival (October 10-12) showcases Alberta filmmakers and features diverse projects including trailers, music videos, web series, commercials and short films. Don't miss the unique opportunity to check out the 360°/virtual reality film screenings at the TELUS World of Science in the state-of-the-art Zeidler Dome Theatre - the first of its kind in Canada!

Life's Short – Eat, drink and celebrate at the Rocky Mountain Wine & Food Festival, sponsored by Sobeys and Safeway Liquor. Guests will enjoy samples from some of Edmonton's best restaurants and sip on amazing wines, spirits and beers from all over the world. Cheers!
October 19-20
Nonfiction content comes to life at Litfest! Plus, it is Canada's only non-fiction festival bringing a series of events, chic gatherings, and gourmet experiences. This year, LitFest welcomes headliner Jon Ronson, whose dry humour and adept storytelling will engage and fascinate you.
October 11-21
Ready to laugh? Or cry because you're laughing so hard? Edmonton Comedy Festival is back with some of the best comedians around. You can even work at honing your own funny bone at one of their workshops!
October 10-13

Grammy-nominated, Emmy and Peabody award-winning comedian Craig Ferguson is bringing 100% new material to the Winspear Centre stage with his Hobo Fabulous Tour. Prepare yourself for a fantastic night of comedy that only Ferguson can deliver.
October 18

Take a Walk on the Western Side
Hold on tight, the PBR Canada Edmonton Classic is bucking into town! At PBR the world's best bull riding athletes are up against the toughest animal athletes on the planet in an 8-second man versus beast duel. The result is unparalleled action where danger, drama and heroic accomplishments are just a part of the game. The PBR Canada Edmonton Classic brings "the toughest sport on dirt" to the Edmonton EXPO Centre.
October 20
From the air, the maze looks like an artistic pattern. On the ground, the Edmonton Corn Maze tests your sense of adventure (and direction). Expect 5 kms of twists and turns and 85 decision points. A series of clue cards offer guidance along the way, with questions rated for all ages.

Until October 24