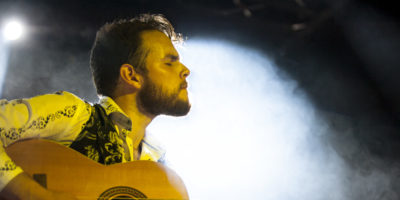 Fall by the Fireside Outdoor Concerts
Flamenco by Firelight: Guitarist David Jay, The Spaniard, fuses classical, flamenco, metal and avant-garde folk.
September 19, 2020
Time

Street Address

Casa Rosso - 9320 102A Ave NW, Edmonton, Alberta
Mercury Opera presents Fall by the Fireside, a series of intimate and socially-distanced outdoor concerts at Casa Rosso. Hot on the heels of a hugely successful Summer Lemonade Series, Mercury Opera extends their outdoor offerings with local artists taking the stage in a mash-up of "classical and more" genres before the frost sets in. So bring a blanket, your favorite tipple, and snuggle up (with your cohort(s) of course) and join Mercury Opera in their effort to banish the blues while supporting local art and artists.
Born in Mexico City, Jay became obsessed with the guitar at an early age after watching his junior high school's classical guitar teacher practice Spanish guitar music. Now as a young man, Jay has combined his love for metal, classical, flamenco, and avant-garde folk to create beautiful hybrid pieces for fans to adore. His debut EP, The Spaniard is just a taste of what's to come. Being dubbed "The Fastest Guitar Player in Alberta," David Jay's live performance will both shock and amaze. Perfecting his use of a live looping pedal, Jay recreates tense and beautiful soundscapes as a one-man self described "guitar orchestra."